A ghost mannequin service, used in the clothing photo editing process, offers an effective solution for conveying the shape, fit, and style of clothing without distraction, rendering the mannequin invisible in post-production and leaving the focus fully on the product.

The process yields striking, three-dimensional images of clothing items seeming to be worn by an invisible model.
These polished and professional images significantly enhance online listings, catalogs, and marketing materials, helping brands stand out in a competitive fashion market.
Embrace the importance of ghost mannequin service in clothing product photo editing to boost your brand image and sales.
Graphic Experts India offers image editing services for clothing photos. We have an expert team to provide high-quality hollow man effect and neck joint services. Furthermore, our generous team is capable of guaranteeing 100% client satisfaction. So why wait? Take a free trial to judge our photo editing technique and work.
What is Ghost Mannequin Services
Ghost Mannequin Services is Photoshop's clothing photo editing process. It removes the dummy, doll, mannequin, or model and gives the appeal a realistic and creative hollow look. This service is essential for professional photographers and garment industry owners with eCommerce websites to sell clothes.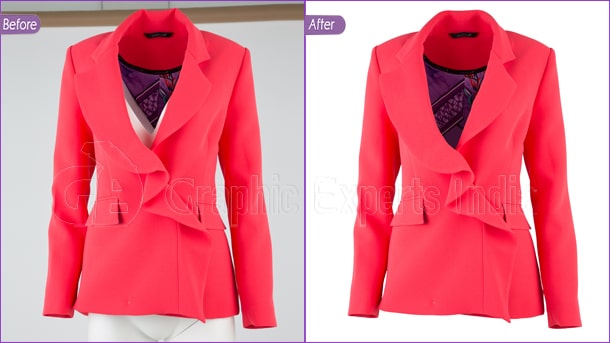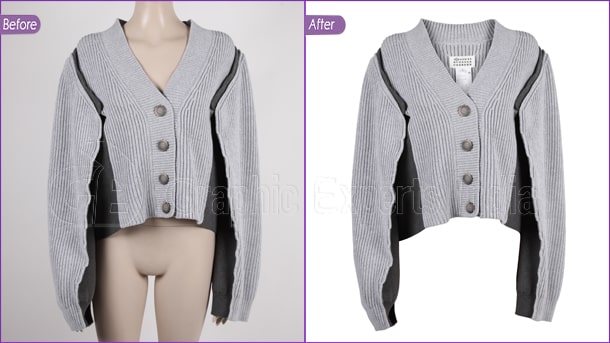 If you are an apparel photographer or clothing retailer, you must remove the mannequin from the final output before posting it to your website. Hence, this service can be used to make 3D helo clothing.
Generally, a photographer takes an image with a mannequin; Thus, the product's inner part appears subtly. They capture another picture of the inner part to make the inner part visible and eliminate the mannequin. For the following process, the image requires ghost mannequin services.
Besides, the hollow man effect or invisible mannequin effect also removes every unwanted element and creates an eye-catchy image.
In other words, the invisible mannequin service generates a dead space in a vanished body; a translucent mannequin technique is used by joining the inner and front parts of apparel. Next, the image background needs to be removed, and the clipping path works to join the inner and front parts of the garment.
Sometimes, you may get a fuzzy and less focused inner part photograph. To eliminate this problem, solutions are color correction, brightness, contrast, and sharpness used to produce an eye-catching outlook. We have an experienced team to provide smooth, realistic invisible ghost mannequin service.
However, though it is a complicated process, as a professional ghost mannequin service provider we have advanced knowledge of Adobe Photoshop to provide this service.
Benefits of Ghost Mannequin Services
The apparel industry, especially e-commerce sites, displays and sells its products online. Nowadays, different businesses are choosing an online platform for selling their products and influencing others to buy products online.
It is essential to display products appropriately to attract and inspire a customer to purchase the product. As apparels are different in size, color, and shape, so wide-ranging editing is required, as well as an image that needs to be well-optimized to be present on a website.
Most e-commerce sites depend on models or dummies to spectacle clothing as it offers the buyer a great understanding of how the apparel would look when they put it on their bodies.
Depending on a mannequin is not preferable as it could be more appealing and pleasant. And that is the reason the dummy should be evaded while presenting a product on an e-commerce website.
Let's look at the benefits of an invisible mannequin.
Provides the expected 3D hollow look of the apparel by joining the front and rear.
It helps the clothes to display as dressed before a buyer.
Increases selling of apparel products.
Helpful to create helo clothes.
Promotes color and pixel.
Fixes the brightness of an image.
Adjusts the texture and provides glam to gorgeous parts.
Exhibit product photos in fit and exact shape without models or dummy
Categories of Best Invisible Ghost Mannequin Services in GEI
Our experienced photo editor team enhances your appeal product. Whether you need to work for your entire mannequin or only the neck area or join or remove any imperfection on the clothes image, GEI is at your help.
As said earlier, customers love to look at more natural-looking clothing as they can dream of wearing your products or accessories. We believe in quality and ensure it before submitting the work to you.
The ghost mannequin effect is highly needed for an e-shop, professional ghost mannequin photography, product photography, and ready-made business to attract worldwide clients. We offer the following four types of Invisible Mannequin services that are popular among our clients.
360º or 3D Pack shot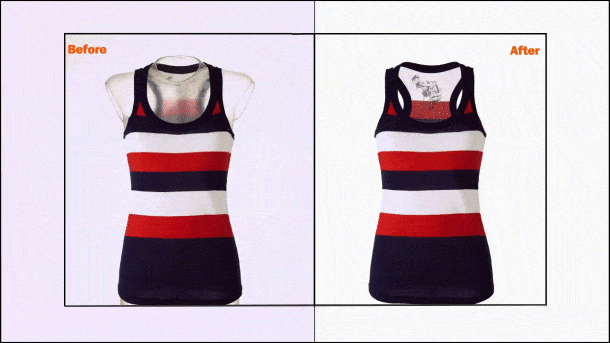 Do you want to publish a 360º or 3D image of your product on your website? We need a few ingredients from you to do so.
Send photographs of your products from different angles and join the missing areas, such as the neck, top, bottom, and sleeves. You must get quality work.
Neck Joint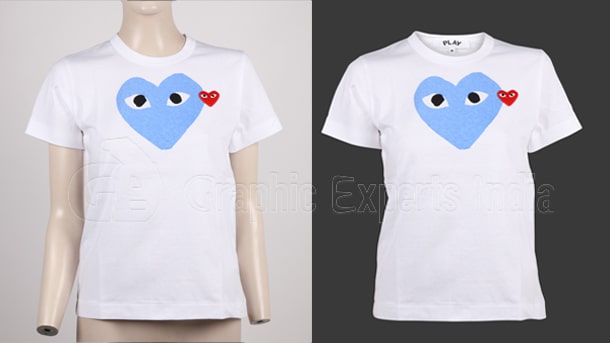 When the dummy is removed from a dress, a space creates at the neck area. This space needs to be corrected by joining the back area of the neck and the front area to generate a full-shaped image.
We create a natural ghost mannequin for shirts, trousers, jackets, shorts, lingerie, jewelry, and more.
Hem/ Bottom Joint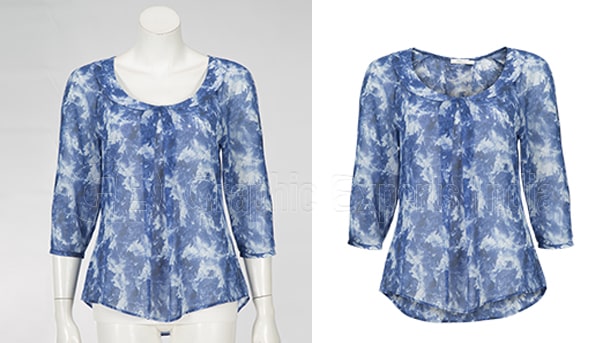 You will find a new trend in the tops where the back part is longer than the front part. We significantly created Photoshop effects on these images and joined the bottom part.
It will make your clothes image more natural and realistic. Please try our hem joint or bottom joint service.
Sleeves Joint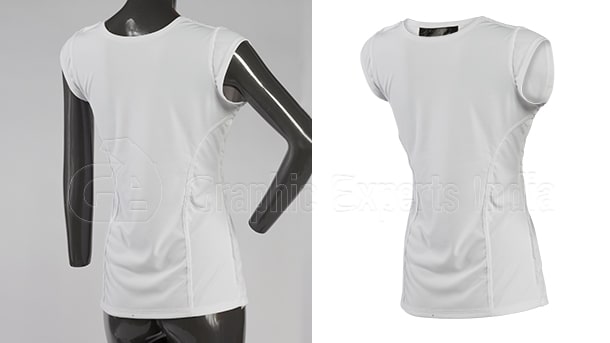 This amenity is required to eliminate the dummy from the empty area of the sleeves and generate a ghost effect.
The long sleeve shirts, T-shirts, jackets, etc., need an empty effect to produce a 3D shape. Our expert designers eliminate this mannequin and fill up the hollow parts joining sleeves.
What Images Are Eligible for Ghost Mannequin Effect?
If you are considering hiring Graphics Experts India for 3D Invisible mannequins or neck/ sleeve/ bottom joint services, multiple photos (mainly two) of the same product are required. Because To get the natural look, the original images of different parts are required.
If it is said another way, we suggest providing one front part image of the clothes put on the dummy and another one of the back parts without the dummy. Let's look at the images below.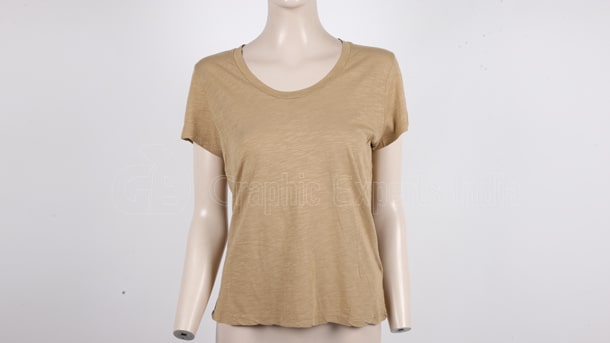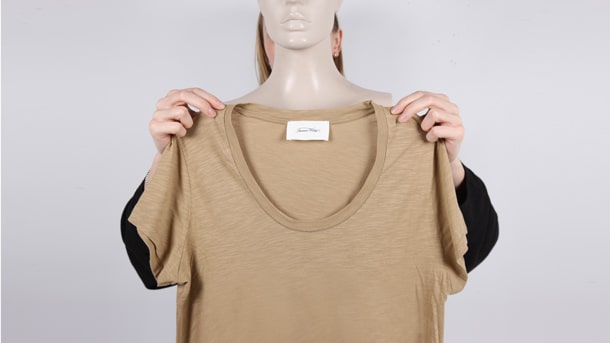 Hence, additional images can add an extra dimension to your images. Likewise, an image of the sleeve or hem. After receiving the images with the instruction, our experts will create an outstanding image that promises to attract customers and sell the product.
When to Apply an Invisible Mannequin Effect?
This photo editing service is recommended when you don't want to show the dummy or model. Generally, dummies are a one-time investment. But, it creates an obstacle to the professional look in eCommerce/ webshop. Now, here is the list of circumstances that require a type of effect-
E-commerce – apparel images like shirts, t-shirts, sweaters, jackets, caps, bottom wares, etc.
360-degree images- Generally, it shows the font and the back part of the images rotationally.
Preserve the natural look while showing the label and inside.
Minimizing the expenses of hiring the model.
When Not to Apply?
This technique is not recommended when-
You want to preserve the contract with real people (I.e., a photo of your brand cloth on a movie star.)
Typically, a full-set dress with matching clothes, belts, and shoes is inappropriate for an invisible mannequin.
How Does The Ghost Mannequin Process Work?
As mentioned earlier, we need two images of cloth to make the perfect neck joint in Photoshop. One is the front part with a dummy or mannequin, and the other image will be the back or neck part without the dummy, so the inside label is visible.
Now, to achieve the perfect look,
Firstly we create a clipping path around the front part to isolate the cloth from the model or mannequin.
Then do the same process on the neck part. After that, we put the neck part behind the front part and kept it in the perfect position to cover the empty area.
After that, our team makes a shadow on the inner neck part to make it more realistic.
Hence. It will give the cloth a 3D look and adjust the brightness and color to make the product more appealing to the target customers.
Finally, our 3 Step Quality inspection reviews the whole work carefully.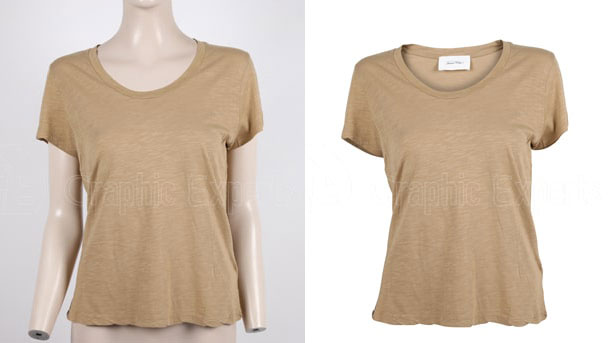 Our Ghost Mannequin Image Samples
We use ghost mannequin image editing to create invisible mannequin images. The following ghost mannequin image samples showcase our professional expertise that demonstrates the capability of our team to deliver exceptional results.
These samples display the highest quality of work and exhibit the attention to precision and detail we bring to every project. Moreover, our skilled retouchers meticulously edit each image to create a seamless and realistic effect.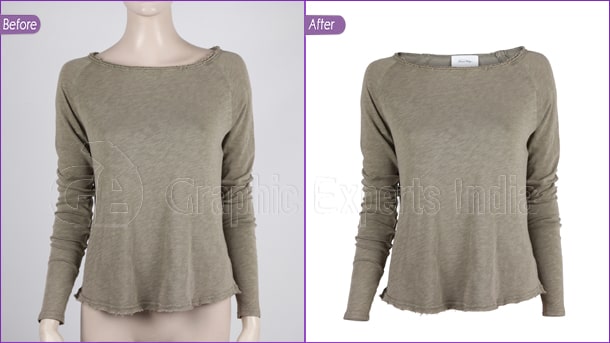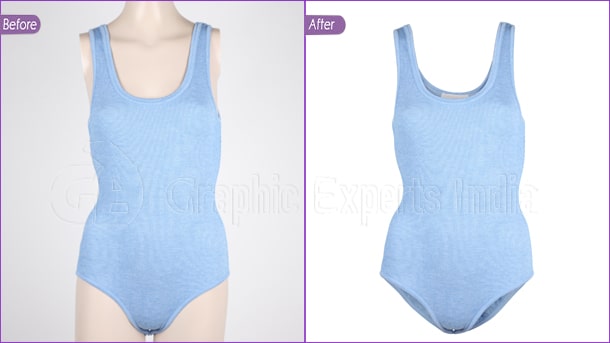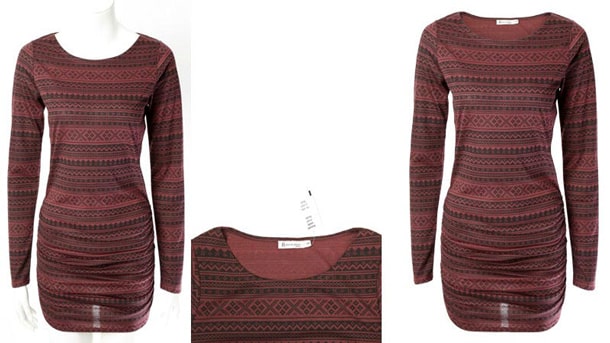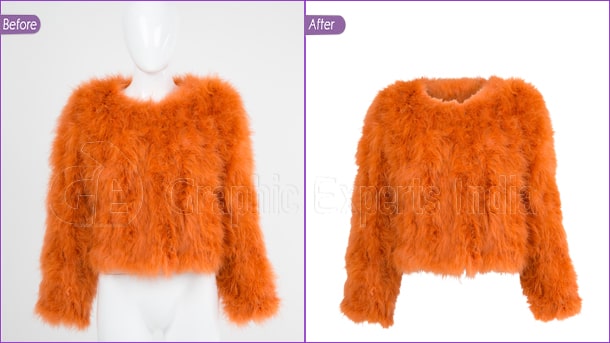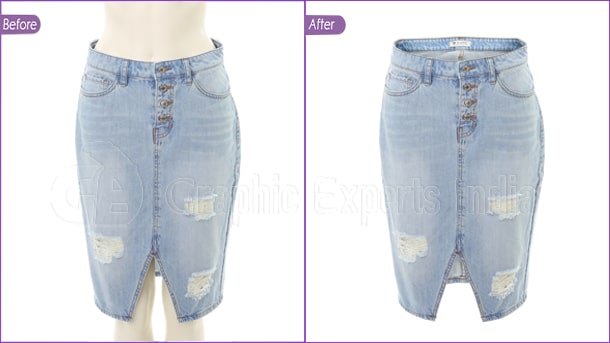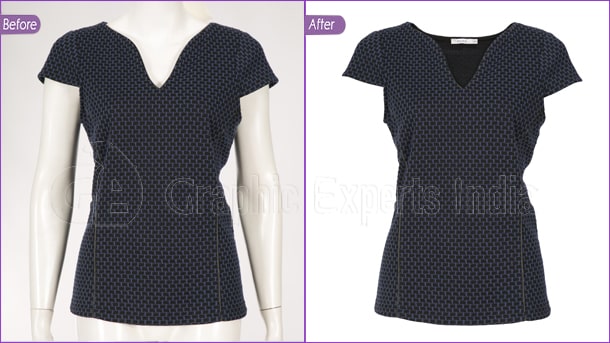 FAQs
Why are we calling it Ghost Mannequin?
This technique refers to removing/ vanishing mannequins. This means photo editors cut out the mannequin's body from the garments and model. Hence, this is also known as Invisible Dummy Service.
Is it necessary to add an effect on the dress's product image?
This permits the photographers to capture straight-through to the label; it helps to reduce the digital editing needed to generate a "Ghosted" image. Also, the neck joint-
1. Enhances product beauty,
2. Removes bad wrinkles, dark spots,
3. And fine lines from the skin,
4. It creates a 2D/3D shape.
Can all types of mannequins be Ghosted?
Yes. Choose any mannequin and tell your editor to make it a ghost; believe the editor can do it quickly.
How Much Does This Service Cost?
Our introductory price is $1.5 per image. However, it depends on the complexity. If you are willing to know the price, then asking for the quote request will be the best option. For more information, you can visit our pricing page.
Who needs this service?
Retailers of e-commerce sites, magazines, printing, Ad agencies, and other websites.
Need Ghost Mannequin Photo Editing Service?
Here at Graphic Experts India, we offer the best quality and cost-effective work with many other advantages. Our experienced team ensures clients' satisfaction as we prioritize quality over everything. However, you can judge our work quality by taking a free trial.
Order our world's best ghost mannequin service for clothing now! This effect is highly efficient and can enhance your website's conversion rate. Hence, you can utilize a trial to judge the quality before ordering.