Capturing the first moments of a newborn is an extraordinary experience. Graphic Experts India offers a specialized Newborn Photo Editing Service to ensure these precious memories look perfect. This service focuses on transforming raw images into artwork, preserving every tiny detail of your newborn's expressions.

Whether removing unexpected objects, adjusting lighting, or enhancing colors, GEI goes the extra mile to ensure your newborn's photographs are enchanting.

The professional team at Graphic Experts India understands the delicacy and dedication required in handling newborn baby photos. With their proficient photo retouching and creative editing skills, they bring out the innate charm and purity of the newborn, creating high-quality, mesmerizing photos that you will cherish forever.
What is Newborn Photo Editing Service?
Newborn photo editing service refers to an image editing process that focuses on enhancing and retouching photographs of newborns. It helps photographers make their captured newborn images look more professional, appealing, and polished.
It includes color correction, retouching, removing blemishes, skin imperfections, and any distracting elements from the baby's skin or background—moreover, cropping and composition, lighting and exposure adjustments, background cleanup, and combining multiple images.
How Does Newborn Baby Photo Editing Service Work?
The newborn image editing and retouching process enhance and beautify the priceless first photographs of an infant.
Take a look at the following editing process and make the newborn image look magical with our basic newborn photo manipulation.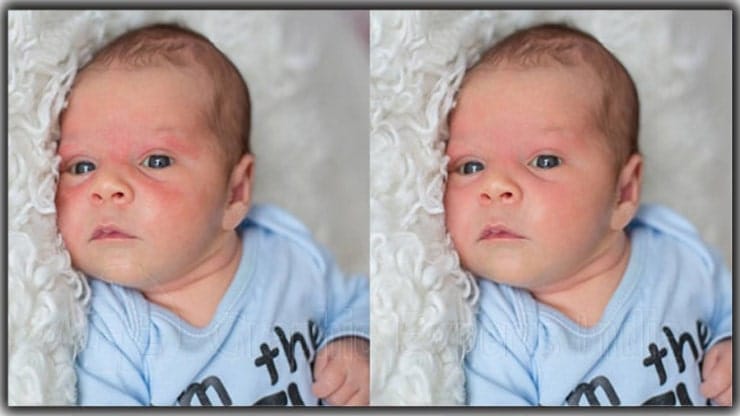 We offer high-end newborn photograph retouching and our creative editing will fix the baby red skin, change the original background, and many more.
Editing is a process that can turn a dull and ordinary photo into a stunning and sparkling one. However, even for experienced photographers, newborn photography is quite challenging. Because newborn capturing is not easy. The baby does not want to stay still or pose for the camera. Though you take photos, some processing and editing will need.
There are various steps in the editing process. Anyone can follow these steps to edit kids' photos-
Editing of Nose, Eyes, and Cheeks
Editing a newborn's nose, eyes, and cheeks in Photoshop can help enhance their features and create a more visually appealing image.
With the right tools and techniques, it is possible to adjust the shape and size of the nose to make it appear more proportional.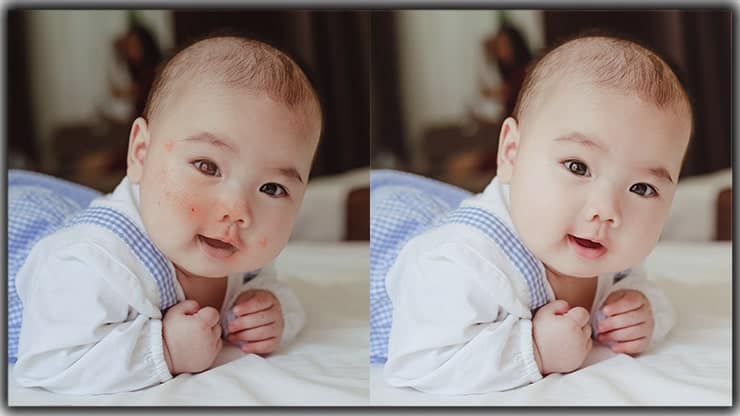 However, it is important to approach newborn editing and keep it natural-looking cautiously. 
Whenever kids photo editing services come to our mind, the face is the prior area for editing. The baby is perfect for their parents, but editors need to retouch the photos of the new child.
GEI editors are simply great at editing any portrait photos. However, most pictures have a similar problem, such as the nose, eyes, and cheeks.
Photo editors willingly do their job to remove any imperfection in the photos. Our expert uses Photoshop to do all kinds of edits and give excellent photos to the client.
Background Editing
Newborn image background editing is an important task. You can edit the background of your newborn effortlessly.
Whether you want to add a touch of whimsy with a soft pastel background or create a natural and serene atmosphere with a neutral tone,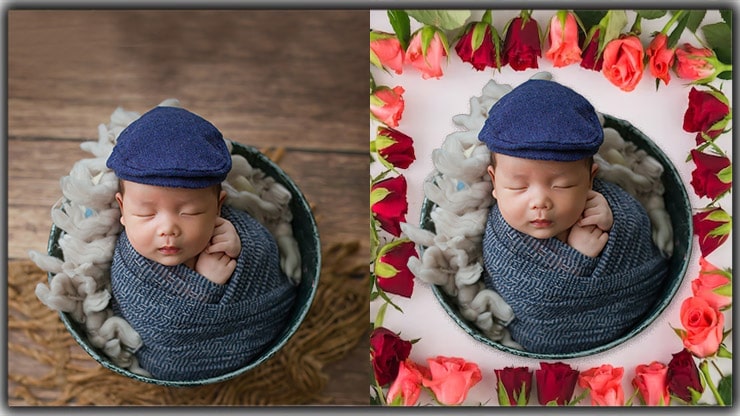 Photoshop enables you to transform the background of newborn photos according to your preferences. Embracing the art of background editing brings endless possibilities for showcasing your newborn's portraits in an extraordinary way.
Hence, newborn photography is not a different form from other photos. Therefore, everyone wants a simple and natural background in the photos of a child.
Also, the most common type editing techniques used for background editing are clipping path, multipath, and deep etching. People always like to see a gorgeous background in baby photos. That is why background removal service is helpful for baby image editing.
Skin and Lips Correction
Babies often have uneven skin tones, blemishes, and dry lips.
Our baby photo editing services help to correct the skin and lips and make a flawless and soft appearance.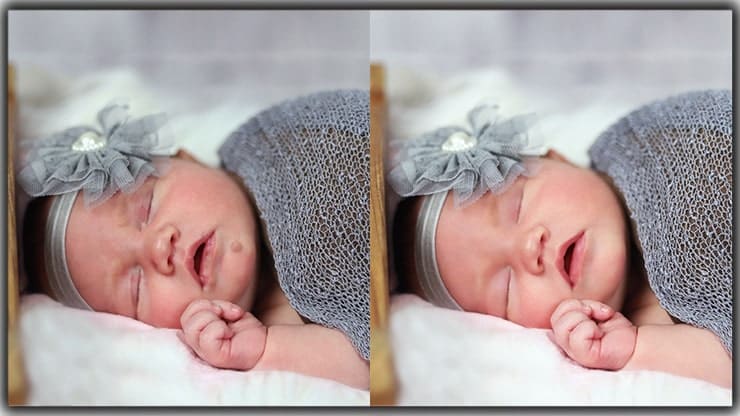 They adjust the overall skin tone using the color balance tool or curve adjustment layer. Remove any blemishes or redness on the baby's face using the spot healing brush or the clone stamp tool.
Moreover, fix the dry or chapped lips using the healing brush or patch tool to smooth out any roughness.
Unwanted Object Removal
Unwanted objects in the background can distract from the innocence of the newborn look. Photoshop helps to erase unexpected objects seamlessly from the baby image.
Whether removing a stray toy or cleaning up cluttered backgrounds, you can make newborn pictures truly captivating.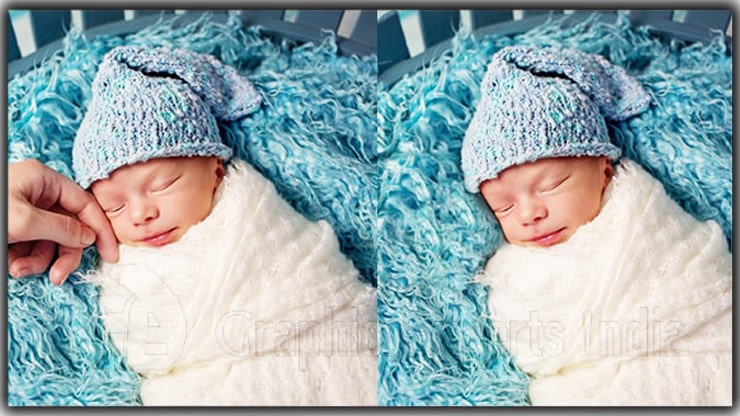 Utilizing the clone stamp tool or content-aware fill, you can effortlessly remove objects while maintaining the natural appeal of your baby's photographs.
This problem is familiar in the photography and editing world. When a new baby is born, many gifts come to their house; parents can not cope with cleaning and other household chores.
In newborn baby photography, it plays a huge role. Moreover, the photographer cannot delete that photo because that image has the desired shot. To solve this, they remove unwanted objects from the photos with the help of our expert team.
Adjustment of Contrast & Color
First, the camera may only capture some details and depths we see with our eyes.
Also, baby portraits should be natural and vivid. It is expected from the baby's parents that their angel should be the same in the picture as they see with their open eyes.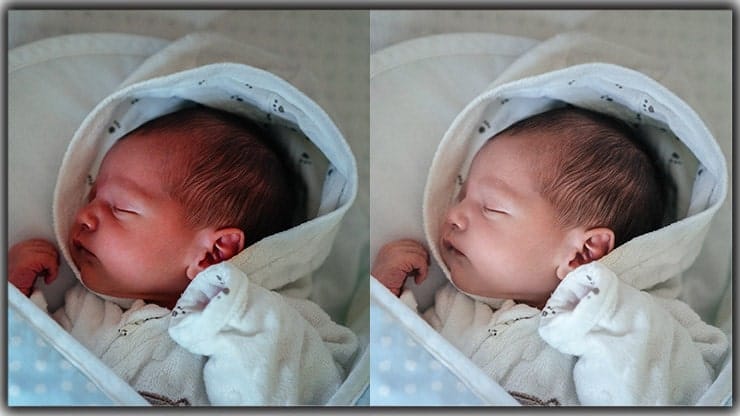 Nevertheless, the photographer tries their best to ensure the color and contrast of the photos. Baby photo retouching services are there to avoid the above problem that occurs. GEI provides baby editing services, which include contrast and color correction services.
Exposure correction
Sometimes there needs to be more light or more light in the time of taking photos. Also, this method helps to reflect the actual image moment in front of our eyes.
In the time of taking a baby photo, there is a possibility of appearing exposure problems.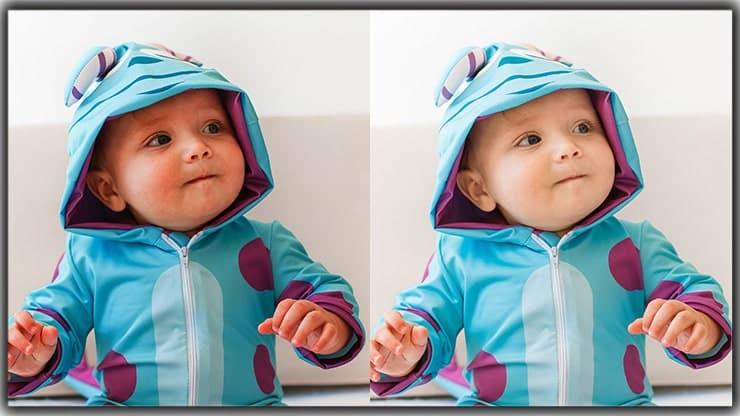 Moreover, the image has not always looked natural because of cameras, photographers, lighting, and many other factors. For this reason, GEI offers exposure correction services from our expert team members.
Enhance the Lips and Mouth
This category is similar to portrait retouch. Digital photo retouch-up is the technique used to enhance the beauty of the photo of the baby.
Also, the eyes, nose. mouth, lips, and hair details can be enhanced with Adobe Lightroom and Photoshop.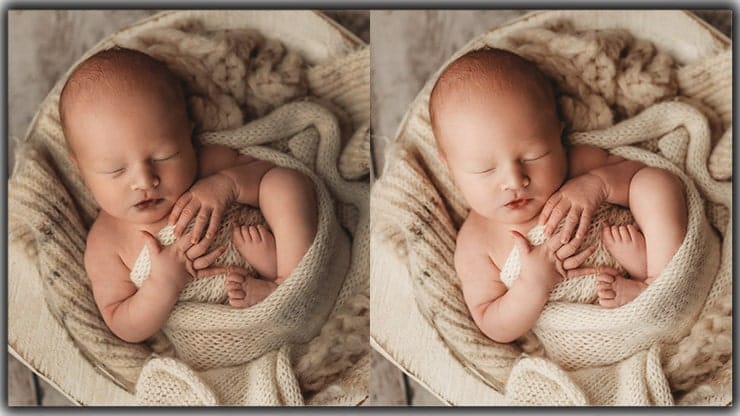 Professional photo retouchers use the most modern and advanced technology to enhance the details of the face of the infant. So choose the expert editors who can provide newborn retouching services and get the best editing services.
Improve Cloth, Hats, & Hairbands
A cute hat and hairband can add personality and charm to the photo.
Enhance the overall aesthetic of the image by improving the baby's cloth, hat, basket, and hair band details.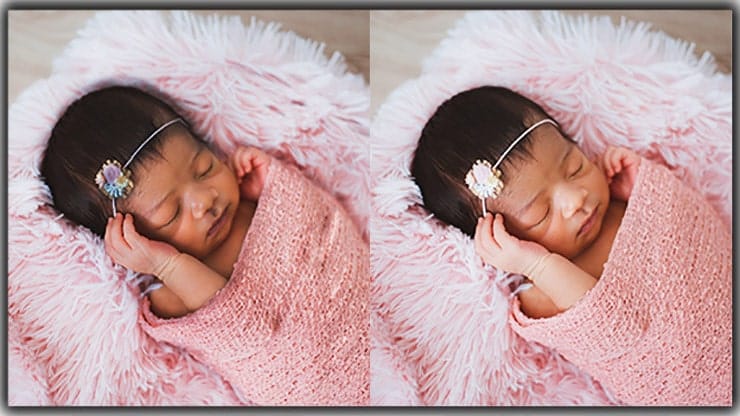 Advanced newborn photographers understand the significance of these elements and edit them to create a beautiful composition.
People think that only the face and skin should be softened and retouched in the photos. But they miss the other details that are also important in the photos. However, editors and photographers are always aware of that.
Though infant baby photography services are not the same as e-commerce, every baby wears beautiful apparel, which should be highlighted in the picture with enough details.
Moreover, editors try to improve the details of the baby's cloth, basket, hat, and headband. If we sum up, all these things fulfill the beauty and presentation of the photo.
The Red-eye Removal of Baby Pictures
It's quite common for babies to have red-eye in photographs due to their developing eyes.
Whether printing these pictures or sharing them on social media, eliminating the red-eye is essential to enhancing your newborn photos.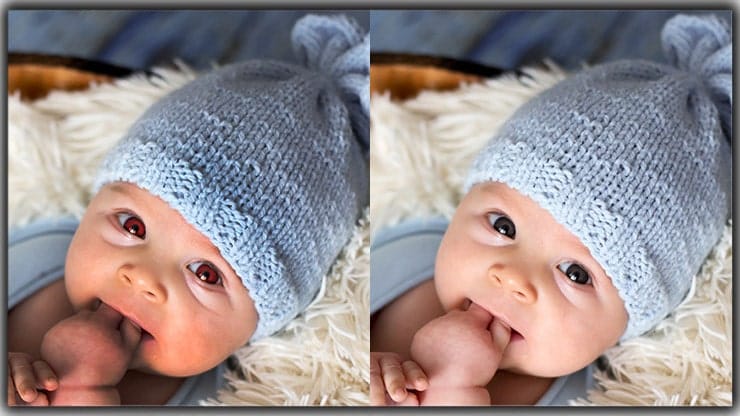 Red-eye removal using Photoshop is important to ensure your baby's photos look perfect. Photoshop has many editing tools, including an effective red-eye removal feature. With a few simple steps, you can easily remove the red-eye from your baby's pictures, resulting in much clearer and more vibrant photos.
The kids photo retouching helps to remove the red-eye and shifts the focus entirely to your baby's adorable expressions and features. That allows you to showcase the true beauty of your little one's eyes without any distractions.
However, the expert editing team is always there in GEI to help you remove the red-eye.
Photoshop Airbrush
Babies are beautiful in parents' eyes but still need some modification when carrying the photos to the client.
Most photos of the babies are edited to correct the skin condition, blemishes, scratches, and details. Use the brush opacity low so the image will not drop its authentic look.
Adjust the Color of Skin and Photo
A baby has some slight redness in its skin. Sometimes in a photo, there is an over-exposed situation in certain parts of the photos. Using Lightroom or Adobe Photoshop will help to remove those faults.
However, it is wise to leave the birthmark in the photo. Don't give a vintage effect; make the photos soft and natural.
Using Sliders
The client wants the smoothest skin in the newborn photos. You need to use the clarity and contrast sliders in the lightroom to give this.
Remove the unnecessary spots, shadows, and skin smoothing can be done with this slider. Keep the range in -10 to -20 of the clarity sliders. The main goal is to make a soft appearance without giving a harsh look to the images.
Save the Preset for Uniformity
When you find the ultimate look of newborn photos, make sure that you save the edit in the lightroom. Which will help to use in the future, or can you make other photos with this look?
However, presets save time when you give the client a sample or make another edit.
FAQs
Which software do you use in kids photo editing?
We use  Adobe Photoshop and Lightroom in editing baby photos manually.
Are my kids' images safe in GEI?
Yes, of course. We never use, share, or sell any clients' images. So don't worry about editing baby images.
How long can you take newborn photos?
Newborn photography sessions typically occur within the first two weeks of a baby's life. The ideal time for these sessions is during the first 5 to 14 days, as babies are more likely to sleep deeply and can be easily posed in those early days. During this time, newborns are also more flexible, making capturing those adorable and curled-up poses easier.
Is it safe to take pictures of newborns?
Yes, it is safe to take pictures of newborns, but it is important to prioritize the kid's safety during the photography session. 
Newborns are delicate, and certain precautions should be taken to ensure their safety during the photo shoot.
Get Professional Newborn Photo Retouching and Editing Services
Though a professional photographer may capture the best shots, there may show many photo defects on newborn skin, photo background, etc. The professional newborn retouching and editing services of Graphics Experts India makes your baby photos look more attractive. Moreover, you can edit your family photo, and baby products photo here.
GEI offers a discount on the bulk of images. Check our editing services on newborns using up to 2 free trials. We have 24×7 customer support service and ensure the quality of editing with our quality assurance manager so that you would get the best newborn editing photos from us.
Send your photos for editing and make the baby photos more magical. If you are not happy with our photography editing services, feel free to ask for free revisions. Our newborn photo editors re-edit your newborn photos quickly and send the perfect baby photos.