Are you in search of unique newborn photography pose ideas? Here you will find the 15 best ideas for taking newborn baby photos at home.
Babies are a divine gift from heaven. A new baby brings happiness and wonderful moments to a family.
In this article, I have come up with the 15 best newborn photography ideas at home so that you can save a few $ and enhance your photography ability.
Also, you will get some tips to make photography more appealing so that everyone starts praising your photography. Who doesn't love to hear praiseworthy words?
Top 15 Best Newborn Photography Ideas at Home
Every parent admires keeping the memories in a photo album. So they hire a photographer to take snapshots. Do you know you can also become a newborn baby photographer following a few photography ideas?
Likewise, Maternity Photography also belongs to the Treasured Moment Photography Niche.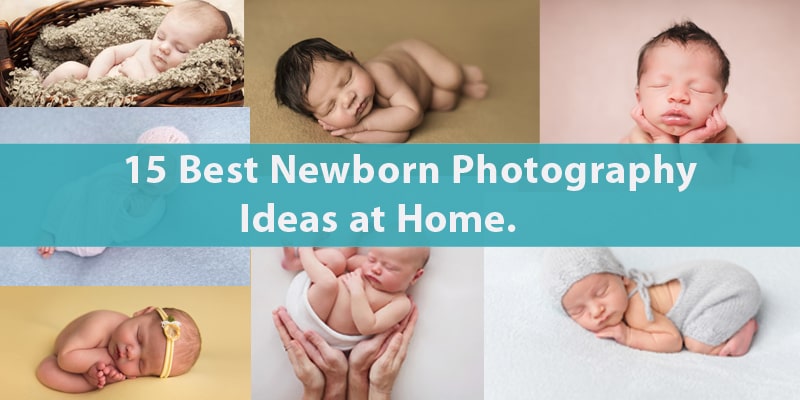 Let's start our discussion without making a delay.
1. Frog Pose
There is no doubt that the frog pose is one of the widely used and common photography baby ideas. The main focal point of this photography pose is the baby's face.
To accomplish the photography idea accurately, your baby's legs should be placed at the side and put both hands down, then cupping the chin.
Make sure; your baby is feeling comfortable and secure in this photography idea.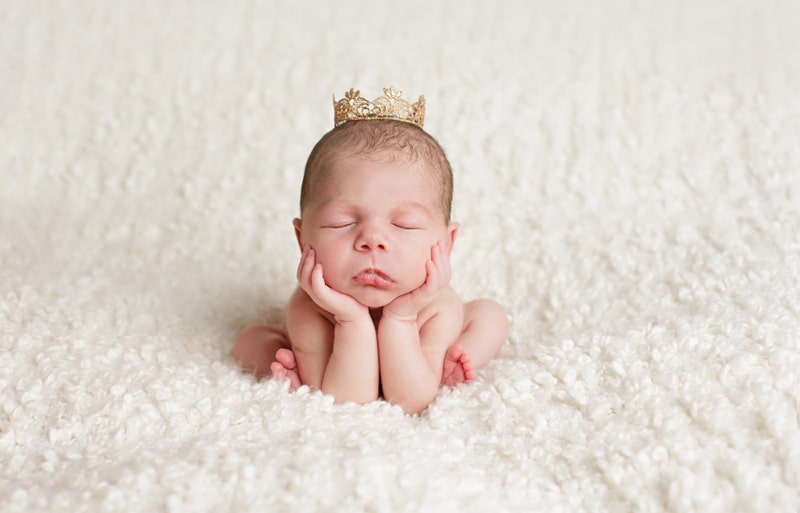 2. Tushy Up Pose
This photography pose receives 2nd position in our list due to its cuteness. Following this idea, you can take snaps of your baby's face, the normal curvature of the baby's bottom as well as the wrinkled aspects.
Although it is a cute photography idea, unfortunately, all parents don't like this pose. While you are capturing photos following this idea, be gentle, especially to the legs and arms of your baby.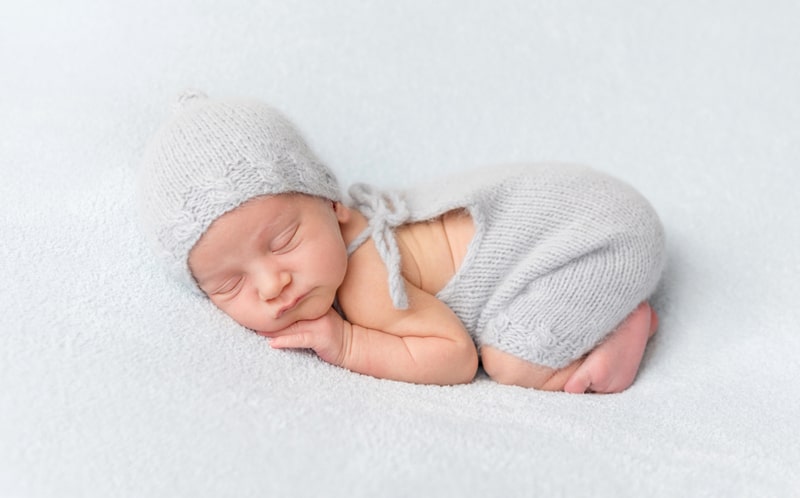 3. Wrapped Pose
It is not a challenging baby photography pose idea. This idea is similar to wrapping a baby.
To wrap up a baby, you can use either a blanket or a towel. Or you can use both items to wrap up the baby. You can keep your baby's hand in or out of the towel or blanket.
Be cautious when you are wrapping up your baby's legs or arms into a towel or blanket.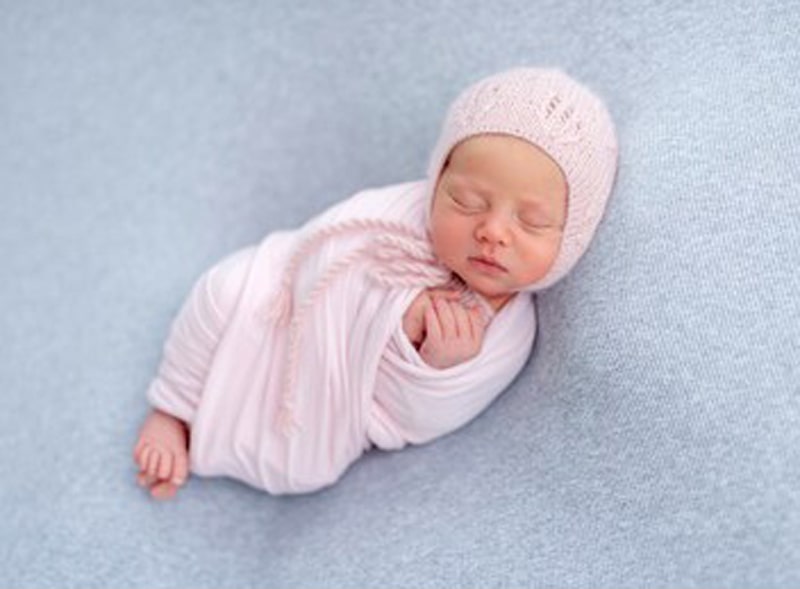 4. Newborn Appropriate Pros
Are you looking for some creative photography pose ideas? Well, without any confusion, you can smoothly go with the idea of this newborn-appropriate pro.
We all have different personalities, and this photography idea will allow you to take out the characters of a baby. And with this idea, you will get a fantastic newborn photograph.
If you want to give a princess or prince look to your newborn kid, or a cowboy looks, you can follow this creative photography pose.
5. Womb Pose
The other name of this pose is the taco pose. The name itself is giving you an idea of this pose.
This pose will seem like your newborn is in his/her mother's womb. And this is the reason it has received the "womb pose" name.
The womb pose is very surprising and beneficial because this pose is allowing your newborn to show the natural expression of his/her face.
It is one of the safest poses of a newborn, but you need to be careful always while capturing a photo of your newborn.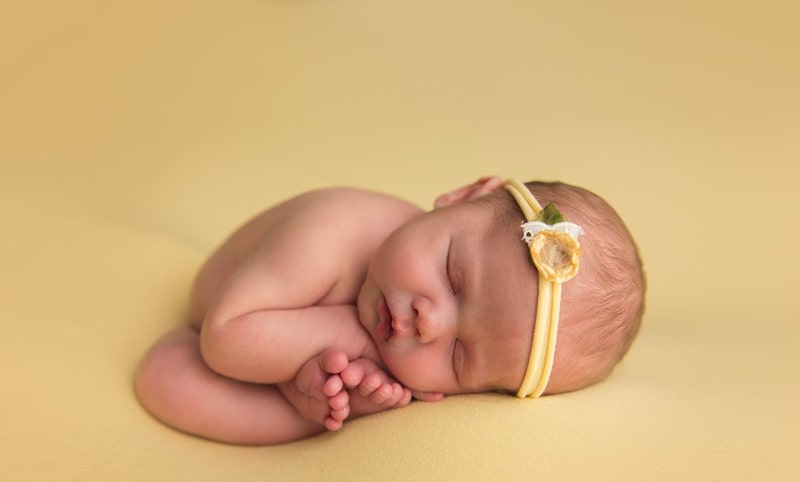 6. Side Pose
If you ask me what is the classic photography idea?
Side pose will receive my vote in this regard.
And it is a conventional photography idea also. Now the question is, how will you make your kid ready for this pose?
Your newborn's hand needs to be placed underneath the chin, making the legs curly.
Joining the sides of this position will also be great. Now start capturing the photograph.
Adjusting the side pose idea is pretty straightforward. You can quickly adapt your baby with a side pose.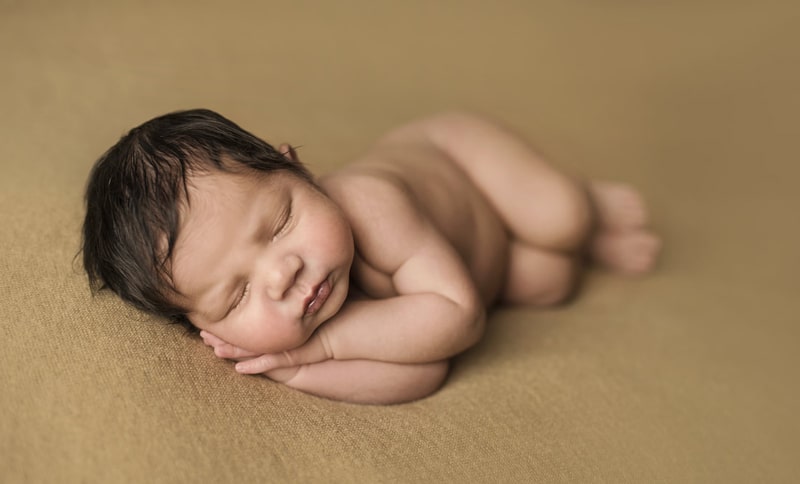 7. Chin on Hands Pose
You just can't resist loving this pose. Similar to the side pose, both hands will be underneath the chin and legs need to be placed together. To add some vibe, create a combination of this pose and props pose. If you have decided to go with an accessory pose, confirm your baby is feeling comfortable and doesn't get tilted.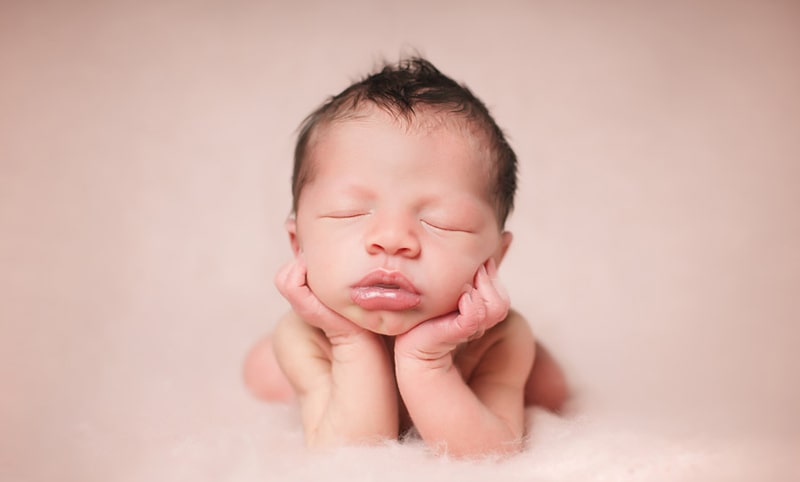 8. On the Back Pose
It is a straightforward photography pose for a newborn. Simply lay down your baby on his/her back, place the baby's hand over his/her tummy, and from both sides twist the legs.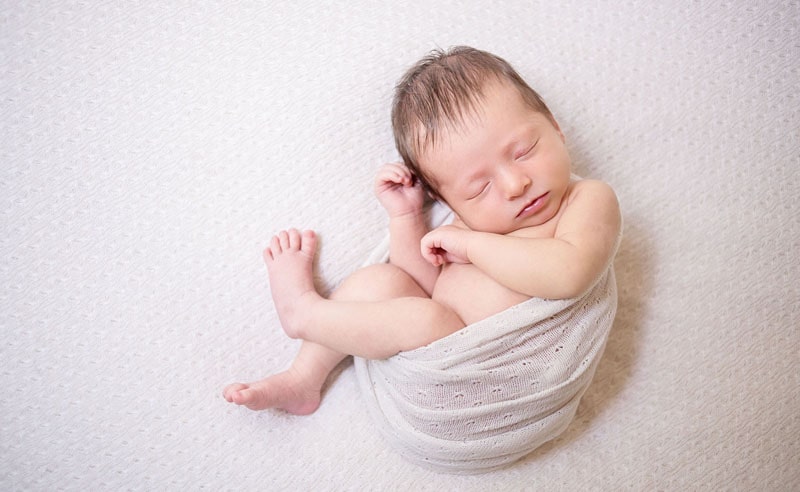 9. Full-Length Photo
It is a photography idea of where you will take a snapshot of your baby's full body.
Over the tummy, place the baby's both hands. Twist the legs from both sides and don't release the legs for a few moments. This way, you can get a full-body image by taking enough time. While you are capturing this type of photo, it is significantly essential to choose the right light option. Because if you can't focus on the baby's face, the photo will lose its appeal.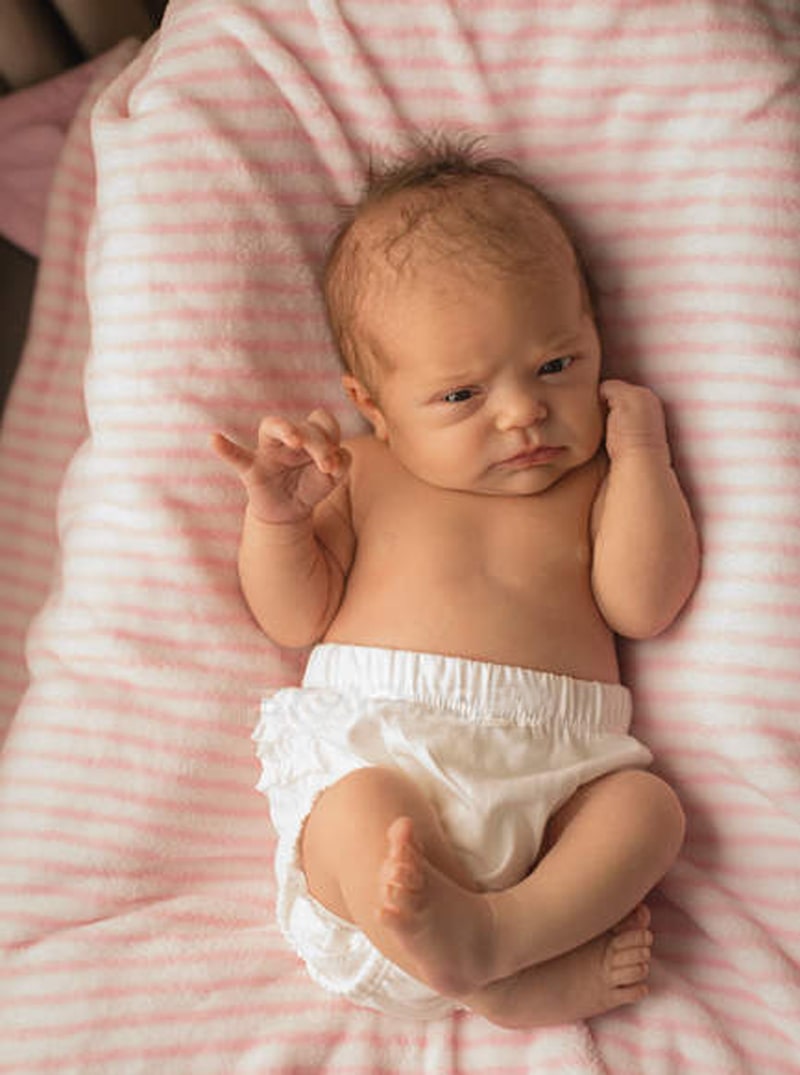 10. with Family Members
Ask a father, what is the best moment in his life? Definitely, he will answer, being a father.
This photography idea will allow you to capture a family moment. This type of image will remind you of sweet family moments later. So, without any hesitation, you can call it a family photo session rather than giving it a name as a pose.
Several poses can be used for these kinds of photo ideas.
Parents holding the baby or sibling are lying with the baby, parents, and the baby is looking at each other, or sibling is kissing on the forehead of the newborn and many more.
These ideas are some unique ideas that can be considered as golden family moments as well.
11. Newborn Outdoor Photography Pose
All the above-discussed photoshoot ideas were indoor newborn photography pose. At this pose idea, we will go outdoors.
If the weather is convenient and comfortable, you can take the baby outdoors. You will find different colors when you are photo shooting outdoors. Thus, the newborn image will become more vibrant than other photos.
You can place your newborn on a hammock or over the fresh grass.
But always make sure your baby is not feeling uncomfortable when s/he is outside.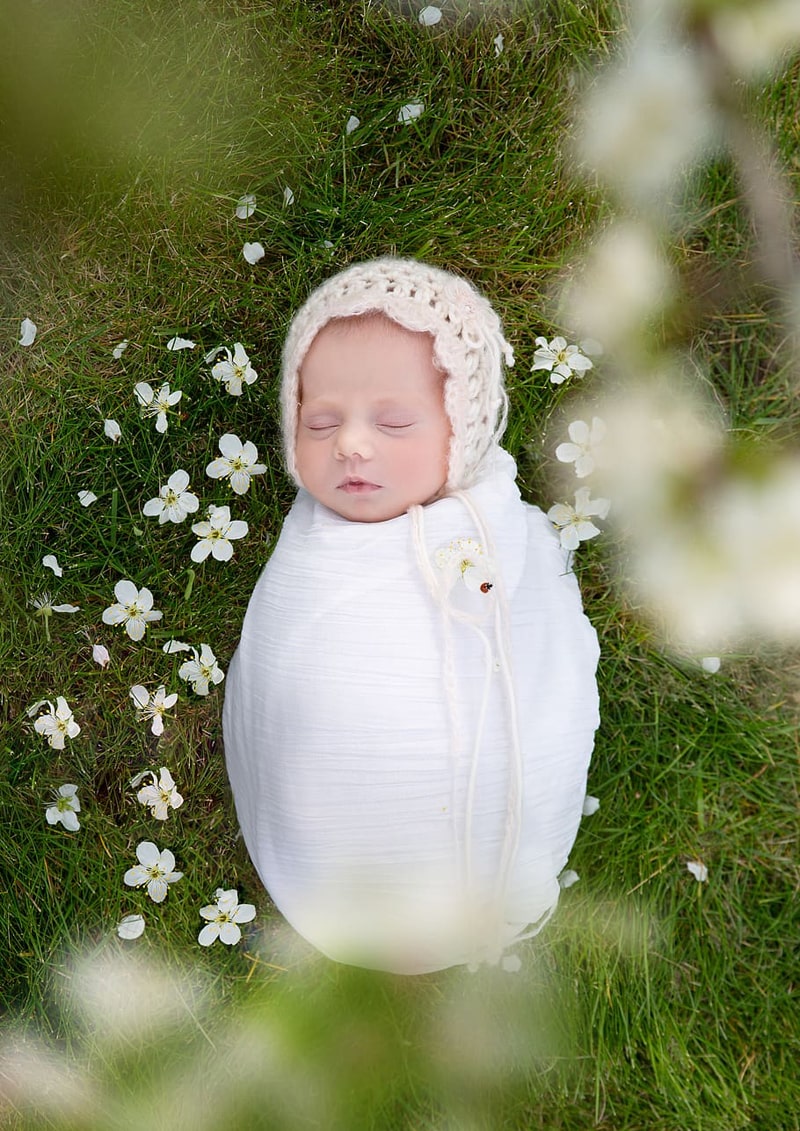 12. Between Parents Newborn Photography Pose
If you add parents to the photography ideas, you will always get a charming image.
Simply look at the image below. The baby takes his/her place between the parents. The parent can give an affectionate and smiley look to the baby, which is a perfect example of pure love.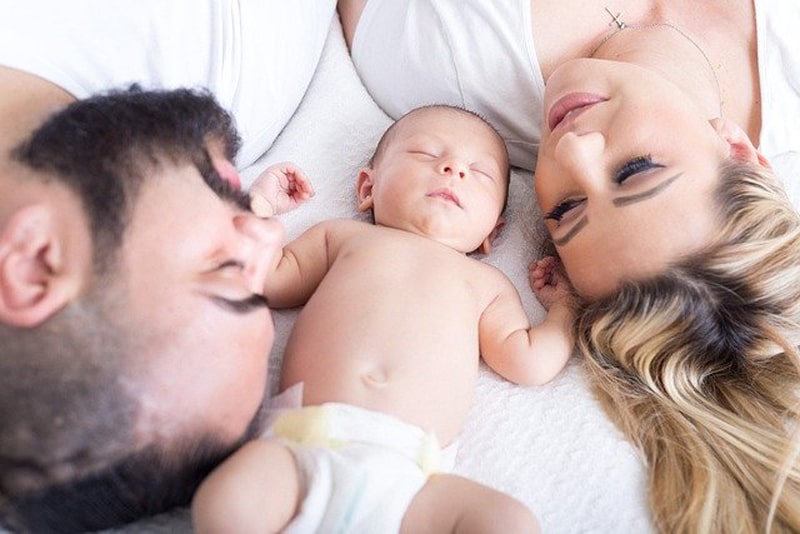 13. Smiling at Camera Pose
Becoming a parent is a great feeling. And new parents love to spend their time with their newborns. You can capture this joyful time with your camera.
After capturing an image, you also can give this pose idea as a gift to the new parents.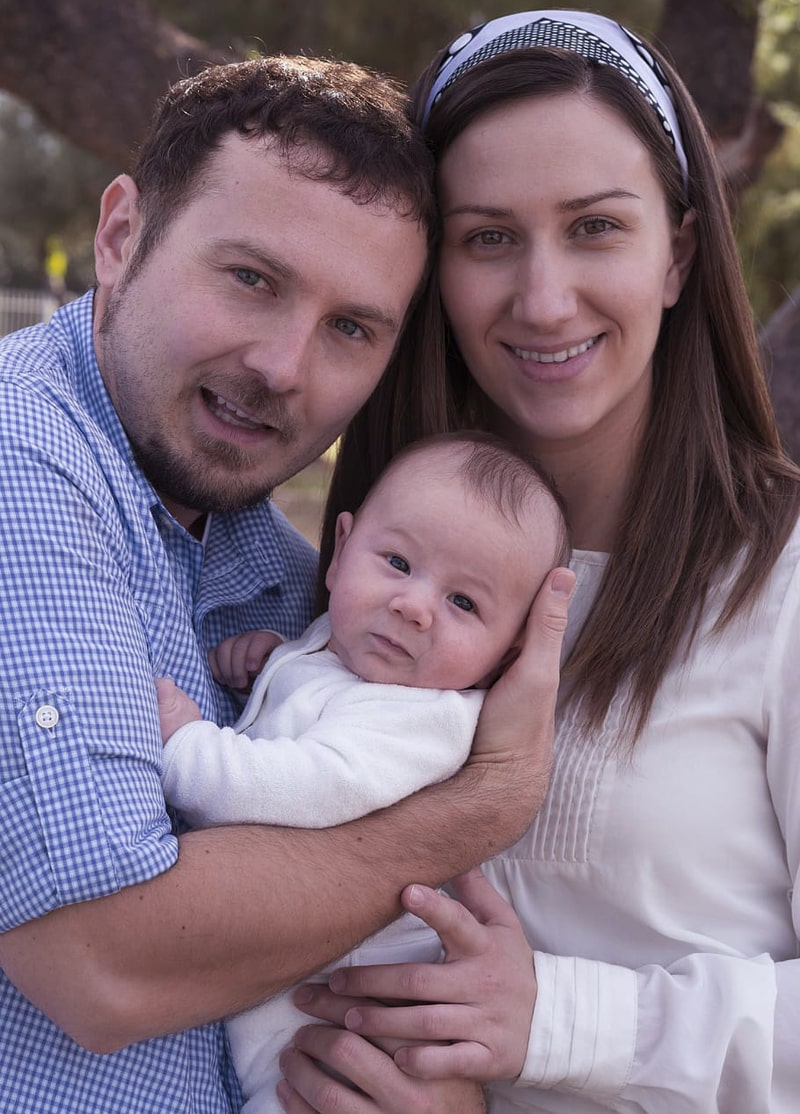 14. Baby in Hand Pose
Tell the parents to hold their babies on the palm. And capture a few close shots.
Remember to focus on the care that is shown by the parents.
Also, be remindful, babies are growing every day, and for a short time, they are small.
While capturing this photography pose, make sure to focus on their size. Both the parents and the newborn would like to remember the photoshoot time when the newborn will grow up.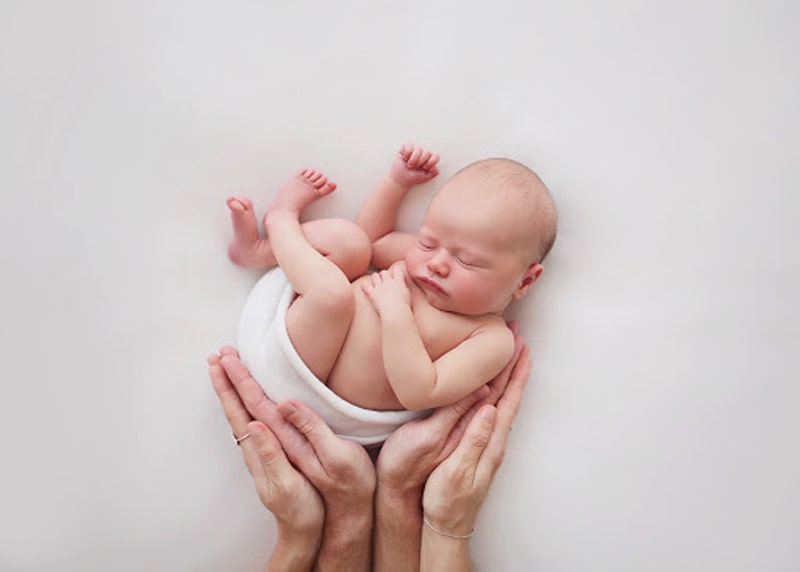 15. Lying on the Parents Shoulder Pose
Generally, babies love to sleep on their parent's shoulders. Place your baby on your shoulder and get an impressive photo.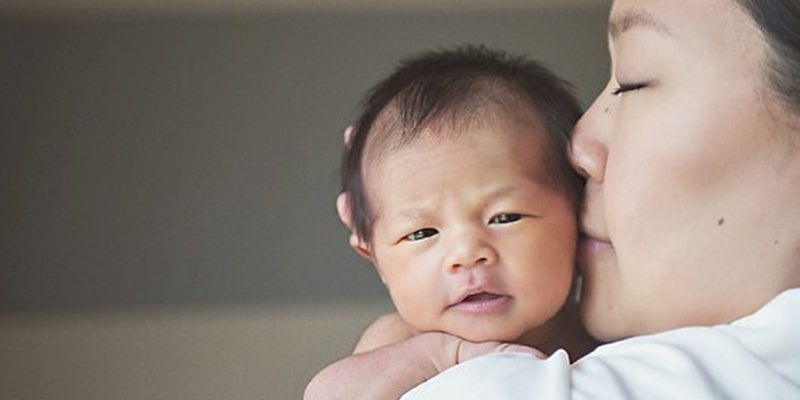 Tips on Executing the Poses Perfectly
A newborn image means you need to capture an image of a 2 – 3-month-old baby. And obtaining a newborn image is a bit of a challenging task.
If you are a beginner and planning to accomplish a session with a newborn, always keep in mind, "Safety and comfortability should get top priority."
Find the below tips and tricks to be the best newborn photographers.
Pick the best camera surfing out there in the market. A DSLR that has a high ISO system will be a safe choice for sure. Besides, you can go with a mirrorless camera too; these cameras are also much silent.
Newborn has sensitive eyes. So make sure you are using a safe lighting system. Avoid using different types of lighting or massive flashes. Undoubtedly, these lighting options will be harmful to babies.
You should purchase interesting accessories. These accessories will make the newborn while capturing an image for sure.
It is mandatory to keep the room temperature normal—the newborn needs to feel comfortable. So, if the weather is not pleasant, wait until the temperature comes in a convenient atmosphere.
You can edit the photos to make them more appealing. You can easily do these using different techniques in Photoshop. If you are unfamiliar with Photoshop, you can take newborn photo editing services. These companies are good enough to edit the photo.
Learning perfect timing is inevitable. You need to know when the baby remains awake and what is the baby's sleep time. Based on the timing, you can make your photoshoot plan.
Don't forget to choose the best fabric for the accessories of the photoshoot. Babies need to feel comfortable, and you have no other choice except let them feel comfortable.
Don't hurry when you are capturing a photo.
Try not to make the baby feel discomfort. If the baby cry, you will not get a good shot, undoubtedly.
Final Words on Newborn Photography Ideas at Home
You can show your creativity through newborn photography. Following the above 15 best newborn photography ideas at home, you can hone your skill as a beginner.
To become an expert in newborn photography, you have no other choice except to do a lot of practice.
Best of luck!
You may read:
20 Best Male Poses Ideas For Portrait Photographers
20 Modern & Unique Family Portrait Ideas and Poses
Memorable & Amazing Wedding Poses for Bride And Groom
10 Best Photography Business Ideas after COVID-19 Pandemic is Over