Fixing flyaway hair using hair retouching in photoshop is one of the complicated & crucial steps that every Photographer faces. The most challenging part is every hair has its unique style. The method you pick to fix frizzy hair varies from one hair to another. Though there is no easy one-click solution if you are driving for perfection!
You need to fix each hair by hand gradually using some tools & techniques. If you learn the process that must benefit you. Flyaway hair is sometimes extremely distracting. But yes if you follow the below method to fix flyaway hair you are surely amazed to see the output.
I am covering here the most popular & efficient method of hair retouching that can apply all kinds of hair. No matter whether the style or color is. If you are a designer or photographer you surely learn some essential skills to get rid of flyaways in the photograph.
Here's how you can deal with fly away in Photoshop. Keep reading to jump into an amazing transformation from a frizzy image to an eye-catchy one.
What Causes Frizzy Hair:
Flyaway or frizzy hair can cause wind, static, or hair free of ties. When you use hats or headbands or use clothes on the head that also makes static cling. When a hair & a fleece pulled against. This arises an electric charge on your hair.
When your hair doesn't get any moisture in the air that charges from one hair to another. So, the hair looks wild or frizzy.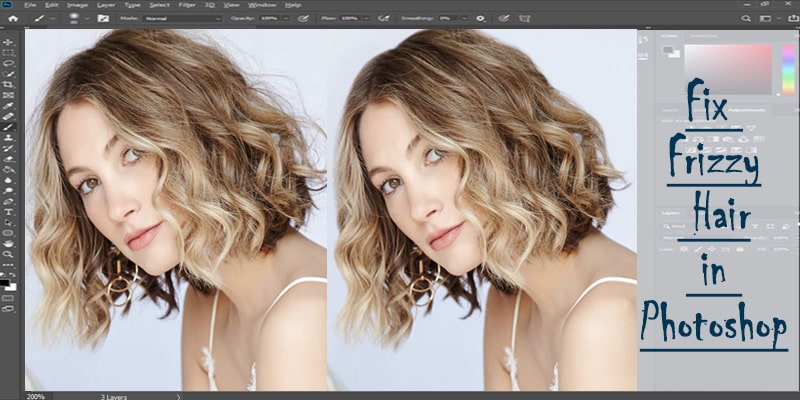 Fix Frizzy Hair in Photoshop

Step1: Open The Image & Apply Clone Stamp Tools
Open Photoshop. From the menu bar choose File > Open > Select your image. After opening the image add a new layer. Look at the menu bar on the left side & pick the clone stamp tool & apply the below modification.
Set the Mode: Normal.
Keep Opacity: 100%.
Select Flow: 100%.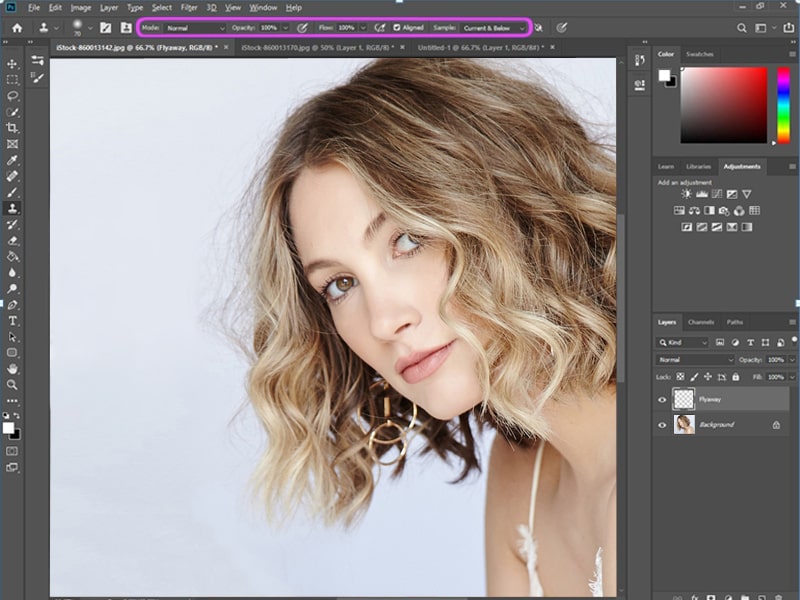 Step2: Let's start to paint all over the excess flyaway hair
Now the aim is to choose the source. If you use Mac just hold down the ALT key & click on any point in the image background. Let's start to paint all over the excess flyaway hair or windblown hair. It does not need to be accurate. We can maintain the edge accuracy in further steps using some tricks.
Step3: Add a Mask to the layer that you create
Here you need to add a Mask to the layer that you create. Now select the Rectangular tool with a circle shape at the bottom. You should ensure that the foreground color is selected to black as the given picture.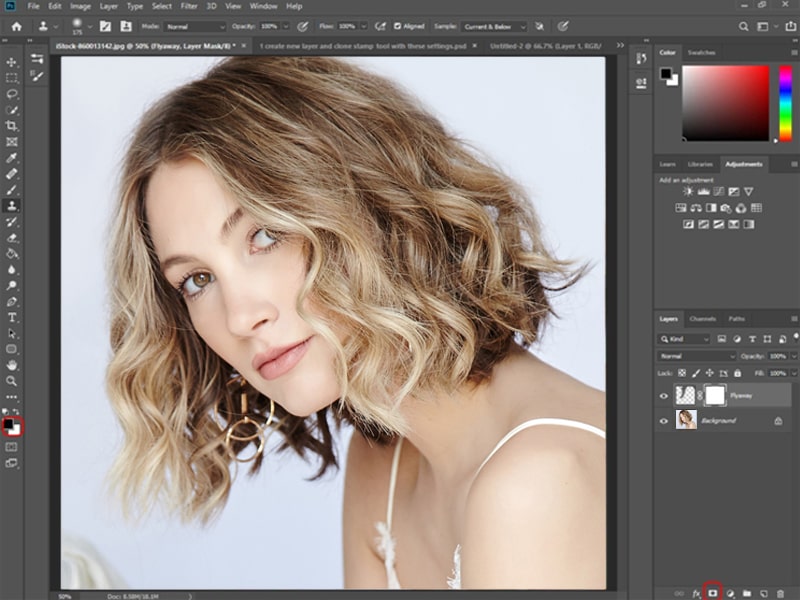 Step 4: Do any unwanted painting over excellent hair
Now, you will pick the Brush tool & apply it to the mask to bring out some hair that painted before. If you do any unwanted painting over excellent hair you can now easily revived the hair.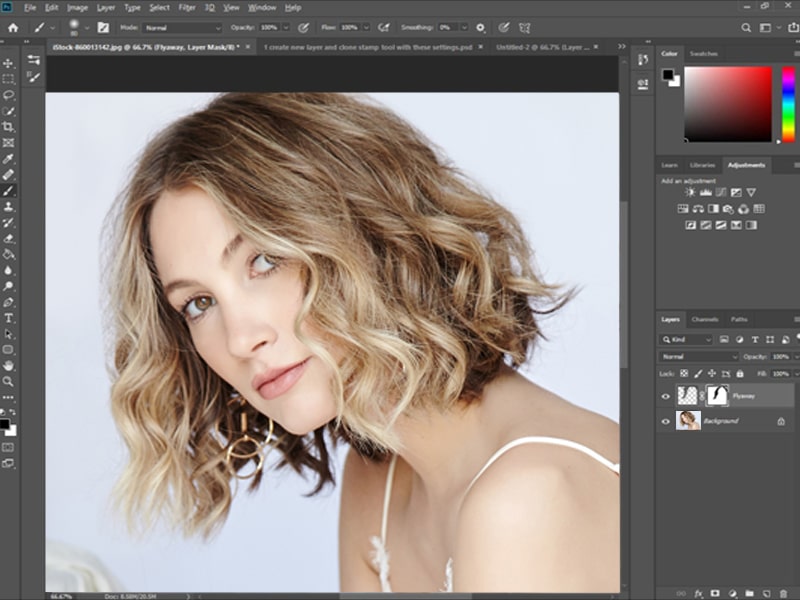 Step5: Pen Pressure
Now you need to modify your Brush settings. From the menu choose window> Brush> settings.
You will find a new pop-up menu like the below images. You need to mark off the Transfer & select the control drop-down to "Pen Pressure" as in the below photo.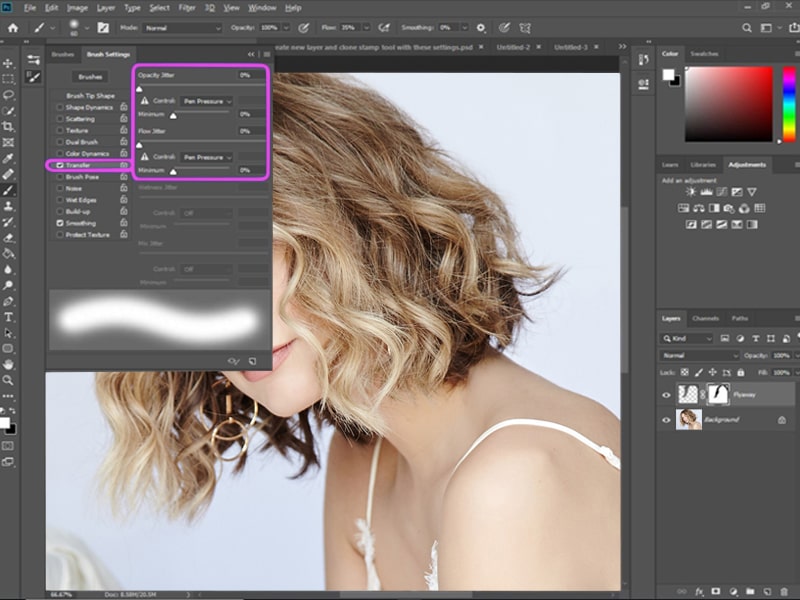 Step6: Refining your Work
As you select the foreground color to black now paint over the mask to bring frizzy hair. When you need to hide the flyaway just paint over using white. You can easily change the foreground color by pressing X. So, you can switch between white & black according to the need.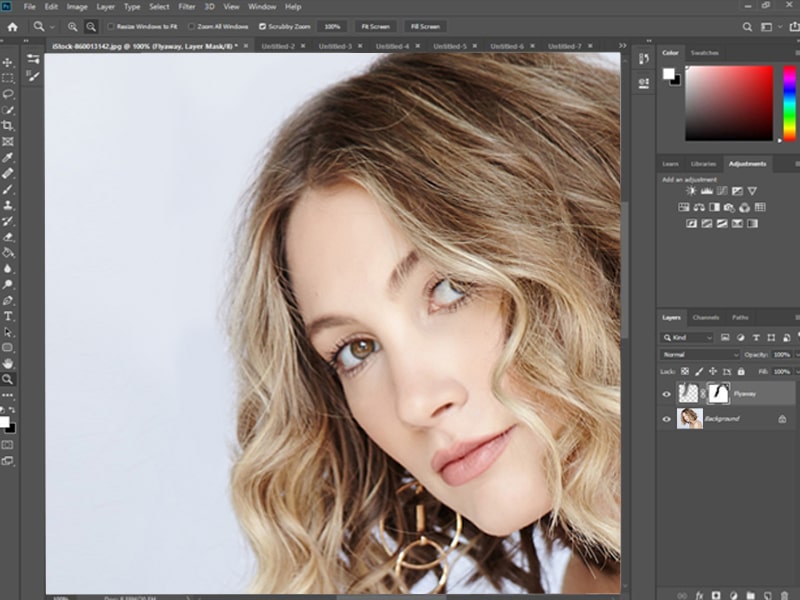 Step7: Check the Results
Check the result if the outlook satisfies you can stop your retouching. But you can see still the image contains some frizzy hair that is slightly visible.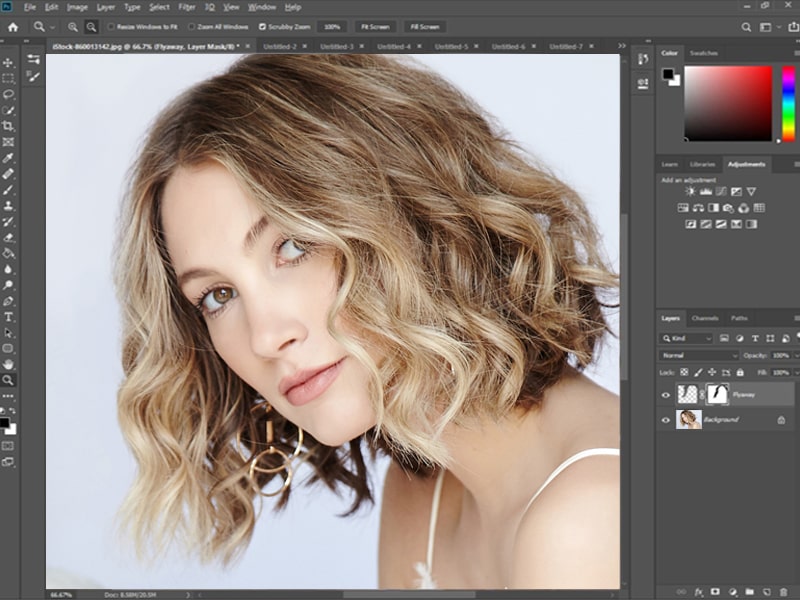 Step8: Zoom in to observe closely
Now zoom in the photo closely to add or hide frizzy hair precisely according to the picture's demand.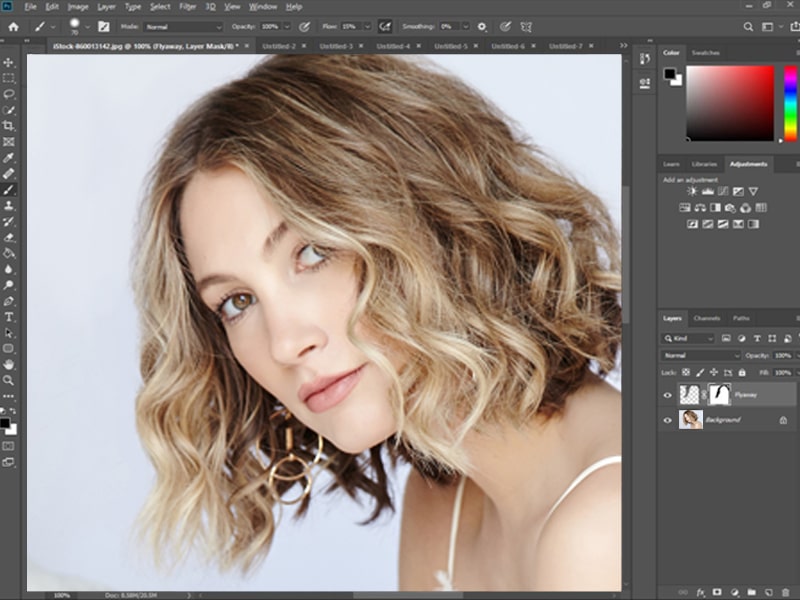 Step9: Make it Realistic
Our target is to make the hair shapes more realistic & shinning without any frizz. So, you jump to hide the frizzy hair with some of the volumes of hair. You must ensure the edges look natural. If it becomes much thinner or soft you need to swap the brush settings to produce appropriate hair edges.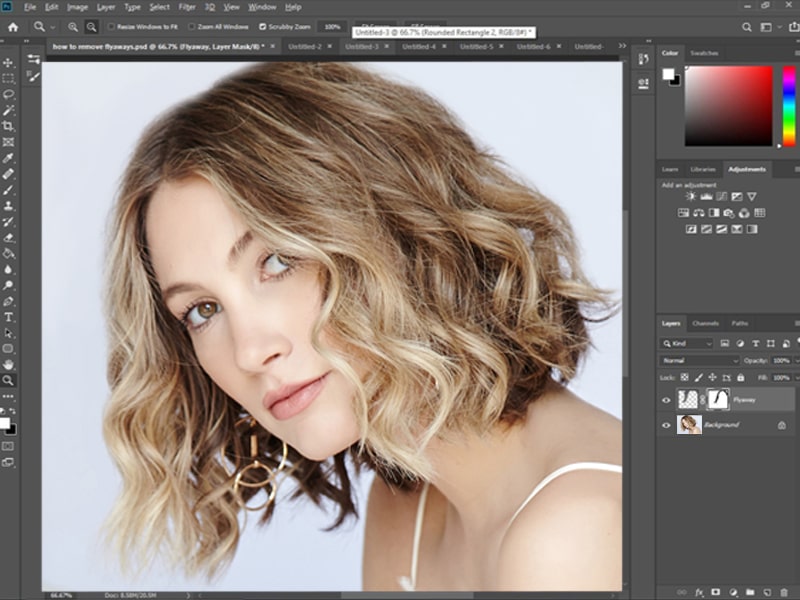 Step10: Modify windblown hair
Now you need to modify the Flow settings to 80%. Moreover, to make the edges more sparkling hardened the brush.
You can keep trying to derive better output. It's the overall instructions you need to follow & maintain to fix windblown hair.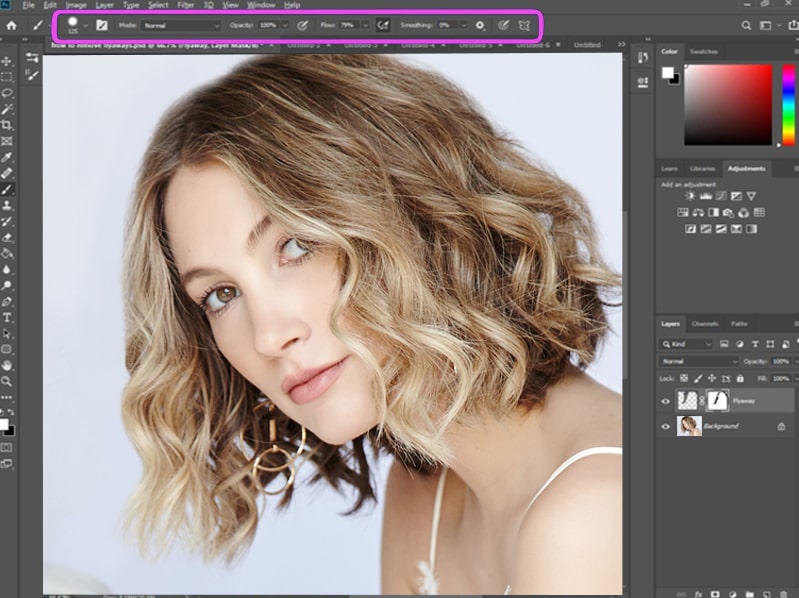 Step11: Blurring the Edges (Optional)
See our final transformation of a frizzy hair image. Here we just add an extra step of blurring the edges on a different layer. We apply the Blurry tool that makes the hair softer.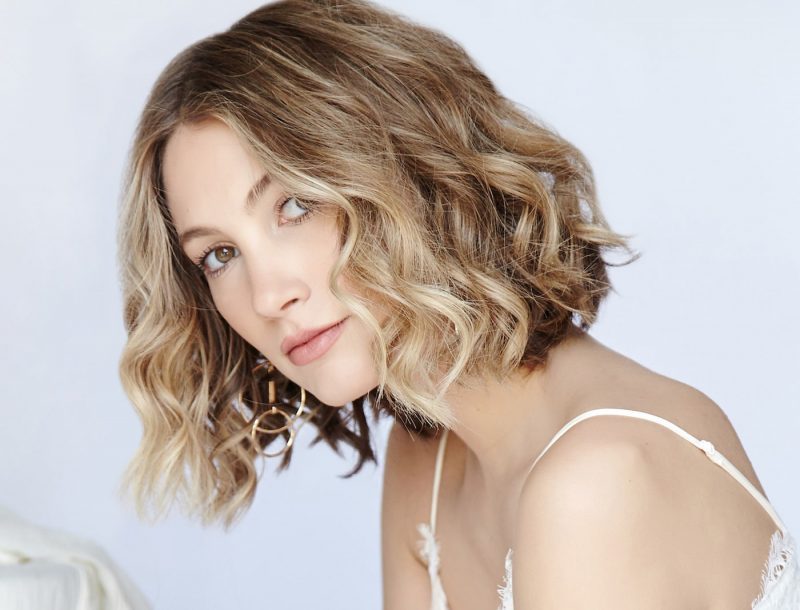 Step12: Warp up the Work
Check the final comparison to realize the changes by below before & after images together. You can modify the outlook according to your choice.

Advance Tips on Fixing Bulk Images with Frizzy Hair:
Generally, flyaways are crucial to handle. There is no technique to bound the wind to arrange any prevention method from a frizzy hair photograph. So, you need to overcome the problem by applying my technique. Frizzy hair that remains on a celebrity's face or an empty surface creates a bad impression. It can bring negative feedback to your photography.
So there is no scope to avoid frizzy hair. I discuss a hassle-free method below.
Do you think the above method is very tough? Or you don't have enough time to follow this lengthy step. But you want to fix frizzy hair perfectly. Don't worry I will share a time-saving solution for you.
There is some awesome Photoshop service provider who can perfectly fix frizzy hair. It is affordable & time-saving. You just need to pick the right hair masking or retouching to get exclusive service. Check their sample work or grab a free trial free feature to find the best Photoshop service.
The Photoshop service provider has some professional, skilled & experienced hair retouchers to give you a natural hair look without any slight frizz. Remember one thing experience has the power to do a miracle. Their years of experience in Hair Retouching can change your photo look. Who knows the outstanding photograph can build your career & make you famous.
Never compromise with the quality outlook for a little money. Whether you give dedication, attention to apply the first method, or outsource any good Photoshop service to get a professional photo without frizzy hair.
The aim is to give the hair a natural look that removes image distraction. But to derive perfection not chase the hair too much that makes the hair look artificial or edited. So, you should deal carefully with the healing brush to avoid this.
Final Words on Fixing Frizzy Hair in Photoshop
If you are a newbie & required perfect Hair Retouching undoubtedly choose Photoshop Service. It is a better & right choice for you. But if you are confident & expert please follow my method carefully to get the best result. Let's play with your image according to your choice & requirements.
This method will increase your photo editing skills in photoshop & satisfy you with the output.
You May Learn more: