Do you want to expand your career in Glamour and Fashion Photography?
Glamour photography is not similar to Traditional Photography; it is an art that highlights the beauty of a model. Models' outfits, locations, and makeup styles are impressive in a glamorous photo shoot.
A model or several models or the model's physical features are the main subjects of glamour photography. Therefore, I will share a complete guideline to assist you in capturing a gorgeous and glamorous photoshoot.
Also, to achieve the instruction, you need to know about digital photography's fundamentals of coverage and structure.
Glamour Photography VS. Fashion Photography
Glamour photoshoot focuses on the facial beauty of the model. Unfortunately, in this genre of photography, sexual attractions are highly appreciated, and as a result, a photographer may create an unpleasant moment.
Glamour photoshoot follows different techniques to reveal a model's best physical features. As a result, a model is fully converted so that after printing the photo, the model appears to be a different person – physically.
To sum up, it can be said that glamour photography emphasizes loveliness and allure.
In a glamour photo session, props or locations are less important than a model. Instead, photographers take care of several different features to focus on that breathtaking otherworldly beauty.
From the outfits and cosmetics to lighting options and post-processing, all these options work together to make an impressively gorgeous image where the subject receives the focus.
A woman becomes more confident and feels remarkably beautiful after performing glamour photography.
A model appears in significantly exciting clothes, and a photographer captures a fantastic glamour photoshoot through lighting and unique pose instruction.
Moreover, each of these photography requires different types of photoshop editing services.
In a glamour and fashion photography session, a photographer decides whether the shot will be taken outside or a boudoir photo shoot. Do you know what a boudoir is? It is a French word that means a woman's bedroom or small private room.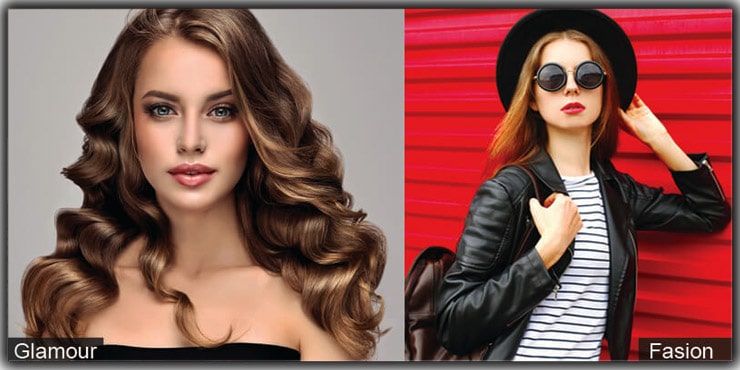 Glamour Photography
It is portrayed in photography where the main focus lies on models' physical appearances, especially the face.
Different types of creative photographic special effects like black and white and color pop are highly appreciated to catch the viewer's response. Also, priority is required to highlight the natural beauty.
As it is a portrait, photoshoot, and face and physical features receive the entire attraction, other objects receive less priority.
It is a time-consuming as well as less staff demandable process. An artist, a photographer, and a makeup artist are enough to capture a glamorous photo.
A budget-friendly photoshoot process. The outdoor photo shoot is unnecessary; even if the indoor background is simple, there is no issue.
Photographer proves their creativity. With minimal elements distracting the attention, glamourous photoshoots replicate the connection or the bond between the photographer and the model.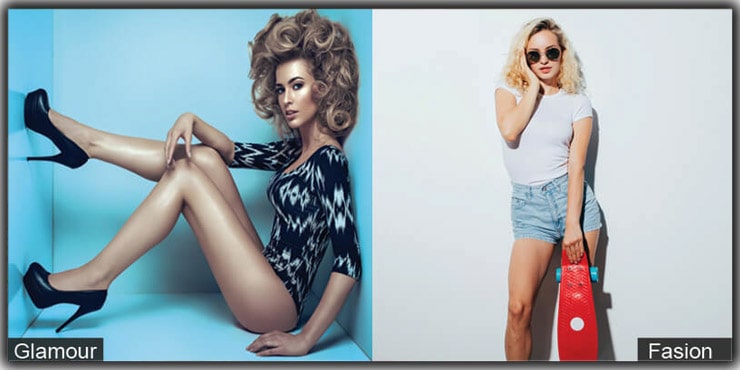 Fashion Photography
Not only physical features or faces but also several objects receive the focus.
Several entities play a vital role in capturing perfect fashion photography. Makeup, furniture, and backgrounds must be synchronized to achieve a stunning image.
Fashion photography is expensive. A photographer, along with a makeup artist, a set designer, a dress designer, a stylist, hair artist, plays an essential role in fashion photography.
This photography process needs more time to accomplish the goal. All team members need to be aligned with each other; otherwise, the final output will be a pile of rubbish.
Based on the preferences given by the clients, a fashion photoshoot can be either indoor or outdoor. Beaches, parks, resorts, etc., are the most popular outdoor location. On the other hand, the indoor background has to be mesmerizingly gorgeous.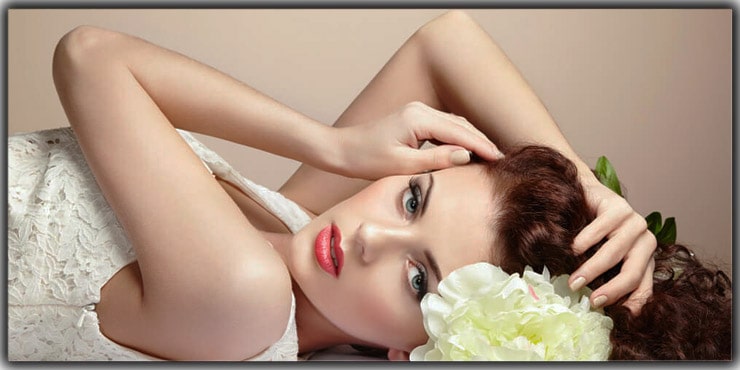 How to take Successful Glamour Photographs?
To create successful glamour photography, a photographer must keep many things in mind. Glamour photography fetches many altered fundamentals together. And it bonds the fundamentals together in an image of rejoicing beauty.
Preparation
As discussed earlier, several types of equipment are related to glamour photography; an accurate plan is essential to create a bond between all this equipment. Without a definite plan, you can't fulfill your desire.
You need to find answers to several questions.
What should they look like?
What is your client's requirement?
How will you highlight the model's beauty?
To get these answers, you need to keep props, location, clothing, and shooting ready for the session and outline a plan to achieve the goal of the photo.
Everything needs to be synchronized well if you want a perfect final output. That is how you can pick up the beauty enclosed in the Image.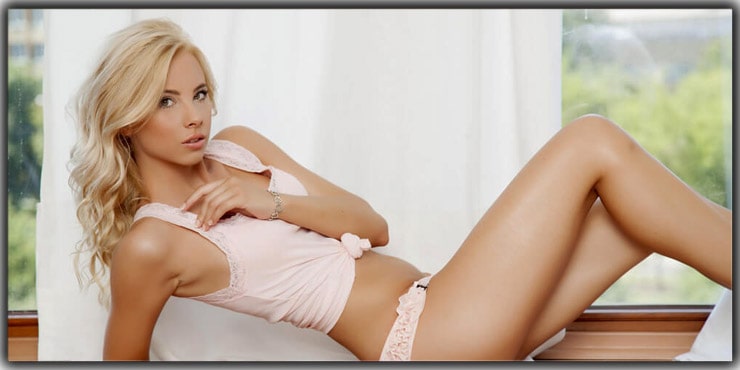 Outfits and Makeup
Yet Glamour photography is not similar to fashion photography, but costumes and makeup are significantly outstanding.
You may need to keep aside the brand designer name of the wardrobe or not need to focus on the outfits, but outfits help to highlight the facial beauty of a model.
The wardrobe should be blarney without being too shaky or too cozy. Yet that is not a rule to strictly follow — some glamour shots, such as hides ample to tease with a slack "boyfriend" shirt.
Also, a solid color wardrobe color is preferable. Finally, don't go with any pattern that might distract your viewers.
High heels are also preferable as it helps to give a culmination look to the calves and thighs. Often, glamour shots photographers offer their efforts with a face artist for the perfect face look.
Location
There are no final rules to restrict a photographer from choosing the location. Either indoor or outdoor, both options are preferable.
Maybe you have your glamour studio, or you can also hire a studio for your glamour photoshoot. Also, you can select beaches or an unrestrained building, or a jungle, and you are free to choose any location.
It is essential to synchronize the outfits with the location like a bikini is a perfect suit at beaches or in boudoir photography. A photo may spoil if you choose wrongly. Making the right decision is a unique characteristic of expert glamour shots photographers.
Light Setup
The light setup is crucial for glamour photography and plays a vital role in any photography. Lighting gives a cohesive look to the beauty of a model and minimizes imperfections.
Let's say; you want to highlight the cheekbones. You need to place the light above and point it down at the model to highlight the curves of the face. Even at the same time, the perfect light setup can peak the chin line and extend the neck.
During the 1950s, photographers used steady light in the limelight. On the other hand, soft window light is suitable for boudoir photography.
Pose
An expert photographer knows how to use posing well. For one, to coherent the spot of the model to peak that beauty.
Posing is inevitable to pick up eye beauty and create a flawless look. Glamour posing reveals curves.
To start the curve from the ground up, fluctuate the model's weight to one foot. Several tricks, like exploding a knee out or stepping forward, are also helpful to get this pose. A professional model knows well how to give a posture to get a glamorous photo.
A flirtatious smile or split lips, a passionate look, can give an honest look that equals the complete texture of the photo.
Post-Processing
The final and one of the most critical parts of glamour and fashion photography. Don't think that everything is OK, just after capturing the photo. You need to do a lot of work to make a polished look of the Image.
Yet makeup artist works while taking the snap, but retouching is required to celebrate the beauty. Don't mix retouching with airbrushing. A photographer should pay attention to the border between authentic beauty and artificial.
Glamour photography post-production gives exceptional value to beauty. Every photographer is a worshiper of the goddess. Learn to appreciate beauty.
Advance Tips and Tricks
Using fancy and shiny pieces of jewelry will distract your viewer. Instead, focus on the eyes and face.
Give a note to your model not to wear printed or patterned outfits and show a cross sign to these outfits. Solid-colored outfits are suitable for glamour photography. Also, a skin-tight outfit is enough to spoil your photo. So, nothing loose, nothing tight.
Transformation is inevitable for glamour photography. Don't wear similar outfits, makeup, or hairstyle; look for every photo.
High heel shoes will give an eye-catchy and sexy look to your model.
If you need reflectors, additional artificial backgrounds, and lighting, don't be reluctant to use them.
Regulate the lighting setup based on the theme and mood.
Photoshop is obvious in post-processing, so don't be afraid to use it.
Consultation
I hope you have already understood that only lighting and posing are not all to be a glamour photographer. However, a lot needs to keep in mind to achieve a sensual and glamorous photo.
More posts for your convenience: