Ideas on the Best Couple Poses for Portrait Photography are essential. It will open up great opportunities to showcase your photography portfolio.
In recent years, couple photoshoots have grown increasingly prevalent. The connection, contact, and, most importantly, sentiments between two individuals are depicted in these couple pictures.
Couple photography is delightful and uplifting since you work with profound and intense sensations. Couple portrait photography is a significant revenue stream for photographers, and it will provide you with some fantastic portrait photographs to add to your digital portfolio.
Creating fun, appealing couple photography poses is unquestionably a career-enhancing skill worth learning.
This is why we've put up this guide on Best Couple Poses for Portrait Photography, which will provide you with several resources and a couple of photoshoot ideas to allow you to make your future couple picture shoot a memorable experience!
Professional Couple Poses and Photoshoot Tips
Before diving into the various poses, a few points to remember will assist you and your clients in having a successful and enjoyable photoshoot.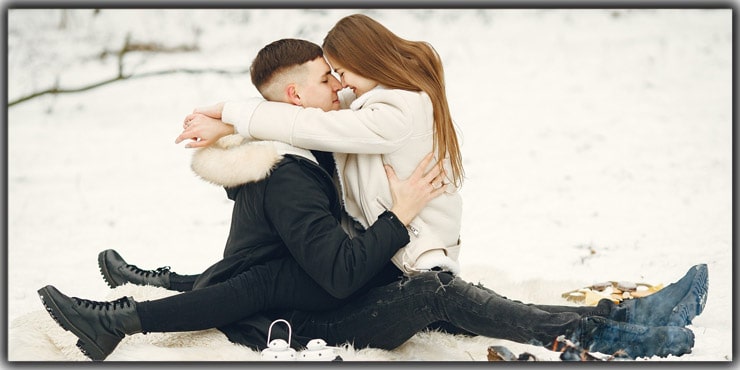 Every Couple is Unique
Everyone has a unique personality. So it's also understandable that you won't get along with every duo that comes your way. As a photographer, your objective should be to know how to respond to the many personalities and quirks of the individuals you're capturing.
It's possible that how you approach shooting one couple differs from how you proceed in capturing another. On paper, your strategy will work for a wide range of people. You may use various suggestions to encourage natural responses from couples when posing (for example).
However, there are times when this technique does not work, and people require further guidance.
Make Them Wear Matching Attire.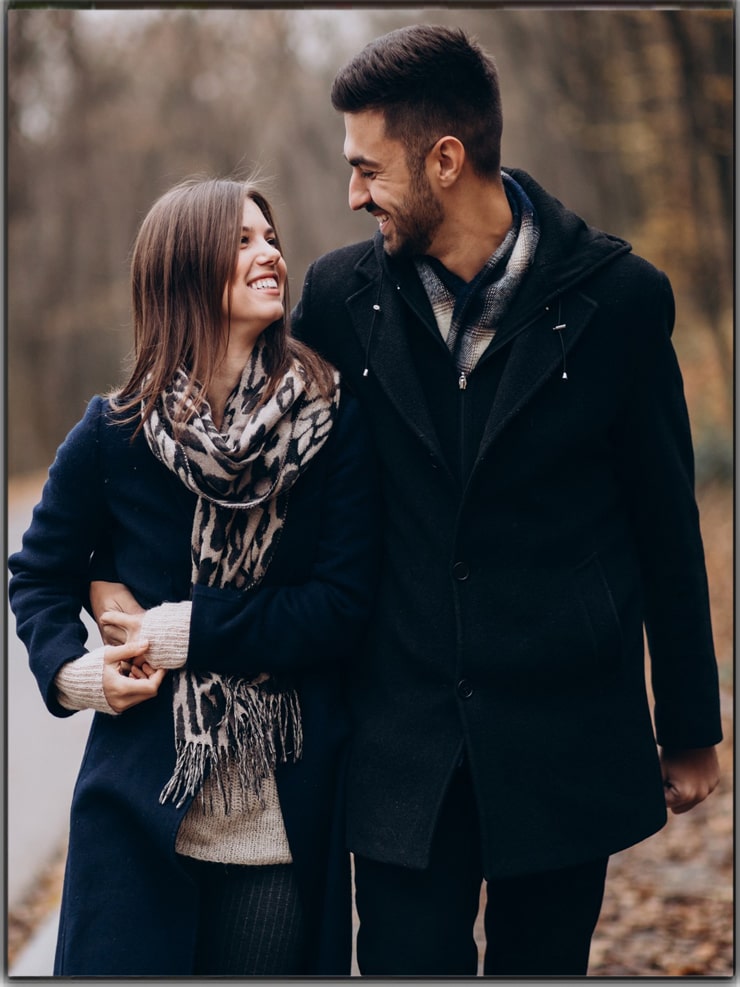 What the subject wears influences their perspective. Furthermore, you can determine if someone is confident or not by looking at the pose and facial expression. Tell your clients to dress in anything that makes them feel confident and relaxed.
Let the couple know in advance if you plan on making them run, leap, or rest. They will be able to move quickly as a result of their decision.
Encourage your couple to match clothing to create a sense of closeness and complement each other. This does not imply that they must be clothed in the same manner! Make sure the pair are dressed in complementary colors. Remember to consider fashion style as well.
Before Shooting, Make Appropriate Adjustments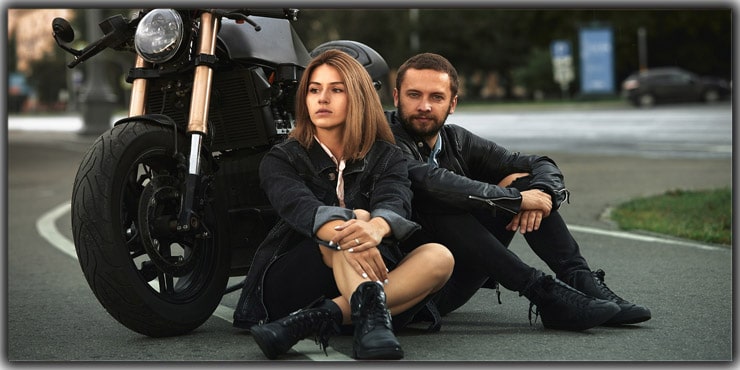 Let them know you'll be directing them before you start the couple photoshoot. You may also let them know if their hairstyle or clothing needs to be modified. You want them to appear beautiful in the photographs, and it is your job to make them look their best.
Take note as to how they appear on and off the LCD. They will admire your approach. It will also allow them to relax, as they will have one more minor issue to be concerned about. Get in the habit of inspecting their hair and clothing before hitting the shutter release button.
Direct Them to Explore Their Connection
Dealing with couples can allow them to interact with one another. They'll assist one another in finding natural postures and settings. This will enable them to relax and not feel as self-conscious in front of the lens as a single model.
In addition, they are both aware of what makes the other laugh or chuckle, which is a plus.
However, you must still assist them by creating the proper atmosphere, connecting with them, and speaking with them. Inquire about how they started, what they enjoy doing together, and what they admire in each other. Look for things that will remind them of pleasant times.
This strengthens their connection, which is shown in the photos.
Before the Couple Photoshoot, Use a Posing Guide as a Reference.
Standing postures, leaning against a wall, strolling, holding hands, kissing, sitting, and lying down are examples of couple poses. Begin by suggesting a handful of basic position ideas to the couple.
Then let the pair decide on their own how the position should appear. Capture the moments as they pose in whatever way seems effortless to them. A variety of positions helps keep your models from becoming bored or agitated.
52 Best Couple Poses for Portrait Photography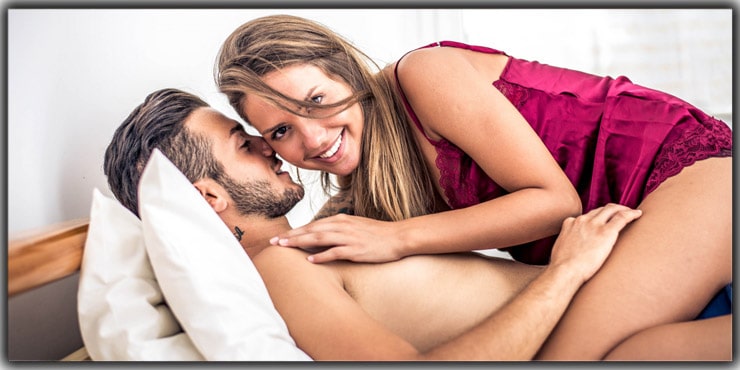 You can offer the couple these directions at any time throughout the session. Feel free to show them the reference photos to support their re-creation of these positions. It's OK if not every position works for every couple.
Allow yourself to try out new positions and tweak the ones on this list. You'll get closer to having a good couple photograph the more postures you try.
1. Touch Your Partner's Face Tenderly.
You may obtain a touching moment by asking the duo to hold each other's faces. They can softly touch each other's cheeks or just embrace each other's faces in their hands. Request that they do this while looking into each other's eyes.
This is a fantastic method to add warmth to your photographs. However, you should only do this posture if the pair is at ease. If you begin with this right away, they may feel uneasy.
2. Take a Walk Holding Hands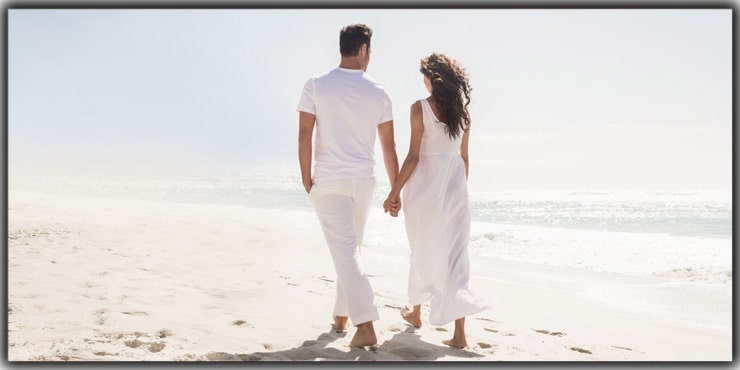 You may do this at any moment during your photo session. Although the iconic hand-holding romantic stance is cliched, it never gets old. Ask the pair to stroll before you to make your photographs more genuine.
They should have a specific distance in mind so that everyone knows how much further they should travel.
The pair may have a chat, joke, or point out anything interesting while they walk. This is the ideal moment to get genuine and natural couple photographs.
3. Back Hug Couple Poses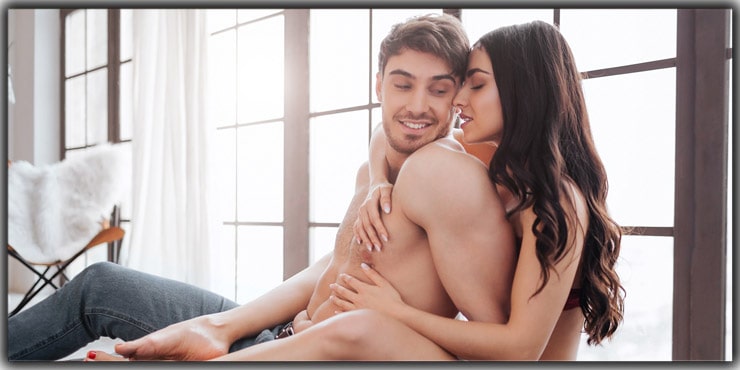 A person can be hugged in various ways. Rather than holding each other directly, the partner might try hugging each other from the back. This allows you to capture both of the couple's expressions simultaneously.
You can snap romantic close-up shots since their faces are so close together. This is also an excellent opportunity to photograph a happy and lively couple.
4. Nose Touch Couple Poses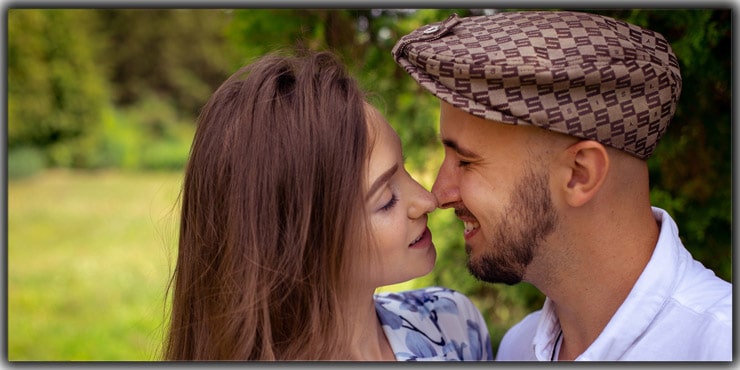 Touching your nose against someone else's is a traditional Japanese greeting. You may use this pleasant greeting in your couple's photo session.
The models can touch noses. Their brows might also contact to increase closeness. As they do this, take close-up photos of them. You'll get even better pictures if they giggle while doing it.
5. Back Ride Couple Poses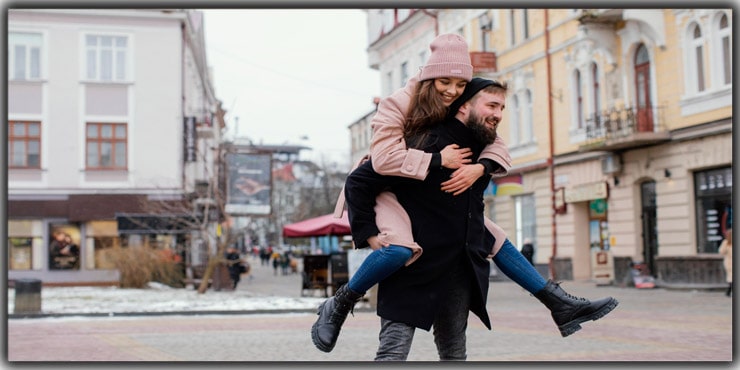 The pair can alternate lifting one another on their backs. Piggyback rides may sound childish, but they're a great way to unwind and have a good time. If the couple appears uncomfortable, begin with this position to help them relax.
A back ride posture will make the couple giggle and feel comfortable in front of the camera.
6. Forehead Kiss
Another modest but lovely gesture for close-up portrait photography is a forehead kiss. The black and white (B&W) effect is viral in a couple's portraiture. It eliminates distracting colors and enhances feelings.
7. Kiss on the Hands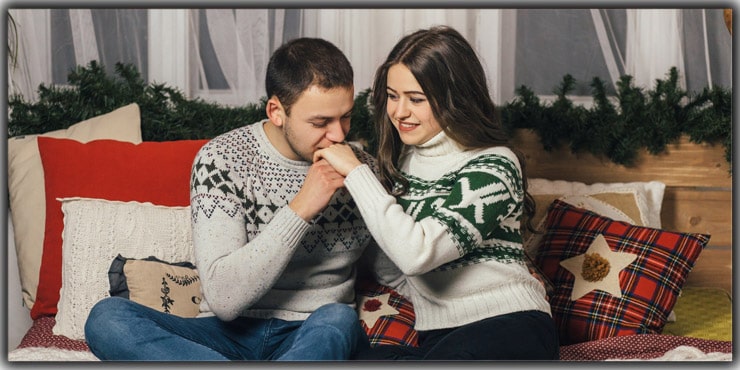 Kissing a hand has traditionally been a gesture of respect, affection, and delight. During your couple photoshoot, you may utilize this stance a lot. Combining it with additional positions will make the photographs even more distinctive.
For example, the duo can kiss each other's hands while walking. While embracing from the back, one of the partners may leave a peck on the other's hand.
8. Sunset Silhouette Couple Poses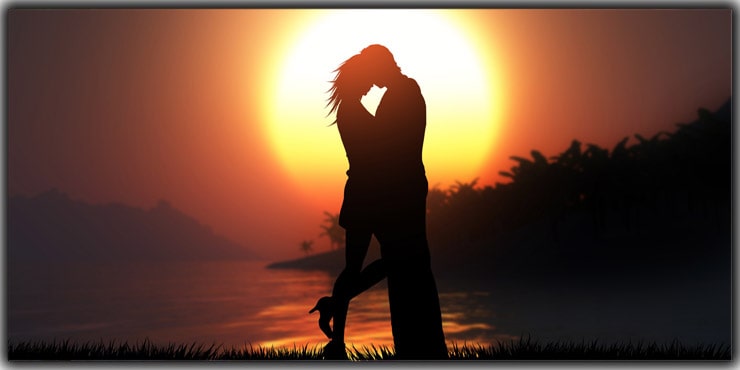 This is among the most extensively adopted couple poses. The two should lean in close enough to brush their foreheads. Even their noses may be pressed together.
A sunset or a brilliant light source should be used as the background. Shoot against the light, ensuring that the pair is directly above it. This will result in a lovely blur.
9. Balance on a Log Together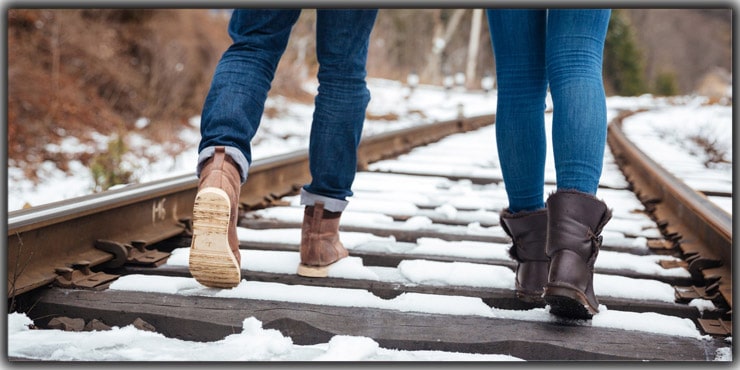 It may appear to be an odd coupling stance, but stay with me! Resilience and trust are symbolized by balancing anything with your partner.
Of course, the pair does not have to balance on a fragile object. They might just stand on a log or something that resembles one. You can photograph their entire body or just their legs.
10. Adore in a Cozy Environment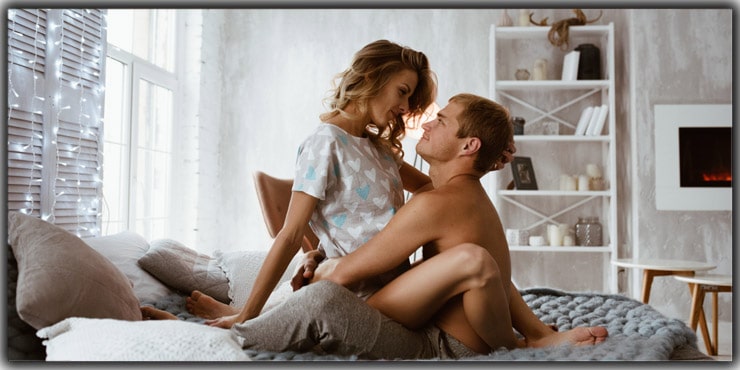 You can construct a variety of ideological positions at home. You may also do a few photoshoots at a location where your clients will have the most fun. Inviting them to kiss, embrace, or hold hands is a good idea.
Concentrate your attention away from them while you do so. Instead, focus on something they both possess. It may be a puppy, a cup of coffee, or something else that wonderfully encapsulates their bond.
11. Whisper Anything Hilarious Into Your Partner's Ear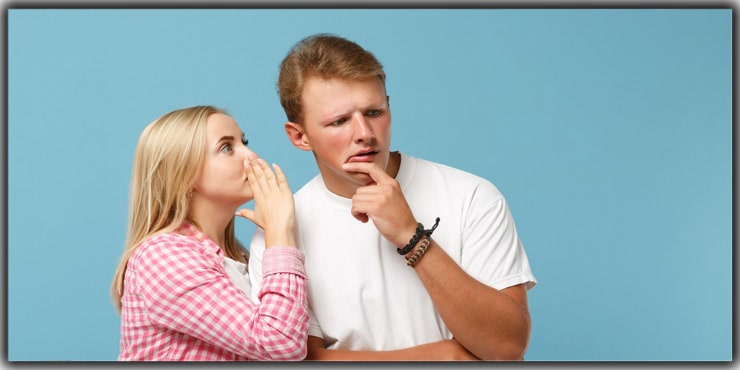 This is another excellent posture for taking photographs of couples. Instruct the pair to exchange jokes, speak something foolish, or just murmur nonsense into their partner's ear. Try capturing them as they do this.
12. Lift One Another Up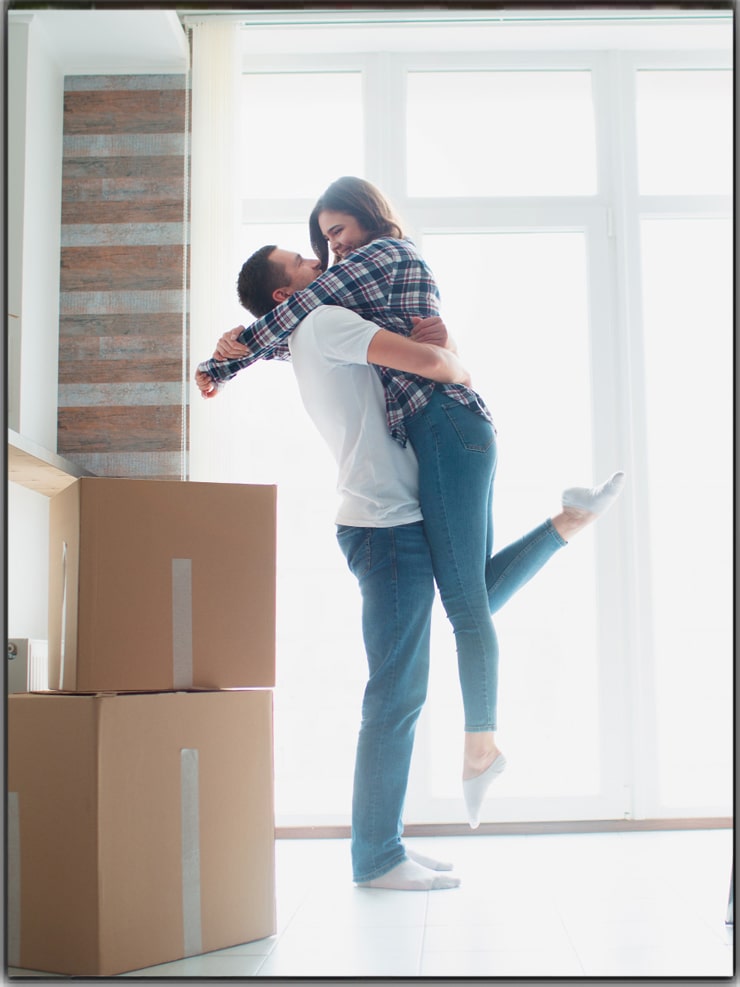 Request that the pair take turns lifting each other. This may appear ridiculous, but it is a great technique to have your clients giggle and act foolishly in front of the lens!
13. Snuggle Beneath a Cozy Blanket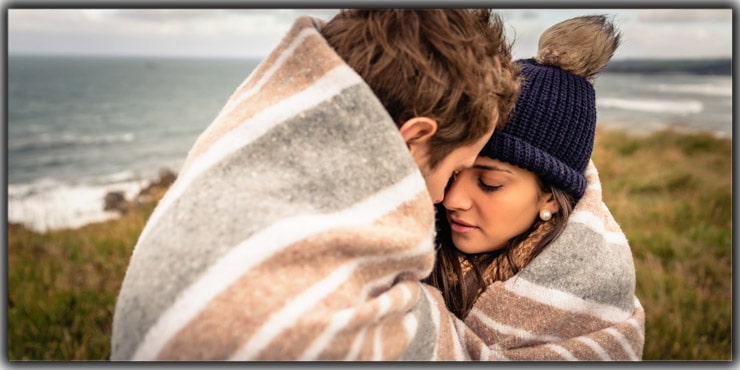 This is a famous couple posing for fall or winter photoshoots. While snuggling underneath a blanket, the pair can lean on one another.
Check that the blanket matches their clothing and isn't too bright. Use it only as a prop to add warmth to your pictures.
14. Lock Your Hands And Stare In The Same Direction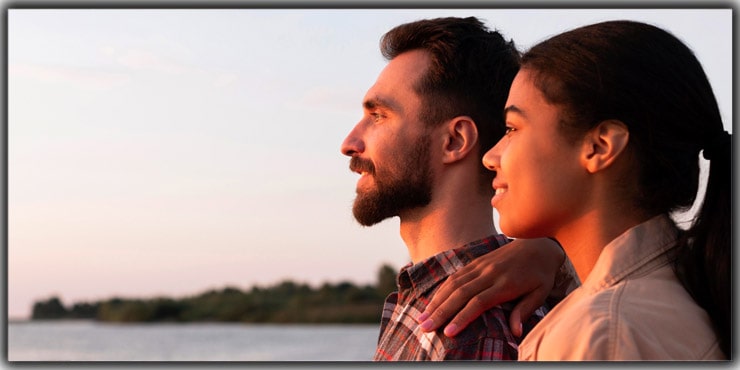 Strong ideas are symbolized by looking in one direction. For example, if the pair holds hands and looks in the same direction, they will appear to be a tough team in your photographs.
15. Dancing Couple Poses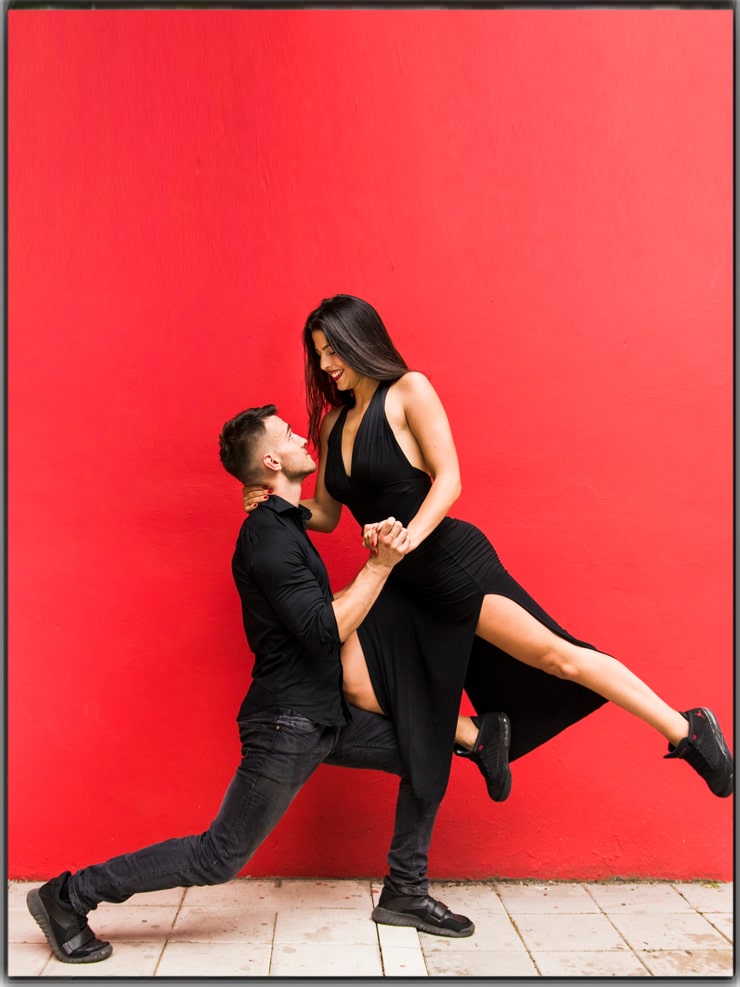 Many individuals find dancing to be an embarrassing activity, especially when a camera is pointed at them. However, this is why you should request that the pair dance!
They'll undoubtedly chuckle at the discomfort. It will help them relax, which might result in many happy couple photos.
16. Peck on the Cheek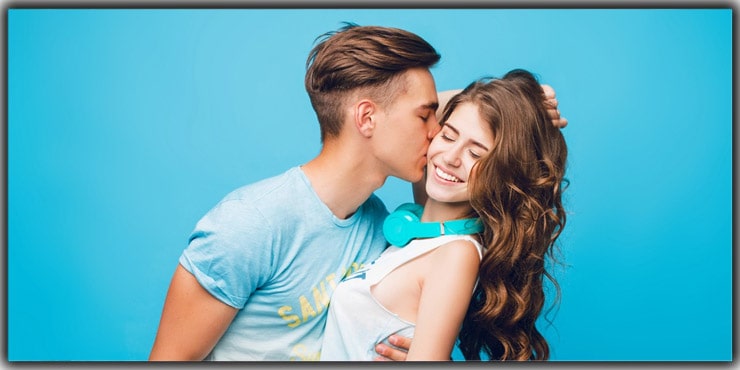 In romantic photography, cheek kisses are a traditional position. However, if your models are unwilling to kiss in front of you, this is the next most ingenious idea. It's a lovely gesture that, like nose-touching, works well in close-up shots.
17. Hold Their Hands With Your Extended Arm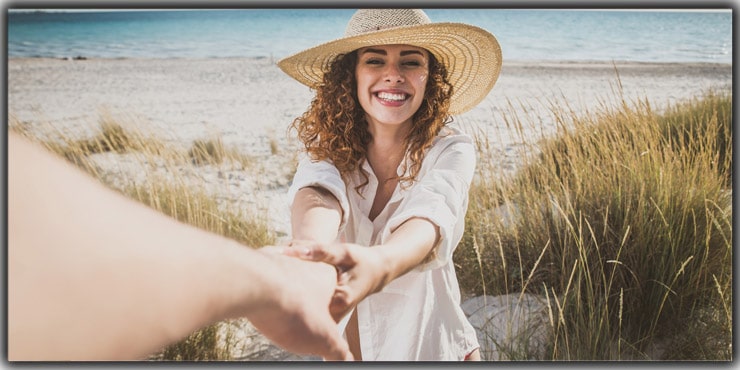 Murad Osmann, a travel photographer, popularized this picture position. It's popular in mobile photography, but it's simple to replicate in expert couple photography.
Shooting in a scenic setting is ideal for a position like this. Use a tiny aperture to make the backdrop appear as realistic as possible.
18. Enjoy a Scenery Leaning on Your Partner's Shoulder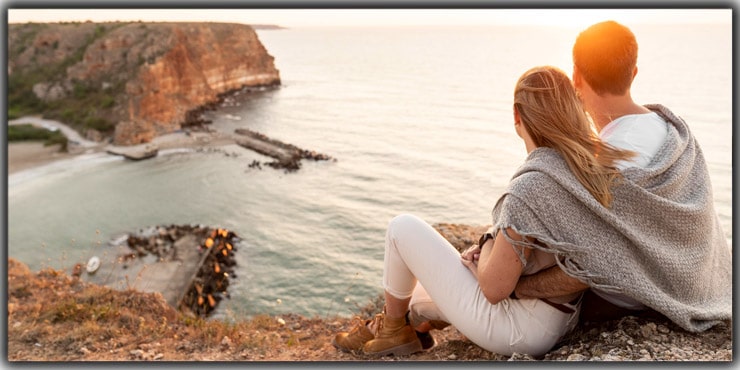 It's easy to execute this romantic posture at an event. Instruct one of them to lean on their partner's shoulder. Take photographs of them from behind to illustrate what they're gazing at.
A fireworks display, a lovely store, or anything else that conveys a narrative about the couple's relationship might be their perspective.
19. Have an Interaction in a Romantic DIY Setting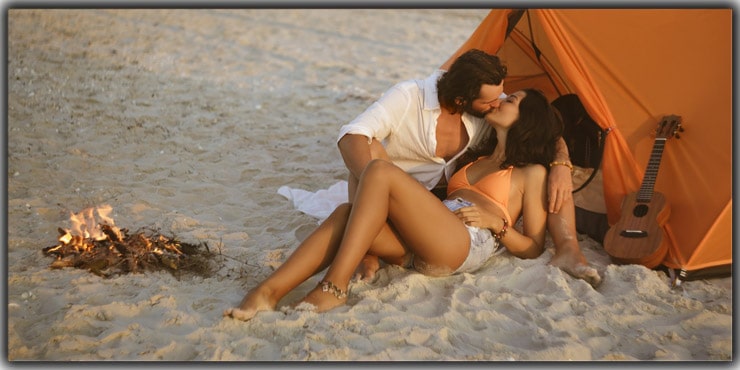 Build a DIY studio if you have some additional time to spare. With basic props, the possibilities are endless. For example, you may set up a tent for the couple to pose in, with fairy lights and a lamp as illumination.
This will provide the ideal romantic setting for a photograph. Request that your models engage with their environment, converse and ignore your camera. This will give you several opportunities to capture candid couple photographs.
20. Lift Her Leg While Staring Into Each Other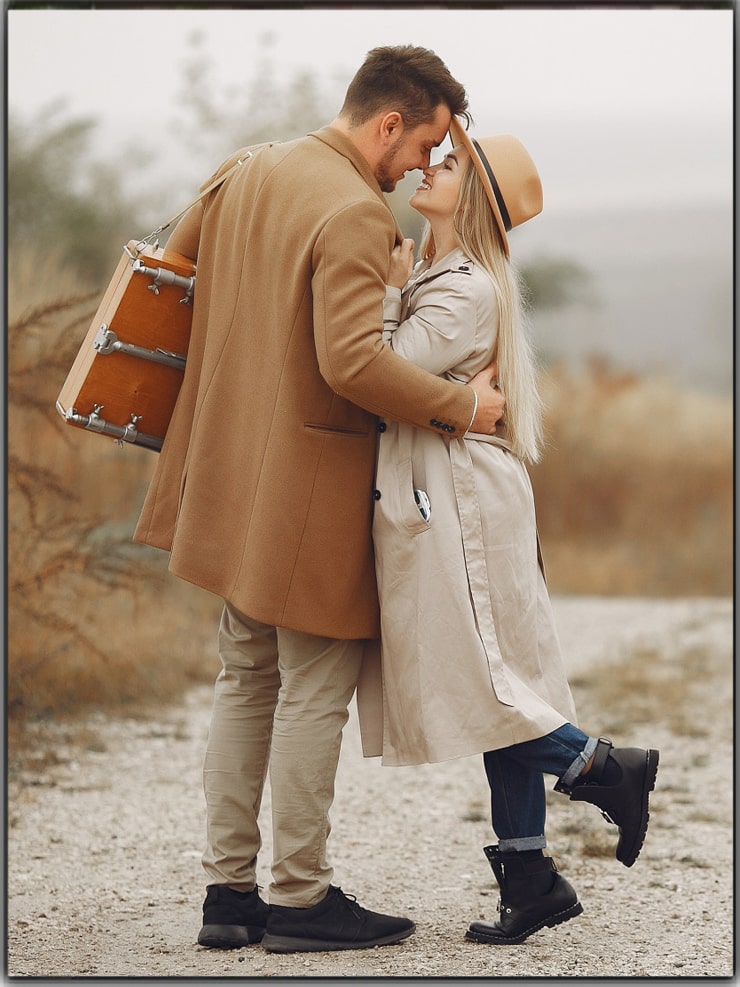 It is a typical couple posture that looks very cute. For example, while staring at their lover, your model might elevate one leg behind her.
It may appear insignificant, but it significantly impacts a few images. It can improve your composition while also making the duo appear pleased.
21. Become Absorbed In A Romantic Activity That They Both Enjoy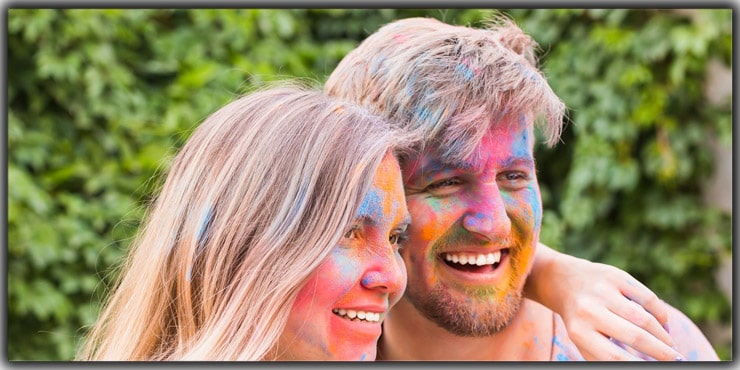 Photographing your models when they're busy is one of the simplest methods to capture candid, romantic pictures. During your couple's photography, let the pair do activities they both enjoy doing together.
22. On A Bed Or Picnic Blanket, Lay Side By Side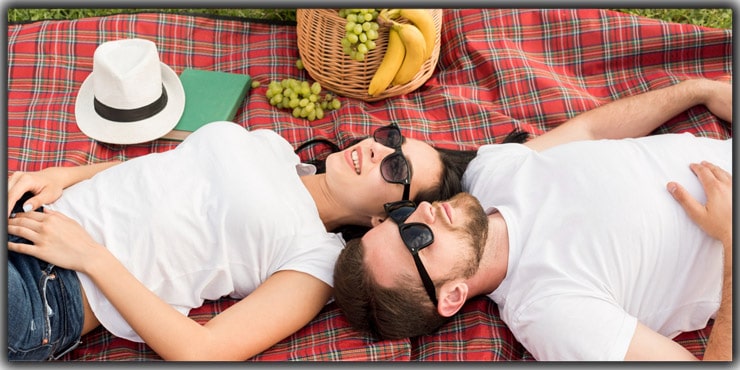 This is a fantastic posture for aerial portraits. Using a camera or a drone, you may capture stunning images. A ladder and a wide-angle lens are required for photographing from above. You'll be able to take panoramic photographs without treading on your models' faces if you do it this way.
Your models can gaze affectionately at each other or both at the camera. Ensure they aren't looking in opposite directions. As a consequence, they will appear bored or uninterested in one another.
23. Under an Umbrella in the Rain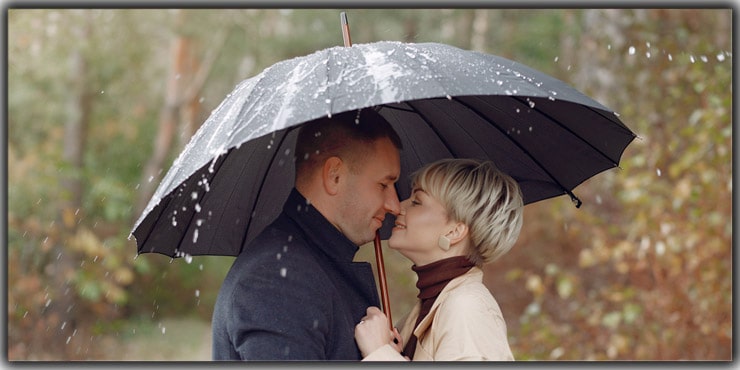 Photo sessions are usually the most romantic in the rain. Remember, though, that specific rain protection is required for your camera.
Use a translucent umbrella for a single couple of pictures. First, shoot the soft, dull effect right through the umbrella. You may also use the umbrella to cover part of your lens for a stunning blurred background.
24. Skirt or dress Flowy Twirl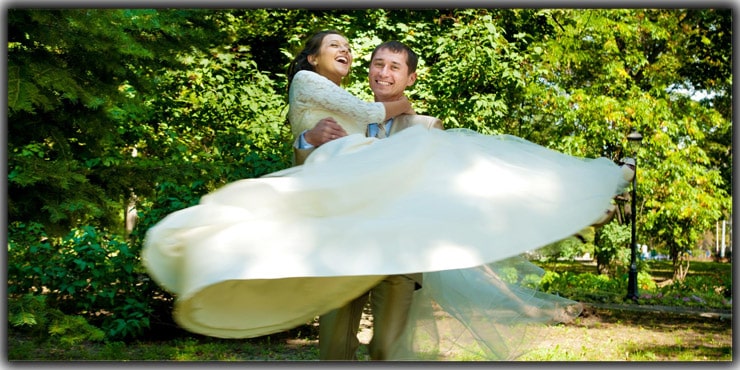 Incorporate motion in your photographs to make ordinary couple photos more interesting. For example, if one of your models is dressed in a long, flowing gown, you can seamlessly do this.
All the model needs to do is spin or fling a piece of the gown into the air. Then, use a quick shutter speed to catch everything in fine detail.
25. Eye Close-Ups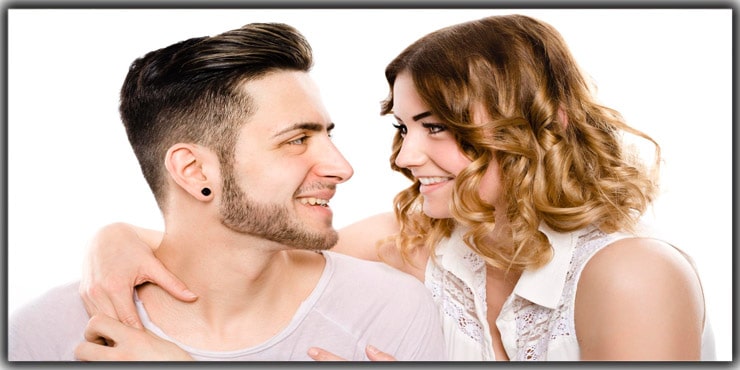 Captivating photographs may reveal far more about a connection than you would imagine. This simple posture will allow you to capture lovely close-ups of the couple's eyes.
Using a zoom lens, get a close-up. Capture the gazes of both members of your couple. This is a fantastic way to bring up the resemblances and dissimilarities.
26. Feeding Each Other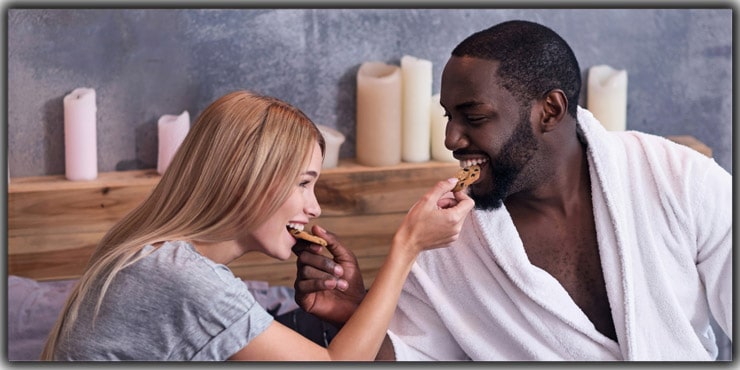 This may appear to be another strange concept, yet it's a beautiful posture for candid, romantic photos. This is simplest to accomplish in theme parks, where there are delicacies to choose from.
One of the models should act as a feeding source for the other. Make sure the meal isn't anything that will make for uncomfortable photos, such as spaghetti. You can, for example, experiment with various fruits such as berries, peaches, and different sorts of berries.
27. Doing Something Silly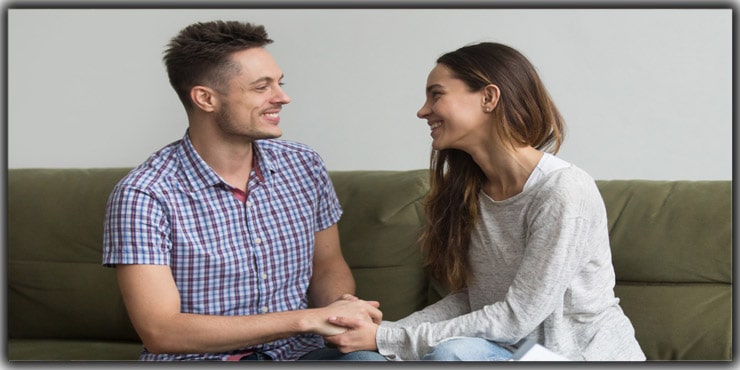 Instruct the pair to create the most hideous expressions possible. This will almost certainly make them chuckle. Now is the time to start creating compelling portraits.
This position aims for your clients to have a good time and giggle. But, unfortunately, you may even make them do something embarrassing on purpose by telling them a horrible joke, sharing a humorous personal tale, or telling them a poor joke.
28. Point towards Something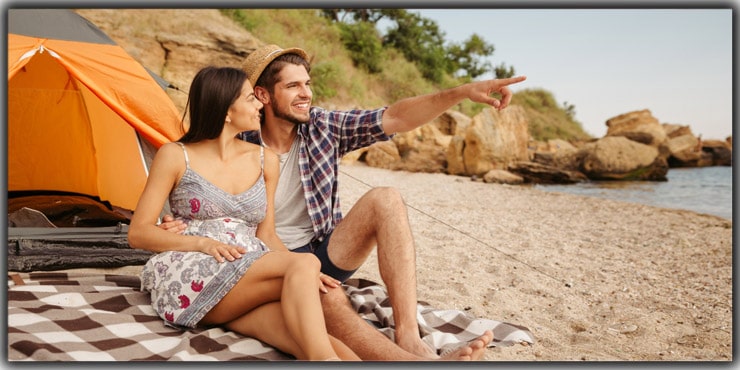 Together, the duo should hint at something fascinating. You may either picture them up close or produce a broad image to see what they're aiming at.
29. Climb On Your Partner's Shoulder
This is a lighthearted posture that is sure to make the pair chuckle. To achieve great full-body romantic pictures, ensure you shoot vertically.
Before they get into position, take some steps back to ensure you don't miss capturing any moment.
30. Sit on Steps Couple Poses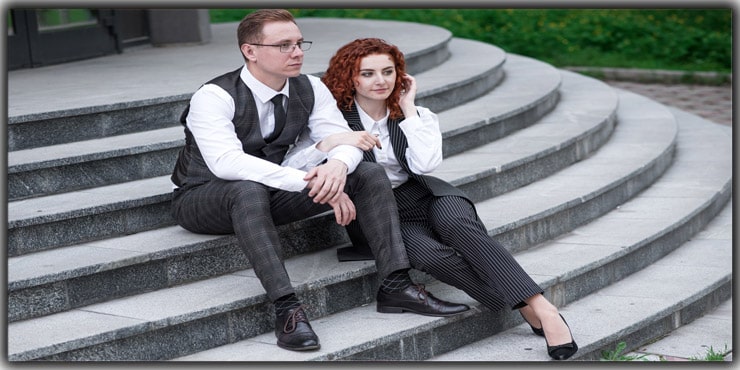 Instruct the pair to sit together on a flight of stairs or steps. In a handful of images, steps appear more attractive than seats.
This posture will allow you to exhibit the duo's attire in full splendor. It also gives the couple time to recover, converse, and sit comfortably.
31. Wrapped in Fairy Lights in a Dark Setting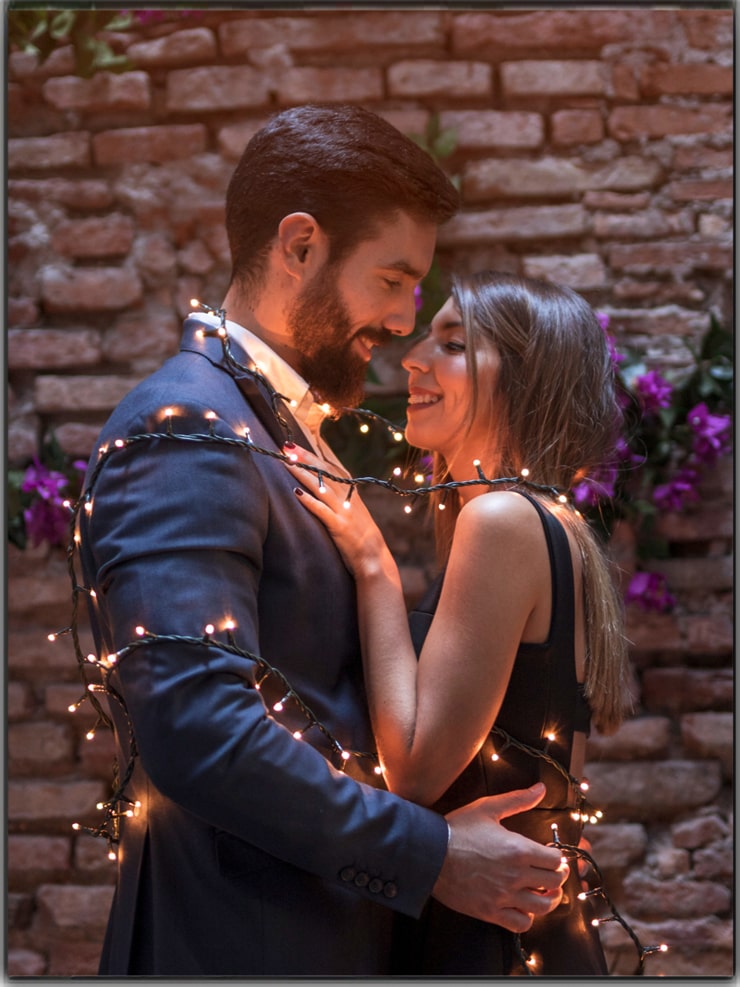 You may apply for this position at the end of your photoshoot. When natural light is insufficient, try experimenting with artificial lighting.
Simple string lights can be used for these. Fairy lights are popular for weddings and holiday photos. They may, however, be used in any genre to bring vibrancy to your images.
Request that the pair hold each other. The fairy lights should be wrapped around them. You may play around with various forms. Ensure the lighting is appropriately distributed, so your photographs are aesthetically appealing.
32. Make a Cute Background with Shadows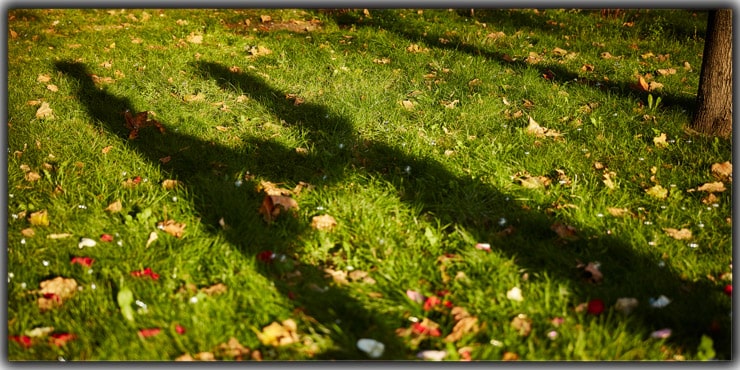 You don't have to shoot your models in front of the camera all the time. You may capture their shadows if the weather is beautiful and sunny outside. It is a chance for you to create unique images and experiment with new concepts.
33. Sparklers On Hand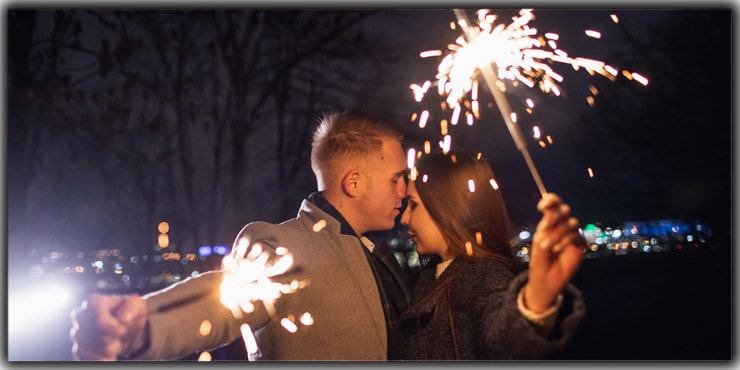 It is another alternative to add to your collection of prop-related couple poses. Sparklers are inexpensive and straightforward to use.
Photographers frequently employ them during weddings to create gorgeous bursts of illumination for their images. You can liberally utilize them in a couple-pictures.
34. Resting your head on your Partner's Shoulder
This is a sweet romantic pose for partners with a significant height difference!
35. Back against Back
With this beautiful couple pose, you may support each other by leaning back against each other, making it a beautiful shot.
36. Show off your Engagement Ring!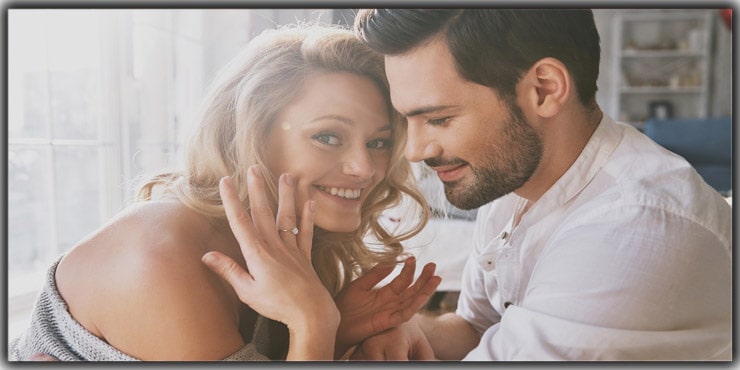 To show off their ring, one of the couples might lay their left hand over the back of the other. The ring represents the partners' commitment and love. It's an adorable pose to flaunt!
37. Reflection Couple Poses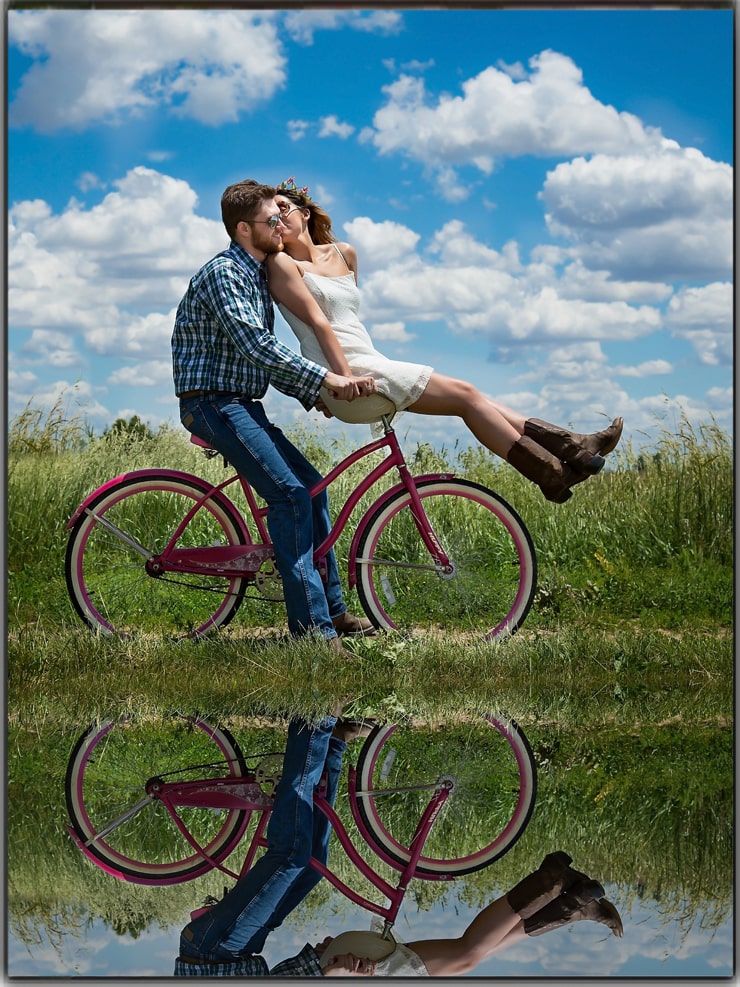 This is a stunning couple pose that would be perfect for an outdoor photograph by the beach. This stance gives the photo a new vibe and brings love and nature together.
38. Walking on Train Tracks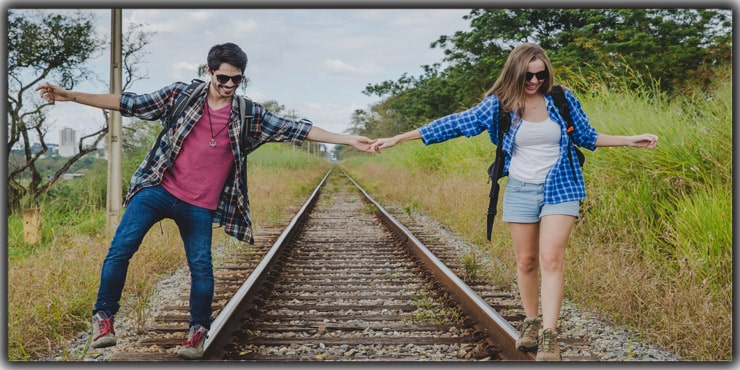 There's a reason why train tracks are so popular. It is the most favorite site for romantic photoshoots outside. However, check permits while using railway tracks for your romantic poses and be highly cautious.
39. Campfire site Couple Poses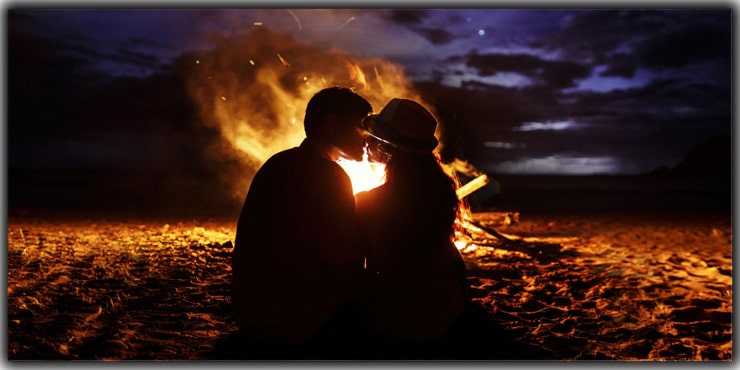 Flames have long been associated with romance, and fire is no exception. Focusing on the fires burning in front of the pair in an outdoor campground or the woods creates a stunning image.
40. Sitting on a Hammock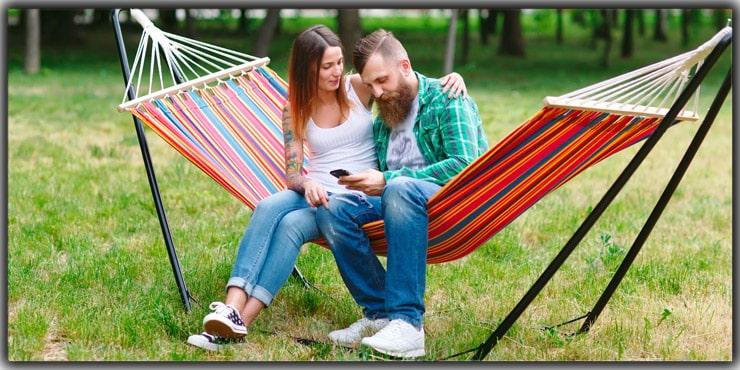 Sitting on your partner's lap on the hammock is a lovely couple posture that brings out the duo's inner adventurous and funny side, strengthening their bond even more.
41. Posing with Musical Instruments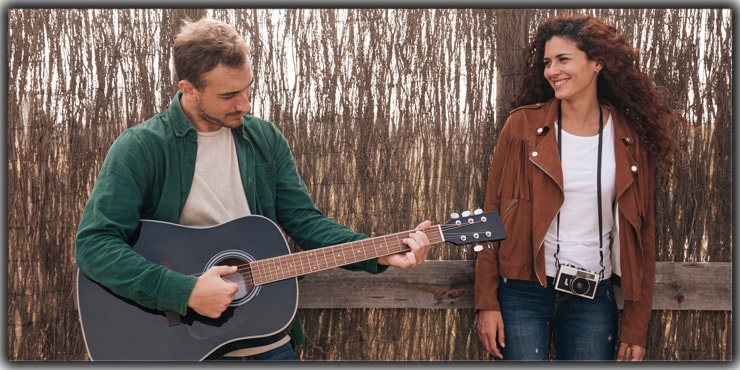 Is music a source of affection for the couple? Was their love serenading them? Incorporate those reminders and utilize them to highlight the couple's deep connection.
Using these props will help them remember the more profound significance of their relationship.
42. Getting a Glimpse of a Surprise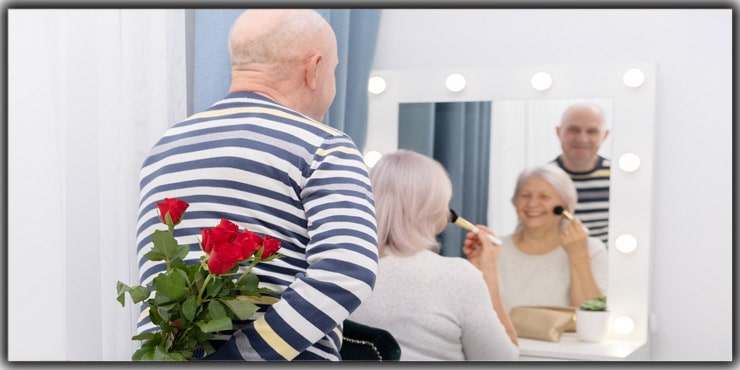 This photograph takes some planning ahead of time, but the end effect is well worth the effort. The aim is to depict the excitement of receiving a surprise gift, such as a bunch of roses, a pack of chocolates, or even an engagement ring.
The instant just before the surprise is particularly significant because it has great suspense. As a spectator, you already know what will happen, making the image much more intriguing.
In addition, you may catch the partner's genuine reaction when they receive the surprise, which adds to the excitement!
43. Tattoos Couple Poses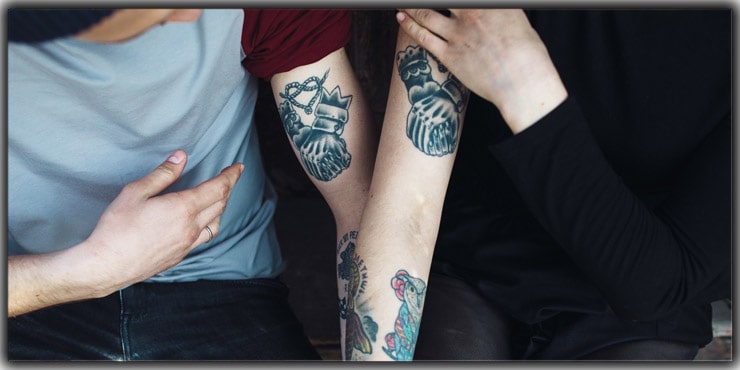 Capture a close-up of the ink work if you have the opportunity to photograph a couple with tattoos. They're genuinely one-of-a-kind photos, and the couple will enjoy having their tattoos included in such a lovely photograph.
But, of course, some couples have tattoos that are identical to one another. If this is the case, focus on them to acquire a fantastic photograph.
44. Fixing Attire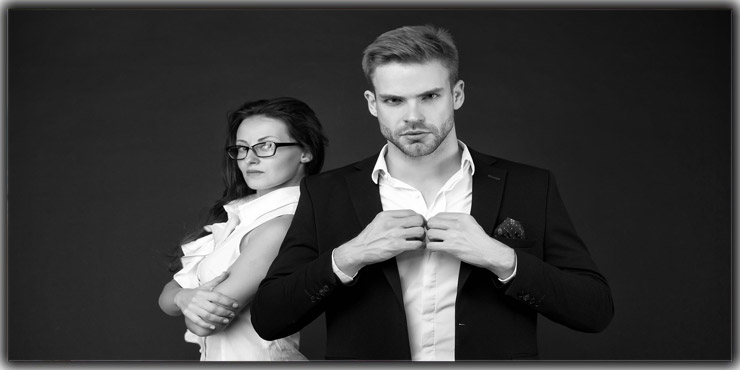 Fixing the wardrobe of your partner can be an acute and silly pose. However, this couple pose is ubiquitous and shows the couple's compatibility and care for each other.
45. Sharing Straws from a Drink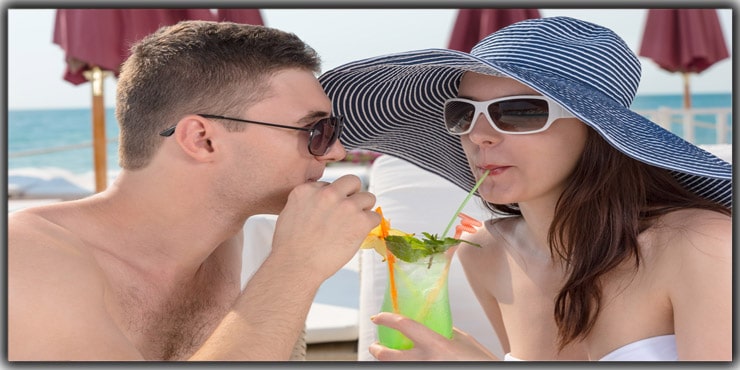 Capture this touching moment of a couple sharing straws and enjoying their favorite beverage alone. Then, before hitting the shutter, wait for the perfect candid moment.
46. Riding a Bike Together
A two-person bicycle is cute, but so is a solitary vintage appearance. Riding a bike together might be a fun activity for a couple to engage in together. Using their bicycle as a prop for a romantic shot is a beautiful idea.
47. Dancing in the Kitchen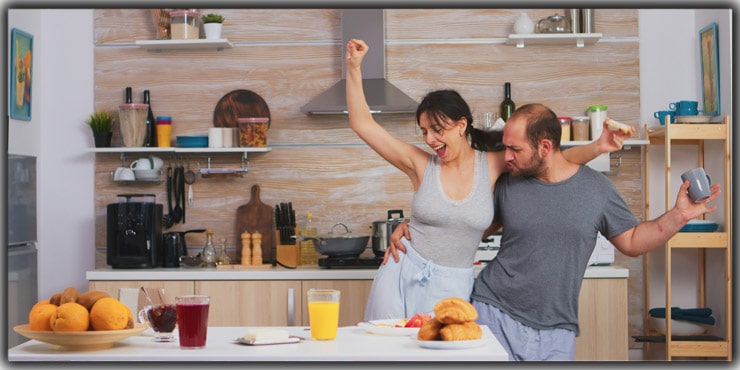 Capturing enjoyable and intimate moments in the warmth of the couple's home is advantageous since it reveals who they are as a duo and allows them to be themselves. Dancing in the kitchen for a couple of poses is a beautiful example.
48. Carrying in Arms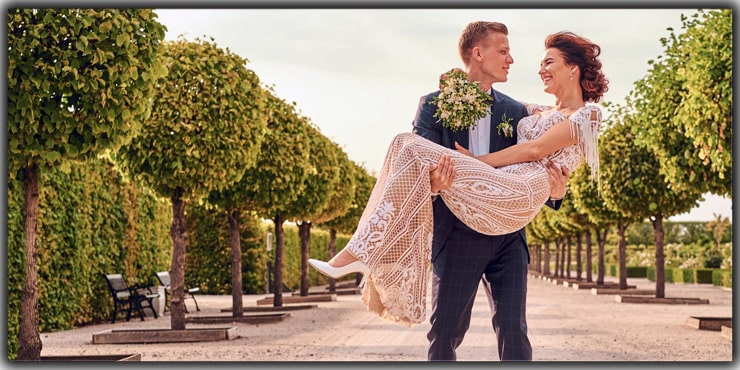 One of the most frequent couple postures involves one partner carrying the other in their arms. In movies, this posture is heavily romanticized. It depicts the couple's special connection and is thus incredibly sweet.
49. Lying on Stomach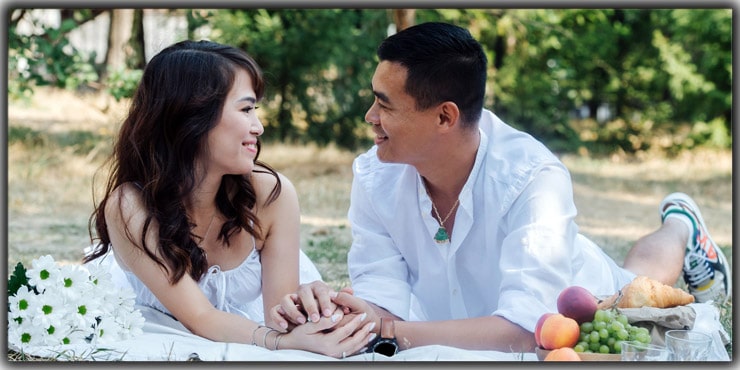 An excellent new viewpoint to photograph couples is resting on their stomachs on some grass or in a field outdoor. They might be looking at each other, conversing, or laughing at each other.
Whatever moment you choose to take, you'll be able to see the couple's excellent relationship. Wait for the finest opportunity for the perfect shot.
50. Reflection on Mirror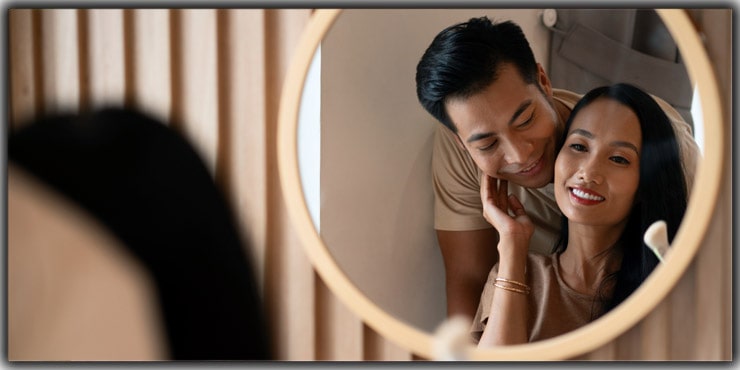 For a pair, it's a lovely and unique pose. Using a mirror to capture the couple's reflection is a beautiful way to show how they may be reflections of each other.
51. Showering with Flowers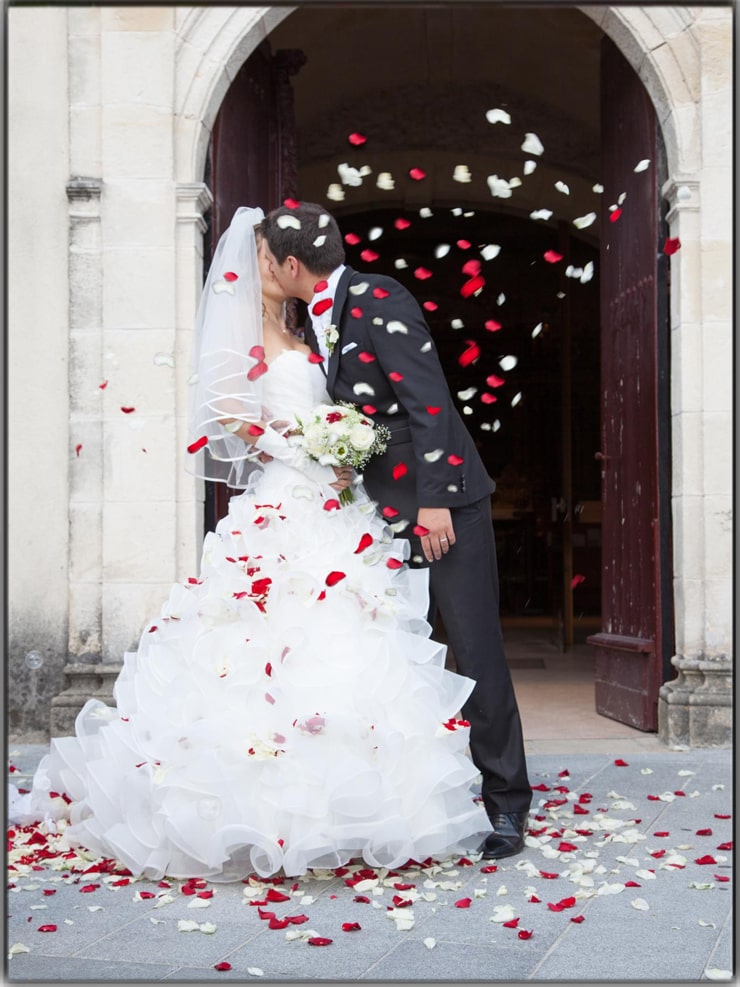 For a pre-wedding photoshoot, this is a beautiful pose. In taking a photo like this, the details are crucial. Ensure the couple is appropriately instructed for this posture, and shoot numerous images to capture the lovely moment.
52. Save the Date!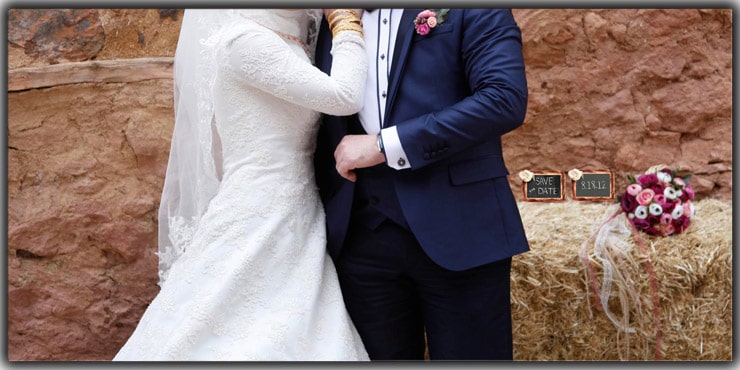 Incorporate some of nature's beauty into your celebration. As a pre-wedding photography prop, make a leaf or blossom with your wedding date engraved on it and let nature do the talking. The photo of nature as a backdrop says it all. This is, without a doubt, one of the most beautiful and powerful poses for any couple.
Conclusion Couple Poses for Portrait Photography
Any couple postures in this article might be used as inspiration for your pictures. Remember to lead your pair through basic directions while allowing them to be themselves.
Hopefully, this article on Best Couple Poses for Portrait Photography has provided you with plenty of guidance and insights. Make them feel at ease by creating a pleasant setting; their love will come through for you to capture!
You may read: