Wedding photography is now the talk of the town. It is the most demanding & lucrative type of photography. Wedding photography is magic that contains different kinds of photography like portrait, family & group photography, event documentary, bridal photography, bride-groom special shots, close-up photography, the landscape of the decoration & many more.
So, how to take wedding photos that not so much easy rather it is challenging.
A wedding is the most valuable day of life. So, it is a must to capture each moment perfectly. This memory is precious than anything else. Hence, there is no alternative to perfection. With the trend of digitalization collecting wedding memories & sharing on social platforms is becoming universal facts that have no borders.
Inaugurating Career in Wedding Photography
As a celebration of an important day, wedding photography is exciting & a chance to prove your creativity & photography skills. However, the wedding is a lifetime event that happened only once in your life, so it is stressful & challenging to capture the outstanding shoots.
So, having proper knowledge, experience, tricks & guideline is a must for professional wedding photography. Here I have some fantastic wedding photography tips for beginners that must benefit you.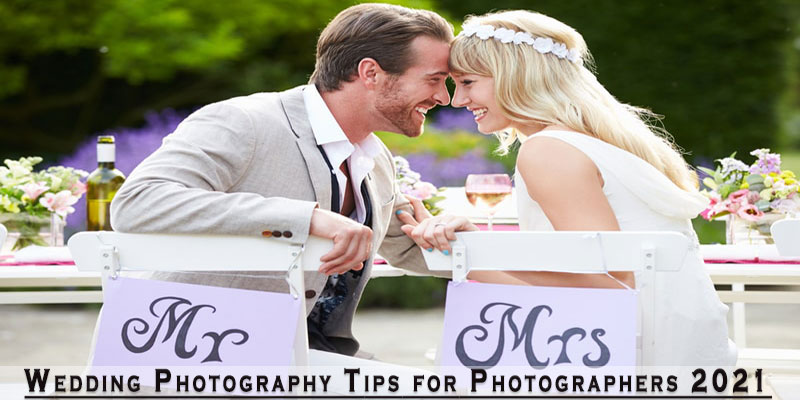 The motive of my article is to give fantastic wedding photography tips that can be a complete guideline to enhance your photography skill & bring a masterpiece shoot.
Recently I have taken lots of wedding shots. So, from my experience, I am sharing my wedding photography tips and tricks that help me to bring some lucrative wedding photographs.
I always think photography is an art & creative field.
So, besides my wedding photography tips, I am suggesting you create your own style & tricks following my guideline that can give the best result.
However, if you think about how to take wedding photos, you can take my article as the basic & useful wedding photography guide that enhances your skill & introduce you to how to start with the wedding photoshoots. So, just go through it to get some wedding photography tips & tricks.
Why professional wedding photography is challenging?
For wedding photography, you need a mixer type of skill to apply & get a very limited time to make the perfect photograph. So, how to photograph a wedding without error is a challenging & difficult part.
The challenge at first you face for wedding photoshoots is dealing in the right way with the bride, relatives & family couples as it can be very irritating. But having a romantic couple as a bride & groom is a good chance to derive amazing wedding photos.
Secondly, you must be conscious of the wedding photography deal or contract when signing. As wedding photographers tips, you should carefully read the terms, conditions, & payment policy to avoid any uncomfortable situations. Moreover, you must be clear about the total number of photos that you provide.
Nowadays, time is the most difficult challenge. The wedding ceremony is extremely shorts, some long an hour only. You can't miss a single second. So adopting every second's shots is very important to make a proper wedding trailer or cinematic video. You have to be extra conscious & proactive.
Now I am sharing the most helpful tips for wedding photography to make you a successful photographer.
Photography Equipment
For a professional wedding photographer having the appropriate photography equipment is a must. Moreover, before the shoot checking all the necessary equipment is a good strategy for your safety. I am giving here a list of equipment that is essential for wedding photography.
Camera:
On the occasion of the wedding, having the best camera is very important. You must need a DSLR or mirrorless device that can cover the variations of wedding photography.
At the wedding, you need to change the location & styles frequently. So the camera setup needs to be changed randomly. Due to the time limit, it will be helpful to have a high ISO, quick shutter speed. Besides quick focusing point is also essential. Before deciding on buying the DSLR, make sure all these features are available on your device.
It's better to shoot in raw that makes post-processing easier. Also, your device must be capable of dealing with variant lenses.
To avoid any unpleasant accident as a wedding photographer tips, you must keep one or two backup cameras that help you if the main one is having any issues. Also, having two cameras assist you to one for having portraits & another use for close-up shots.
My wedding photo tips include some suggestions about equipment selection. The latest technology brings some awesome devices to make your photography experience easier. One of the new & famous ones is the mirrorless camera. It's very lightweight, so carrying is easier. Moreover, it offers lighting connectivity.
Shooting using DSLR is also given quality output for how to shoot a wedding. You can pick any DSLR camera. And it depends on your choice & budget. I use a Canon EOS 5D mark that gives standard photographs.
Tripod:
You must buy a tripod that helps you to protect from camera shaking & provide continuous shooting. From my wedding photography tips, this must be beneficial & help you to pick the appropriate tripod & derive an amazing photo.
A tripod helps to hold the camera securely. So, you can use both hands to give direction to the guests & relatives or couple. Or you can direct your assistant & lighting team properly. You can ensure that all the guest is in the frame by adjusting the tripod.
Moreover, you get comfortable in your hands because you don't need to carry the camera & save yourself from blurring wedding photos.
But before buying you should be careful that the tripod is flexible enough to rotate for any angle shots, the legs are adjustable for extra height, stable, lightweight, easily attach or detach feature. If all these features are provided by the tripod you choose, then you can pick that.
Lens:
A proper choice of lens is a pre-condition for outstanding wedding photography.
If you think you will use only one lens that can ok, but you must take a lens that can zoom.
But it is best to use multiple lenses to cover all kinds of variations shots at the wedding. As a wedding photographer tips, I share the lens package that I use to cover wedding events.
It is better to collect this package that saves you from missing any perspective & continuous shots.
22For bright shots & a wide-angle zooming feature, you can choose a 24-70mm f/2.8 lens. The brand you can pick according to your budget.

2When you take a multipurpose photo, a 70-200mm f/2.8 can be the best option.
2When it comes to taking a portrait key, you can pick 85mm & 50 mm f/2.8 lens.
2For every tiny detail, you can choose the macro lens. It is best for close up shots
Lens Cleanser:
The lens cleaning part is also important to keep your device good.
This is useful to remove dust from your lens & sensor. Lens cleaner kit contains cleaner bottles, lens brush, cleaning sheets, cleaning pen, air blower, etc.
It offers everything to keep your device clean & free of dirt.
Memory Card:
As a wedding is a short event, you need a fast processing memory. Because you need to shoot at burst mode or continuous speed mode.
So, if you use a slow memory card that can ruin the whole shots & be unusable while you think it works. So, in this case, you must invest money. Pick the fastest memory cards that help you to get quick shots.
Lighting:
Lighting is important to get the perfect shots. You need to set the exact exposure. You must avoid extreme light that can distract the event.
To produce an eye-grabbing thin depth of field shot, use a fast aperture lens. It will diffuse most of the light behind the scene.
You can use a lighting modifier that also helps to diffuse the light. Moreover, you can use a reflector to bounce the light back the pictures.
Off-camera flash such as speed lights is essential for completely dark areas & capture the motions where guests are dancing or moving quickly.
Controlling the light to focus on the romanticism of the couple is the key to your photography.
Radion Flash Transmitter:
When you use speed lights, it needs a connection to your device. You can get connected by infra-red. To secure your connection, you need something that protects the light. For that, you can use a radio transmitter between transmitter & camera.
Different Accessories:
You can make your photographic experience easy by using various accessories. Among a ton of accessories, I give you a list of necessary attachments that help you to ease your work.
But it is only for your comfort & convenient experience, but this is not a necessary tool. You can still make standard shots without these.
Only the professional wedding photographer who likes comfort & has a budget can follow this step.
Wireless Transmitter:
A wireless transmitter is a technique to add extra benefits to your workflow. That makes your task too much easier by sending the files wirelessly to the target device.
If you want to check the shoot on a big screen, it will be too helpful to transfer the files.
Also, the guests will be impressed to see the continuous shots pop up. Moreover, it ensures the secure backup of images.
Camera Bags:
As you use two or three cameras on how to place them securely is also essential. You need cool camera bags to keep them perfectly.
Having multiple cameras means multiple batteries & chargers. So before buying, make sure that the bag has enough space & organize a function to arrange your device & don't harm it.
Drone:
With the latest technology, photography adds some new flavor & derives some exclusive photographs. The drone is a robustly used new technology that is popular in wedding photography.
To cover the wedding area, the proper drone is the best choice to give an exclusive view. The drone is the best outdoor wedding photography tip. It saves the hassle of outdoor wedding photography, like climbing on the trees or using risky stairs. Instead, all of these you can simply use a drone to make your work easier.
But make sure you take permission & register your drone.
Advanced Wedding Photography Tips for Photographers
After collecting all the equipment, you need for the wedding photography guide. Now I am giving you tips & tricks to make the best wedding shoot.
Before jumping in shooting, check the device & make a proper plan with your team. Understanding among teammates is a basic necessity. Also, make a pre-plan about the shoot how you want to bring the style & poses.
Shoot The First…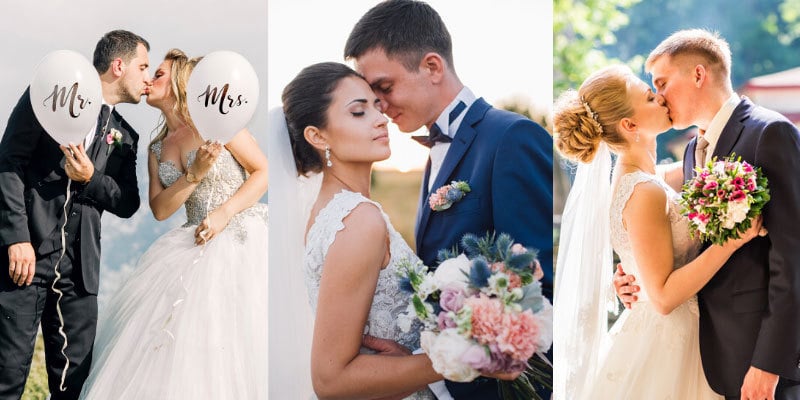 As a wedding is a very special day of life, you must ask the couple about any special moment that they want to frame for a lifetime. This can be a first kiss, dance, or first look at each other or touching the hand, etc.
You should be careful & dedicated when capturing these moments because it's a quick episode. You must shoot in the right sequence & the right moment to enlighten the emotions behind the scene.
You must plan the entry shoots of the couple. You must collect different angles of view when entering the couple.
You better try higher shutter speed & burst mode to collect multiple photos that can make the best one from the lots of photographs.
First shots are the foundation of your wedding trailer & photography.
Capture The Reactions…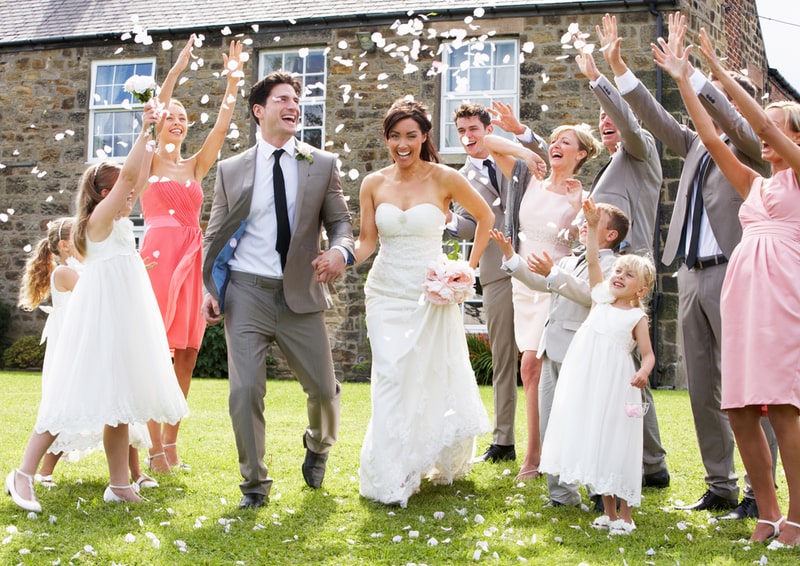 Everyone at the wedding party is enjoying the couple's happiness & make fun. Those happy moments & expressions you must capture to make a realistic wedding photo. All the relatives, friends, family everyone, have their own style & expression that you need to capture at the right time.
When you are busy shooting the couple & directing them with exclusive wedding poses, you can better appoint your assistant to capture the guest's expression.
Memory is the most valuable part of life. So, try to capture each moment so that the couple can visualize their special day smoothly.
Communication With Guests…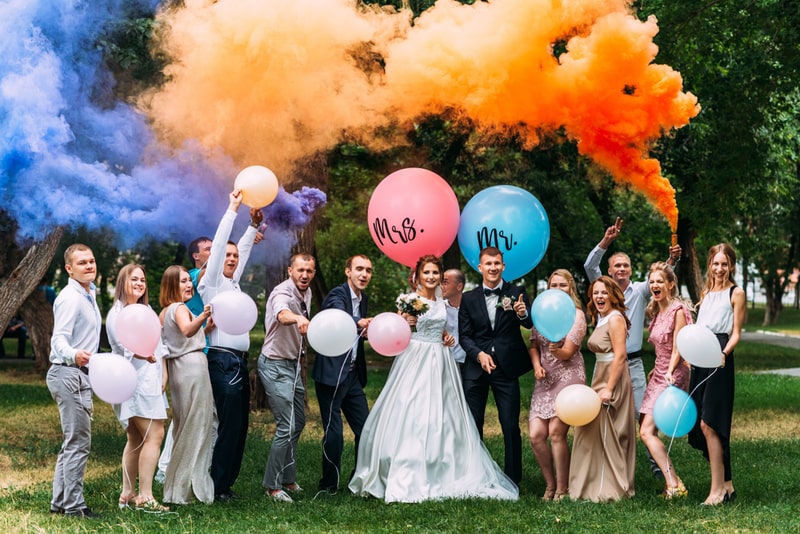 A wedding is a large event, so many kinds of people gather together. They can be friends, family, neighbors, colleagues, relatives & others. You should make a soft relation with them by a little introductory & formal conversation. It helps you to get the best expression from them.
Also, talk to the client to know about the family member & the closest one that you need to cover with extra care & focus. Try to learn their names if they have kids tackle them friendly with attention & affection.
Friends Are Important…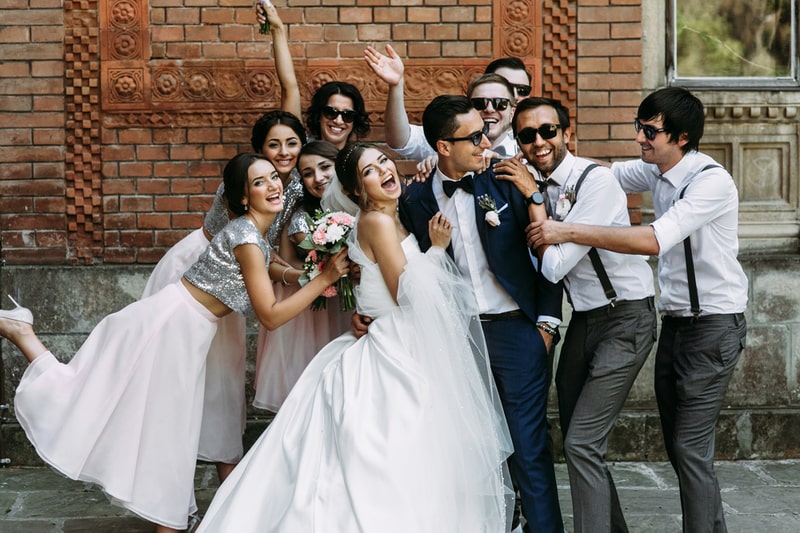 You must know about the bride & groom's friends. Plan to shoot some portraits with friends & couple. Friends can make unique, odd poses & with friends, couples also feel comfortable expressing their feelings.
The friend can make the couple for some intimate shots or nostalgic poses that they dream.
Family Shots…
You must plan for family portraits. It is an essential part of wedding photography. You can separately take the bride's family & couple pictures then the groom's family & a couple of photos. Lastly, capture both families with couples. These portraits are the most valuable part of the wedding.
Sometimes, you need to capture different family pictures without couples. Make a beautiful session with the family member.
Outdoor Shots…
Though the wedding hall or place is specially decorated yet outdoor shots are special to take some romantic couple shots as the wedding venue is too crowded, so the couple is a little bit uncomfortable.
The outdoor venue can be the garden or near the pool or sea beach, anything near the wedding place. Here you only take the couple to take some amazing shots. You can use the drone for unique poses.
You can lay on the ground to create an exceptional photo. You can apply traditional umbrella shots. Use a flower vase or beautiful props to make the shots eye-catchy.
Close-Up Shoots…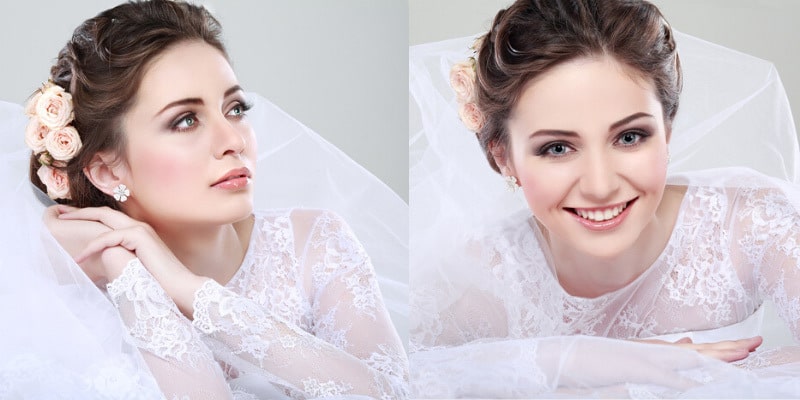 Close-up shots are important for couple portrait & landscape shooting. You must use the macro lens to close up shots. When you capture the details decoration & detailed beauty of the couple, you apply close-up shots. It enhances the beauty of the couple & creates more focusing shoots.
To beautify the couple's smile or a kid's smile, you need a close-up shot. If you want to emphasize the eye of the bride, there is no alternative to close-up shots. Close-up shots allow you to focus on every detail.
Photo Post-Processing Tips
The easiest & time-saving way to post-processing the wedding photo outsource a wedding photo retouching service provider. You can pick Graphic Experts India to get a budget-friendly quality photo editing service
The Final Words
From my experience, I am trying to give complete wedding photography tips that are helpful both for beginners & experts. I hope this article makes your photography experience easier. One of the major facts is that you need dedication & being optimistic is the only way to reach your goal.
Because there is no alternative to hard work & patience, my wedding photography tips can give you the best result if you apply them with dedication. So the decision is yours, I am just guiding the right path.
You may read: