If you are wondering how you can manage and share photos with your client? Well, here are the 13 free and paid ways to share photos with clients for your convenience.
Whether you are a photographer or photo editor, you should go through the article and must know the most essential key to establish in this sector.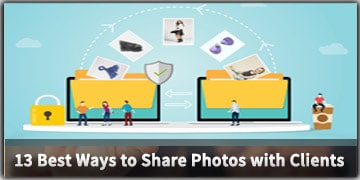 A photographer or a photography studio owner knows how important it is to share high-quality photos with clients. Whether the file size of the pictures is big or small, you must ensure your clients are getting them all in the best quality.
Besides, some other issues with image file-sharing that we commonly face are file security, file size, lack of tracking, and transfer speed. The speed of file transferring is one of the big problems. Most applications fail to send large files at an incredible rate. However, some applications are best at doing the task.
Hence, today we will discuss the apps considered the 13 best ways to share photos with clients. So, let's get to know everything about it in detail.
You can rely on several ways to share photos with clients, but it varies when your requirements differ. Sometimes you need to go for what your clients require. But most of the time, it's up to you, and you want to make a good impression on the commercial clients.
Of course, you will find your clients wanting to download the photo at high resolution. These various needs determine which photo-sharing solution you will use. Nowadays, clients only want high-resolution images produced by only DSLR cameras.
The most popular and professional DSLR used to take snaps of products and other still life things is the Canon 5DX. It provides photographs that are above 50 megapixels. This camera will not only produce pictures with incredible detail but will also add big size image files.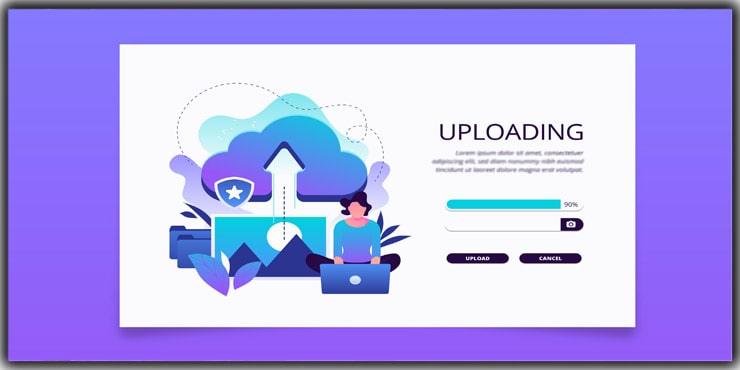 You can't skip the space and size of files when you use a delivery option. If your clients or an agency want some PSD files, they will accumulate and require a vast space. Any photo sharing option is not suitable for such massive sharing, but few would work best. 
The common factors that we need to focus on-
Maximum File Shareing Thrash Hold
The File Shareing Procedure
File Security
Upload adn Dwnload Speed
Also, you should consider the file size according to the purpose of using the images. For example, if the pictures are shared on social sites, you must keep the image file size small. The needs vary, changing the necessity of using different photo-sharing systems.
We have picked up some of the famous and trusted systems through which you can share suitable size photos with others. So let's get to see the various ways to share photos with clients.
1. Dropbox Cloud System File Sharing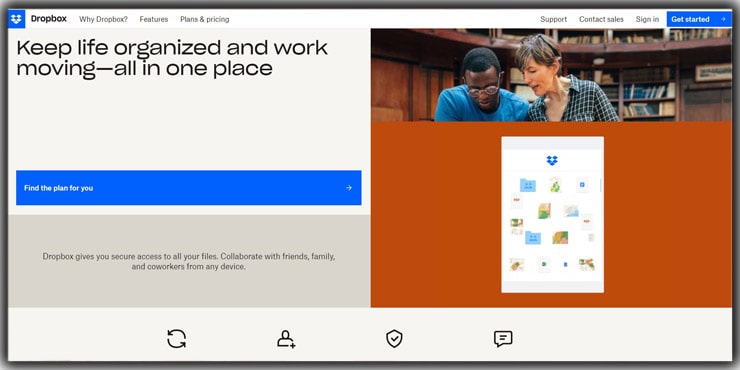 There are many cloud-based file sharing options available. But Dropbox is considered the most secure and fast system of sharing files. Moreover, it comes with a premium and free version. The free Dropbox can provide you with 2GB of space.
If you want to use it for professional purposes, get the premium business version since it provides you a space worth 2 TB to 3 TB. Experts in photography use it mostly to share their works with their clients. All you need to do is upload the image files and share with your customers its link by email.
It gives a fantastic option to allow or not allow people to edit or view the files. To sync files you want to share, the best thing you can do is install Dropbox on your personal computer. After syncing, you are allowed to share files with anyone you prefer.
Use the online storage system for storing files and keeping their records.
Pros
It provides you free storage up to 2GB
Simple to use
No hassle at all in sharing files after the installation of the software
Cons
The software can take up storage of your hard drive
The free version is not professional since the storage gas limitation
2. Google Drive – Quick and Easy Solution to File Sharing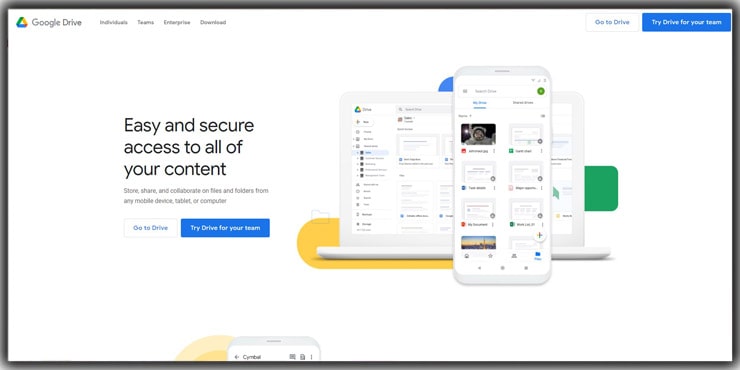 Google drive is the safest file-sharing system that is available everywhere. It will keep all your files secured because Google itself protects them. Thus, many people trust Google Drive and use it for business or personal use. Moreover, it offers you over a hundred critical features for security.
These can manage and protect all your important data. Among many free file delivery systems, it is considered the best one. The options to share files through Google are various. It lets you share either files or whole folders with your consumers. In addition, you can control who will view or edit the file.
It provides you with 15GB of free space to keep backups of your files. Accessing those files anytime from anywhere is possible and easy. It's a powerful tool that helps you share large files and edit them at any time.
Pros
You can access Google Drive from anywhere in the world
It's reliable, secure, and safe
The pro version comes with no limits for storage, and the free version comes with 15GB of space.
Cons
At the peak hours, you will face lag issues
Not enough user-friendly
The speed of downloading and uploading is slow
3. We Transfer – Well-renowned for Sharing Files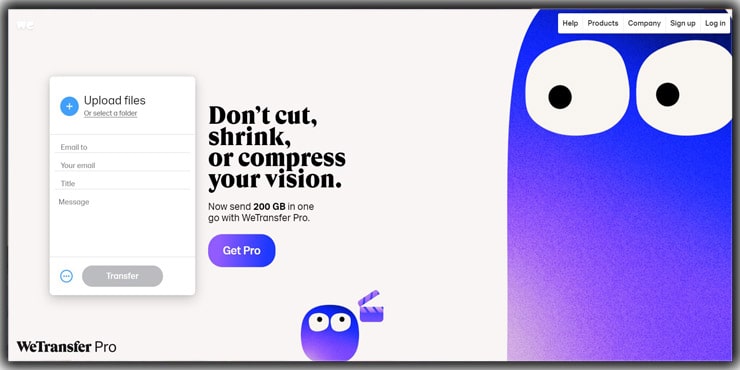 WeTransfer is a free system to share files, and it's famous. But it has a paid version too. You can share unlimited files in the free version; however, there is one catch. You can only share the 2GB limit at a time. So if you want a speedy transfer of the files, you can try out the paid version since it's pretty good at transferring files quicker.
The paid version has a unique feature: it can let you transfer image files up to 20 GB in one go. In addition, there's no need for zipping. Another significant part of the We Transfer is that you are given the freedom to access your files for a month, year, week, or forever.
The users love keeping and sharing files through it. It is safe, and all your files will never get cracked.
Pros
More simple to share files without facing issues
No need for zipping in the pro version
Control the file access
Track the downloads
Transfer through email to at most three people in the free version and 50 people in the paid version
Cons
Both versions have a shared limit.
In the free version, all your transferred data is deleted automatically.
4. Pixieset was Built Especially for Photograph Sharing Purposes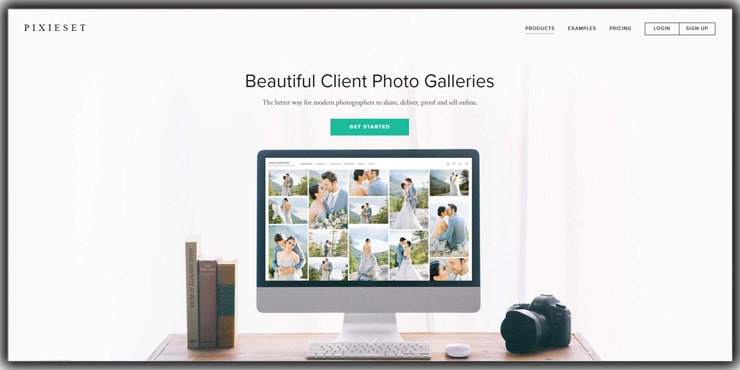 Pixieset is an outstanding option for photographers because it is designed for them. It offers both a free and premium version. You will be glad to know the free pixieset works more than enough for photographers. Among other photo-sharing apps, this one is a better option.
It lets the photographers share high-resolution photo galleries that can even be decorated with beautiful layouts and covers. It also provides client-sharing options. The customers you allow can access the pictures. They only need the four-digit PIN you have set for security.
It has built-in social sharing that you can use to share photos with clients online. It also contains a modern workflow. After accessing the gallery, your clients can download their image files directly. It can share any size file, whether small or large. Its tracking system is secure, fast, and excellent.
Pros
You can set up it quick
Has good options for security
Provides fast speed for downloading and uploading images
Cons
The free version gives only 10GB of space
Lacks options of video hosting
Lacks right-click functionality
5. ShootProof The Pixieset Alternative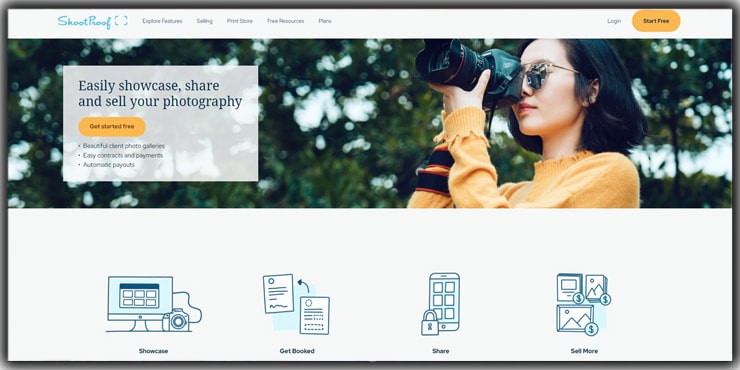 Photographers who face issues with pixieset can use the ShootProof as the Pixieset alternative. Make image galleries, share the photos and even sell to the customers. The best part of the ShootProof is that professional photographers will support and help.
Upload images either high or low resolution but within 50 megabytes. This is becoming a priority to many photographers as the best image file sharing option. In addition, it has a photography firm that contains many valuable tools.
You can sell wall goods, prints to make and submit contacts. It also permits you to create invoices and personalized discounts. The customers can download photos like the Pixieset. It is used to share pictures on social media for different brand exposure.
Pros
The free ShootProof lets you store 100 images per month only
You can resize pictures and keep your files secured by setting a PIN
Simple proofing
Cons
It gives you a limited storage
Making galleries
6. Smash the WeTransfer Alternative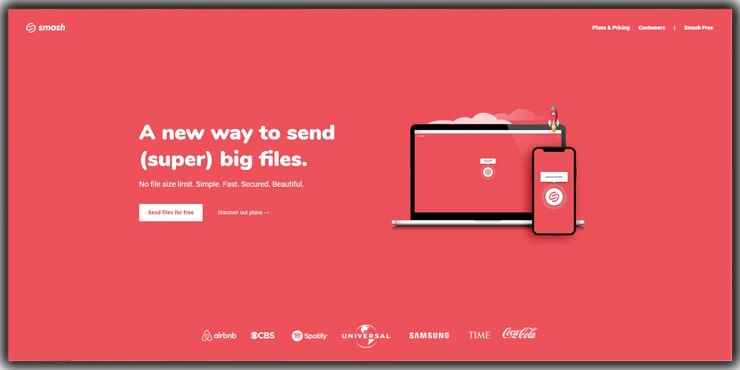 WeTransfer also has an alternative, and we call it Smash. It plays a significant role in delivering pictures to clients when they are large. It is operated efficiently and is secure enough for sharing purposes. In addition, it sends files faster than many applications.
The recipient will consult an initial viewing before downloading the pictures through the app if necessary. To share photos with clients, give them the link to access the files by email or other suitable media formats. Choose the length of file availability.
Pros
Files are available to 14 days from the day uploaded
Send files of any size you need
Preview files and protect them with a password
Cons
2GB space in one go
It lacks the URL link customization in the free version.
7. Prodibi a Safe Way of Transferring Files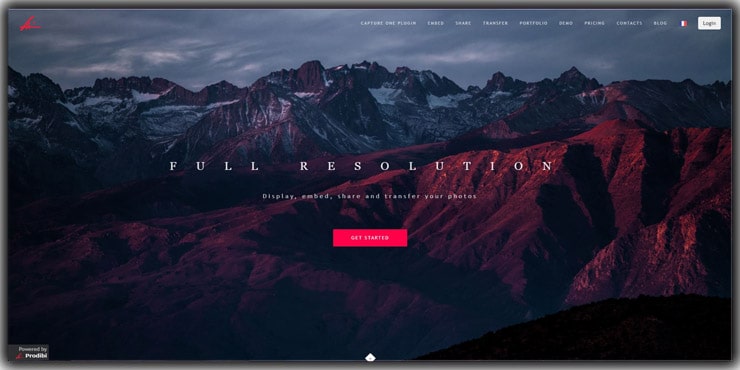 Prodibi is a Swiss-based app through which you can easily share images with clients. This app allows the user to send, embed and display high-quality photos. Moreover, its transfer speed is quite impressive. Professional photographers thus prefer it more than many other photo-sharing applications.
This plug-in can even let the clients give feedback on pictures, and it keeps all the feedback records in high resolution. Everything is done in an image gallery that is optimized for mobile and web. It takes care of essential formatting, color management, pixel density, compression, and responsiveness.
Pros
It transfers files at a high speed
Let the clients post feedbacks
You can update WordPress and website
Takes care of necessary considerations
Cons
Sometimes online image displaying gets problematic.
8. Lightroom Secure for Image Editing and Transferring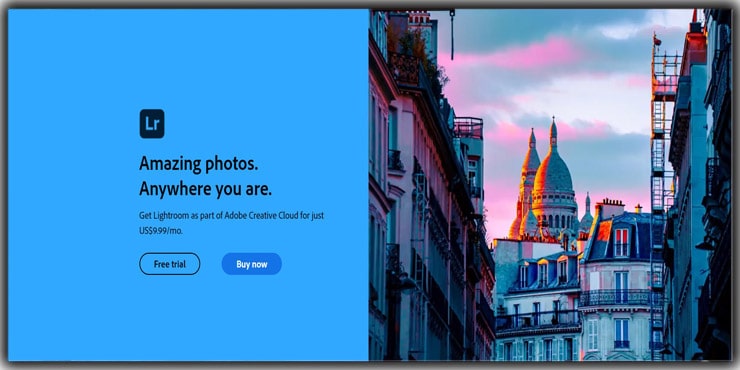 Lightroom is a popular app that many of us already have installed on our PC or mobile. Usually, most people use it for editing their photos like a pro, but it's not the only practical option. You may or not, but Lightroom lets its users share pictures with their clients.
Since email has limitations in sharing photos, you have to look for other relevant ways. Lightroom will work great for this purpose because you can share images and show clients your works. In addition, Lightroom has many excellent functions, including editing, archiving, and organizing photos.
The other helpful options will help you get your work done easier. Show a few images to send to your clients by picking them from the grid view. After selecting the files, choose to email photos and send your clients high-quality images.
Pros
Sends image files fast enough
Provides several editing functions
Lets you show the clients your works
Cons
Can share only a small bunch of photos
It doesn't let you choose pictures to sync
9. Terashare Allows Sending Larger Photo Files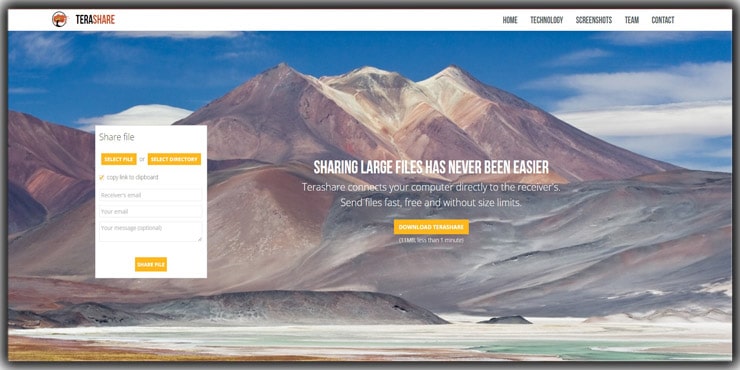 Terashare is a BitTorrent technology-based photo-sharing system. It has differences and is not like other applications out there. You will not believe it, but the truth is, the file transfer protocol can benefit you in many ways.
For example, file corruption protection, safe downloads, automatic resume, and more. It works fantastic when you need to share PSD files with different recipients. However, to use it for larger folders and files, you must install the application.
Pros
Allows you to share larger files
Offers automatic resume
Protects file from corruption
Cons
To add larger files, you need to get the app installed
The transfer speed is a bit slow
10. Hightail User-friendly File Sharing System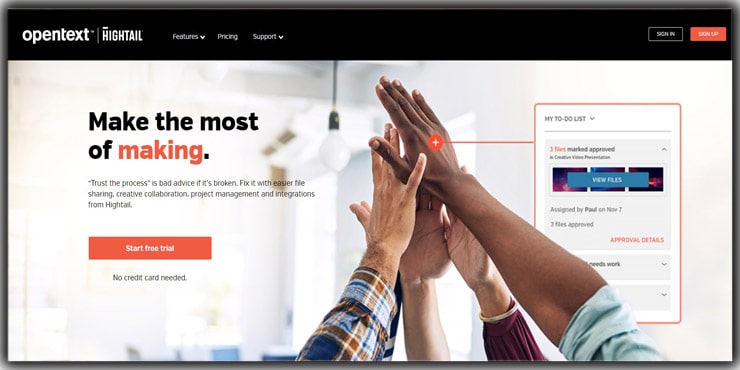 Hightail is a user-friendly photo-sharing option photographers love to use. It has solutions to many file-sharing issues. For example, you can quickly transfer the larger files. However, you can't send more than 100 MB files in the free version.
It notifies you instantly when you receive files from clients and let clients preview the photos by commenting. In addition, you can control your content. The pro version will allow you to share files worth 25GB.
Pros
Allows you to track and control your files
Sends large files
Clients can do visual previews
Supports various image formats
Cons
The free version only lets you share files up to 100 MB
11. WorkFlow Send Branded Photographs Safe and Fast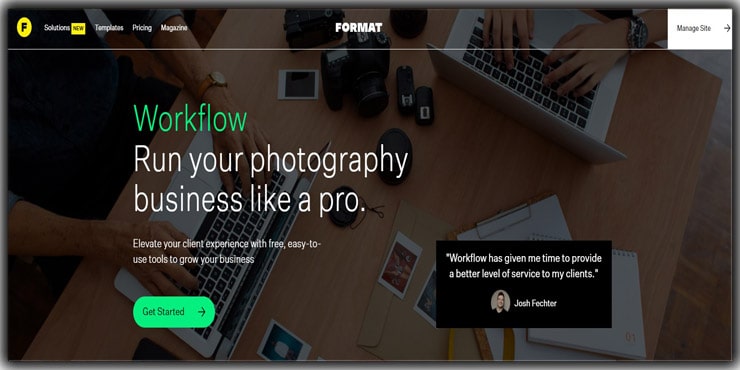 WorkFlow on Format is a secure way to share images. It's so safe that it can, without security issues, handle branded image file transfers up to 10 gigabytes in one go. The photo consumers are also given easy options for purchasing, viewing images, and providing feedback.
You can organize all the project information and keep the files transfer tracks to the clients. Whatever you or your client need, you can find that easily here. This helps you to become more productive and saves time. It has both free and premium versions.
The free version provides you with ten client galleries. The file transfer level is impressive (2GB at a time). You can purchase the premium facilities for 20.99 dollars only. The wise thing to do is take a $180 subscription for a year because it will cost you $15 only per month.
It also features valuable functions like professional email and custom domain through the Google workspace.
Pros
The free version offers 2GB of file transferring
Let's organize project pieces of information
Cons
Image sharing is not unlimited.
The premium version costs more than other application pro versions.
12. WeSendit Store and Send Data Easily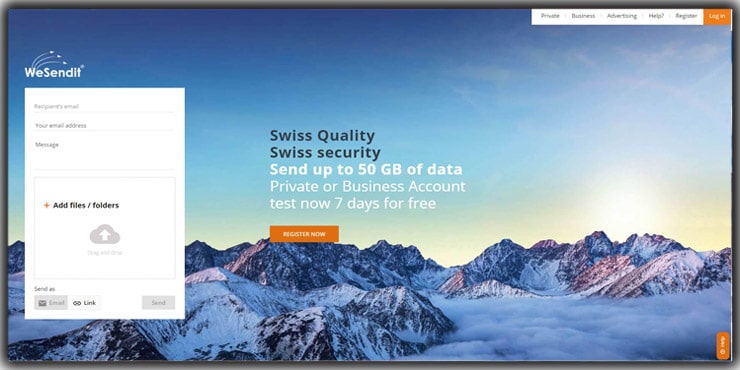 WeSendit is a Swiss file transfer service. The image data will be transferred faster and safe. All your data is stored with high security in it. The private account of WeSendit allows you to transfer files up to 20GB and 30 various recipients.
If you open a business account, you can transfer files up to 50GB. The paid version comes with a variety of valuable functions. You try a seven-day free trial before subscribing by paying $7.90.
Pros
Send files faster
Keep files secured
Cons
You need to buy the premium version for more facilities.
13. Filezilla Photographer's Choice for Free File Sending
Filezilla uses the standard system called FTP to transfer files. It works best on the PC. It's a free platform for sharing photo files, and many photographers are already enjoying its services. It provides you with many benefits. For example, you can pause or continue the transfer process of files.
When the file size of photographs doesn't match, you can overwrite the existing photo files. To download and upload images, drag and drop the preferable picture. Have easy access to frequent uses through bookmarks.
Pros
It's a free system to share image files
It gives you control over the transferring files
Simple to download and upload files for both the users and clients
Cons
The installation process is malware.
Being a professional photographer, you have to ensure secured file transfer to your clients. However, whether you are a beginner or expert photographer, our suggested photo-sharing methods will help you send and receive files more safely.
Our recommendations on the best way to share photos with clients are best for free and premium users.
You may Read: