You may be fond of clicking images to preserve memories of various occasions and incidents of your life. There is nothing wrong with it, but a bunch of pictures will eat up your device's storage. That's when the 11 best free photo storage app will help you to keep the collection of your favorite photos.
As a professional photographer, you would always want to keep your captured pictures safe and secure. Even the thought of losing your best captures is enough to scare you. So, you can preserve your captures in free photo storage apps for a long time and then use them to create your photography portfolio.
The 11 Best Free Photo Storage Apps to Preserve Your Photos
Your phone and other devices come with a limited storage option, and you have to keep other necessary files in there as well. So, even if you want to keep all your captured images, you must delete some of them to free up the storage. In the process, your amazing collection of memories and other photos can get deleted, unfortunately.
That's why there are some free cloud storage providing apps that you can use. Those apps will provide you some storage options to preserve your necessary images. Upload your pictures there, and you can keep them in that cloud storage for a long time. Thus, your phone's storage will remain free as well.
You won't have to get tensed either about preserving your photos or about the fear of images getting deleted. The eleven best free cloud photo storage providing apps that you should use in these kinds of situations are:
1. Google Photos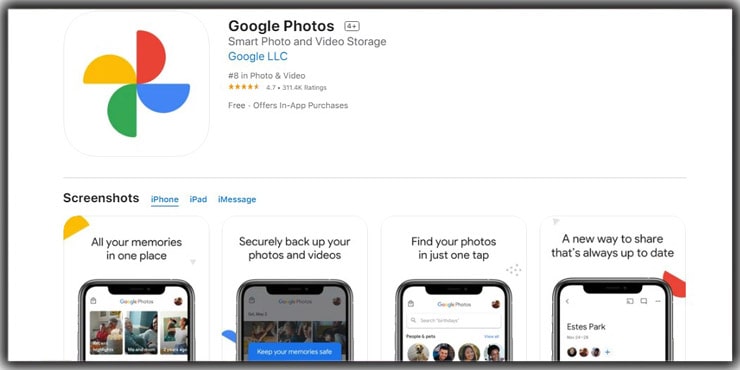 Google Photos is probably the most used free photo storage app ever all over the world. It has provided more than three years of unlimited free photo storage service to all its users. But this photo storage platform from the tech giant Google has limited its service from June 1, 2021.
But still, they provide 15 GB of free storage on which you can preserve all your videos, images, and other files. So, maybe the storage option has been reduced, but still, you will get a huge free photo storing capacity of 15 GB. The photo backup system on Google Photos is pretty easy and takes barely any effort from the user.
All you need to do is, enable the auto-upload option, and all your images will be uploaded on this free platform. When you capture new photos with your phone, those images will automatically be uploaded on Google Photos. In addition, you can store pictures less than 16 MP by maintaining their actual resolution.
But the images bigger than that will be downsized automatically by this app while uploading. When the image size is less than 1 MB, you can store more than 15000 images for free on this app. It can keep 1500+ images with 10MB size and higher resolution without costing you a penny.
You can also upgrade your Google Photos account to get the unlimited storage option. The cost of upgrading is way less, which everyone can afford easily.
Advantages:
15 GB of free photo storage capacity
Auto upload of all your images with the newly clicked ones as well
No worries about whether your photos getting saved or not
Your preserved pictures won't get ever deleted automatically
2. 500 PX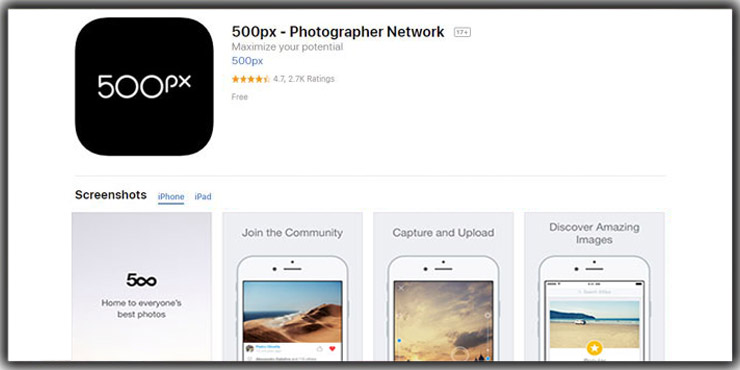 The second free storage app that we have on our list is the 500 px. If you are a professional photographer, you can preserve the best pictures captured by you through this free storage-providing app. The 500 px is generally an online photographic community that can be a great image-preserving app for you, even as a commoner.
This free photo storage providing platform mainly focuses on keeping the image resolution high over image quantity. You can even upload your image in this app by maintaining the original resolution of the picture. 500 px also provides the opportunity of uploading and downloading your photo as your necessity and as you see fit.
You can also get feedback on your images through this free storage app, and it allows licensing on your pictures. As a result, you can even make money with this app, and it makes 500 px one of the best free cloud storage options. But you will face some limitations and restrictions while using this app to preserve your images.
At first, you will need to create an account for yourself first, and 500 px only allows 2000 pictures to upload for a single account. Along with that, you can only upload seven images over seven days. However, there is an option of upgrading your 500 px account, which will let you upload more than 2000 pictures.
The seven pictures over seven days limitation will be no more with your upgrade as well. But it will cost you a handsome amount of money to make your account premium. On the other hand, if you are a professional photographer and want to preserve only your best captures, the free service of 500 px is enough for you.
Advantages:
Licensing of your images is available in free service
You can upload your image by maintaining its original resolution
2000 free photo backup capability for an account
The option of uploading and downloading your images as you see fit
3. Canon Irista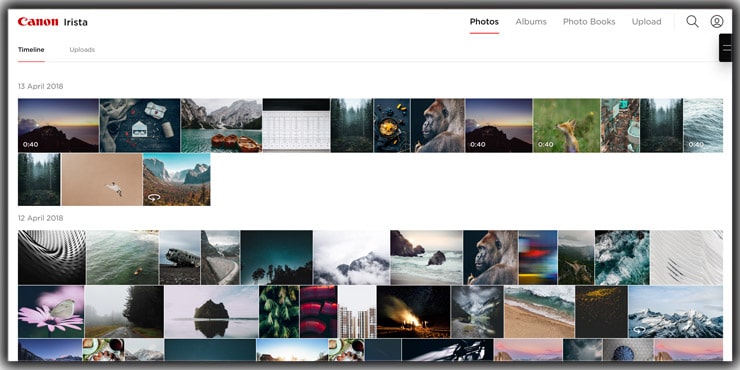 You must have understood that it is a free photo storage app from Canon from the app name. So it is a pretty useful image hosting website for free users. This Canon app provides 15 GB of free photo storing capacity for a particular account. But first, you will have to create an account on Canon Irista.
This app comes with a useful feature of simple photo tagging, which is available for free users. You can also create albums of your uploaded pictures on this app in the way you want. Another excellent capability is, you can share photos directly to Facebook or Twitter from Canon Irista.
If you use a Canon camera for capturing images that come with Wi-Fi capability, things will get way cooler for you. You can upload those images on Canon Irista directly from the camera when you capture images with Wi-Fi. The image resolution will also remain high when you upload any image on this photo hosting app.
The 15 GB free photo storage capacity, is a useful option for professional photographers. They can keep their captured images here without tension about their images getting deleted. As a commoner, you can also preserve your images here, which will save your device storage.
You can also upgrade your free photo storage account on Irista. Getting a storage capacity of 100 GB will only cost you 2-3 $ per month, which is a great deal for everyone.
Advantages:
Free 15 GB photo storage capacity for an account
Photo tagging and album creation
The opportunity of sharing photos directly to Facebook or Twitter from Canon Irista
Easy photo upload from Wi-Fi-enabled Canon cameras
4. Flickr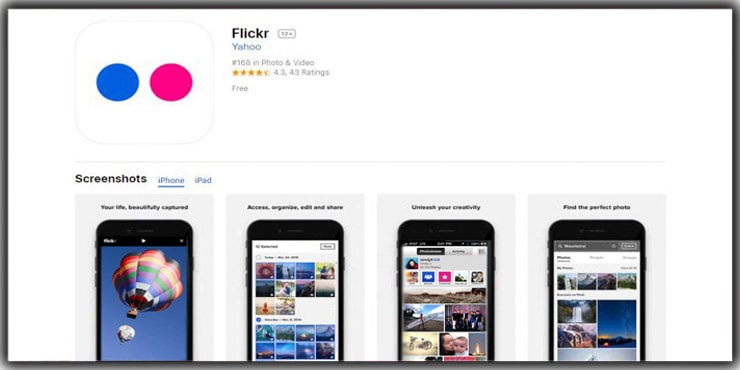 Flickr was perhaps the most used and the best app just for free photo storage. Because, in the beginning, it even offered free users with the storage capacity of 1 TB for each account. But the popularity has decreased a bit as Flickr has decided to downgrade free image storing capacity to 1000 images.
But still, many professional photographers and common people worldwide prefer Flickr to preserve their photos for free. The best thing about Flickr is, they haven't limited the storage option in terms of capacity. That's why while preserving your images on Flickr, you won't have to worry about the size and resolution of the picture.
There is no inconvenience of compressing your image or losing its quality. Because this app allows you to upload the image by maintaining its actual resolution. It is also possible to share your uploaded images on Flickr and get feedback on your amazing captures from fellow Flickr users. It will help you know what people think about your captures.
By knowing their feedback, you can make improvements and fix your image capturing errors. If you only want to use Flickr as a free photo storage app, you can do that as well without letting others see your pictures. All you need to do is make all of your photos private from your Flickr account settings option.
Like the other free photo storage providing apps, Flickr also has the account up-gradation option. Unfortunately, you need to spend 50$ per year to get unlimited photo storage capacity on Flickr. But the free storage option will do your job if you are only keen to preserve your best images.
Advantages:
Flickr allows you to keep your photos private without showing others
You can also share your images publicly on Flickr for feedback
1000 free image storing capability for a single Flickr account
Your uploaded image will be preserved with its actual resolution
5. Photobucket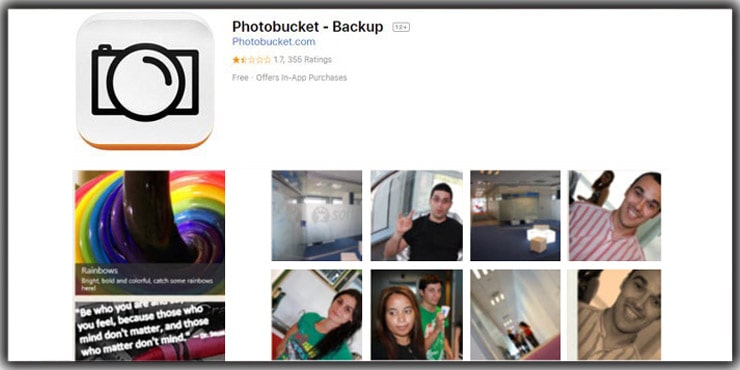 The Photobucket app is a great option for preserving your images for free. At first, you will have to create your account on Photobucket, and you will get 2 GB of photo storage capacity for free. Though it may look like the storage capacity is a little less, you can preserve more than 400 images on this cloud storage.
Another exciting feature that you will barely get in any other photo cloud storage app is photo editing. After uploading your image on Photobucket, you can even edit your image there. Photobucket has an extensive collection of editing tools that you can use to retouch your photo to provide an enhanced look.
You can keep your image both private or public on Photobucket by using the settings option. If you want to use Photobucket only as your free photo storage app, you should keep your images private. But if you're going to show your captures to other users, you need to share your pictures on Photobucket publicly.
To make your images reach more people on Photobucket, you can use various hashtags as the image caption. You can even sell your photos on Photobucket, which is a great option for making money without hardly any cost. If you want, you can upgrade your free Photobucket account to Premium as well.
They offer three types of paid accounts like Beginner, Intermediate, and Expert, at a very reasonable cost.
Advantages:
2 GB free photo storage capacity, which allows preserving more than 400 images for free
You can keep pictures either private or share publicly on Photobucket
The opportunity of editing your images on Photobucket after uploading
You can even sell your images and earn money from this free photo storage app
6. Microsoft OneDrive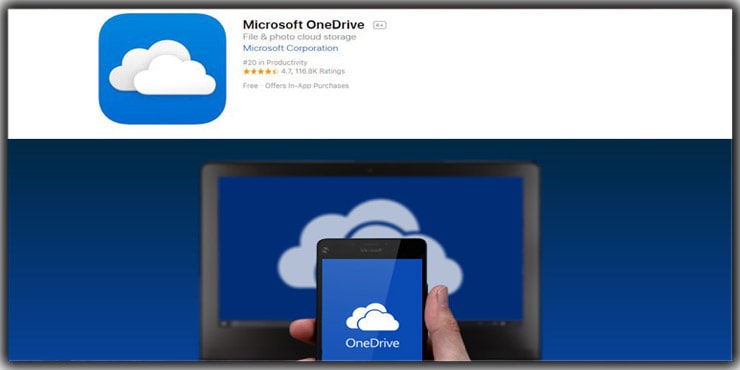 Here we have another free image storing app from another tech giant, Microsoft. Though it is a Microsoft product, you can even use free storage whether you are an iPhone user or an Android user. First, you need to download the Microsoft OneDrive app on your phone, whether Android OS or iOS.
Then create your account, and instantly you will get 5 GB free storage for your account. Moreover, by enabling the auto uploading feature, you can stay tension-free about whether your photos are getting saved or not. Because this feature will automatically upload images from your device to this app, and the newly captured images are also included.
Along with images, you can also preserve your videos and other files on that 5 GB free storage. You can upload more than 2000 images which are less than 2 MB, on Microsoft OneDrive. The more the image size and resolution are, the fewer images you can preserve on this Microsoft platform.
Like other free photo storage apps, Microsoft OneDrive also has an account up-gradation system. Microsoft OneDrive will also allow you to upgrade your free photo storage account to a premium one.
Then you can get unlimited storage capacity to preserve your images. But the free account will do your job when you only want to preserve some of your precious photos.
Advantages:
5 GB of free storage capacity to preserve images
Auto uploading of all the photos from your device to Microsoft OneDrive
No worries about losing your precious images
7. Amazon Prime Photos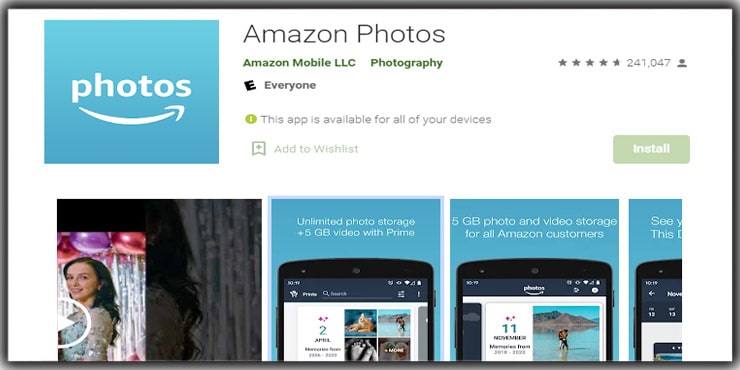 Here is another free photo storage service provider produced by the tech giant Amazon. You can preserve your images for free on Amazon Prime Photos. But there is a condition of preserving your photos for free on this fantastic platform. You will have to get the Amazon Prime membership first.
Then, you will get a premium Amazon Prime service along with storing your images on Amazon Prime Photos for free. You can preserve unlimited photos on this platform without costing a single penny specifically for image storing. It is a perfect platform to back up your memories via images.
The group feature of Amazon Prime Photos lets all your friends and families access those images. But you can also change the audience settings to set who can see which photos. For example, you can use the Amazon Prime Photos as your "Family Vault." Only a member of your family will have to take the Prime membership for that.
Whether your device is powered by iOS or Android OS, you can download and use the Amazon Prime Photos app for free. There are also options for ordering various prints and calendars from this platform after getting the Prime Membership first. In addition, you can upload your images on this app by maintaining its actual higher resolution.
Advantages:
Unlimited capacity of free photo storage
You can use Amazon Prime Photos as your "Family Vault" with the help of the "Group" feature
Getting the Prime Membership of one person will allow all your family members to use Amazon Prime Photos
You can change the settings of who will see which images
8. Dropbox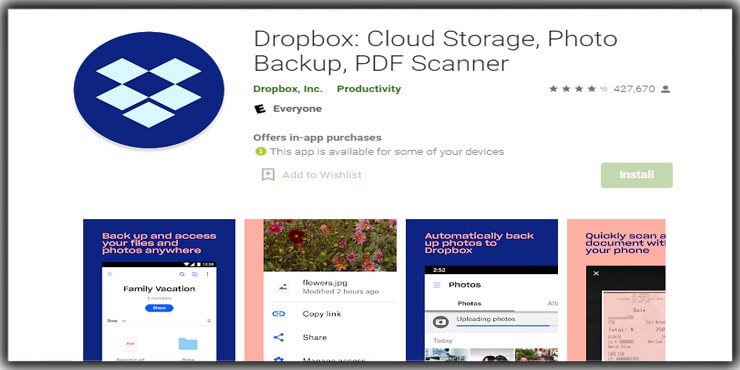 Dropbox has become an excellent choice among the commoners as the free photo storage app. It is one of the best in the business because of the simple interface to the users. This app provides 2 GB free photo storage capacity for a Dropbox account, as you need to create the account first after downloading the app.
You can also use the Dropbox app on your other devices like tablets, laptops, or desktops. Because of this, you are accessing the preserved photos becomes easier for the user. In addition, there is an option of creating folders for images of various categories. It is a useful feature for professional photographers to preserve their photos and find them easily later.
Image uploading on Dropbox is way easier compared to the other free storage apps. All you need to do is drag the image and image folder and then drop it to Dropbox. You can even transfer your images from one of your devices to another via Dropbox. For example, you have uploaded photos on Dropbox through your phone.
If you log into that account from your computer, you can see those uploaded images and then download those on the computer. So, it also works as the middleman for transferring your pictures from one device to another. So, whether you use iPhone or Android phones, this Dropbox app is open for everyone to use.
Advantages:
2 GB free image storing capacity
You can download the Dropbox app on your mobile, tablet, laptop, or desktop
It also works as the middleman of the image transferring process from one device to another
Open to use for both iOS and Android devices
9. IDrive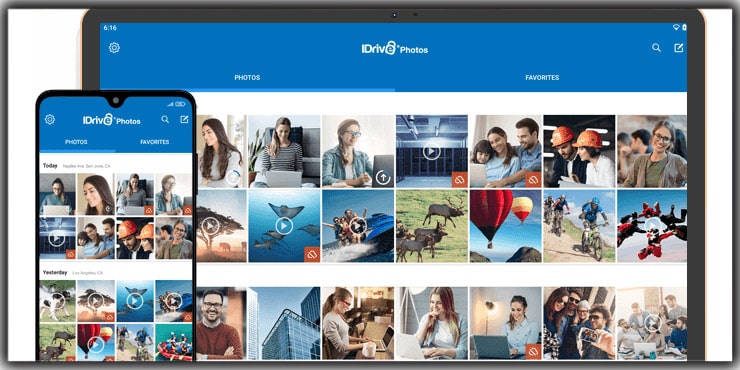 IDrive is also a well-known free photo storage app for beginner photographers and commoners. It is a fast and easy-to-use cloud storage solution that you can use on your computer and mobile. The popularity of this app mainly increased because of the easy interface it offers to the users.
You need to create your account on the IDrive app after downloading it from Apple App Store or Google Play Store. After account creation, you will get 5 GB of free storage to preserve your images safely. There are also options for sharing your pictures by email or social media sites by linking with IDrive.
IDrive has no security issues as it offers a facial recognition system for the user's safety. You can also turn on auto-sync to upload your images to this app automatically. The IDrive also allows the free user to organize the image portfolio. It also has the capability of syncing photos across all your mobile devices.
It makes using IDrive easier along with all the safety, security, and privacy. There is also an opportunity of upgrading your free IDrive account to a premium one if you want. You can take 5 TB, 10 TB, or unlimited storage on this platform based on your necessity.
Advantages:
5 GB free storage to preserve your precious images
Organizing image portfolio and syncing images
Available for both Android and iOS devices
The opportunity of sharing your pictures by email or to social media sites by linking with IDrive
10. Shoebox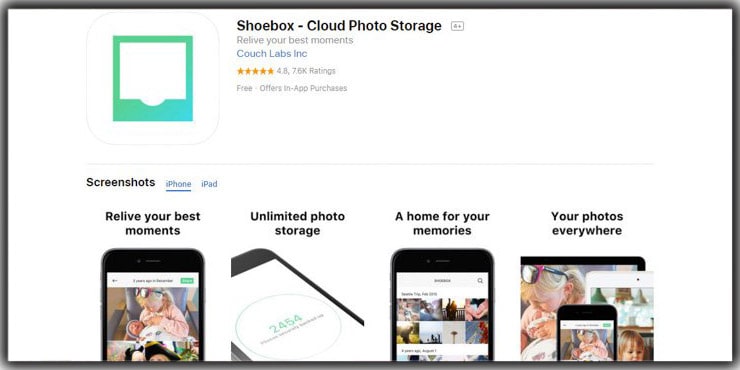 Now we have a lighter free photo storage app named Shoebox with a bunch of useful features. It was launched more than six years ago, and still, it is serving the users by providing image storage service for free. It is a great platform and offers a mobile app to preserve images on iPhone and Android phones.
You will find the auto-upload feature on Shoebox, which will keep you tension-free about whether your images get saved or not. This impressive feature makes the Shoebox app one of the best platforms to back up your pictures. In addition, the clean and simple interface of this app has made it a popular choice among the common people.
But there is a drawback as it will only keep the actual resolution of the images, which are lower than 10.6 MP. The Shoebox app will automatically downsize the photos with a higher resolution than that. But still, because of the unlimited storage option, you can keep a vast collection of images in the fantastic app.
It can also back up the images that you have uploaded on Facebook. For this, all you need to do is, link your Shoebox account with your Facebook account. Then, as a photographer, you can create an album of your captures and systematically preserve them. It is also possible to upload images on Facebook directly from the image collection of this app.
If you want, you can go for the "Pro" plan of the Shoebox account, which comes at a reasonable price. But the features available with free storage are enough to serve you well if you are a moderate user.
Advantages:
Unlimited free photo storage capacity
You can link up your Facebook account with Shoebox for image uploading and backup
The opportunity of creating image albums
Easy and simple interface
11. Mylio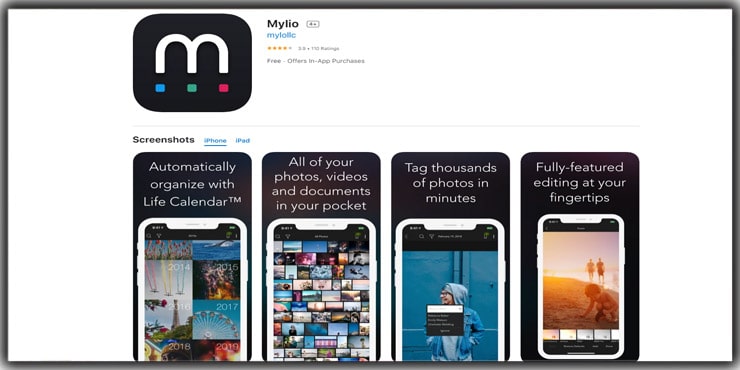 The free photo storage we have now may not have that much popularity, but it offers a lot to the free users. Mylio is an organized photo storage app that also gives users free storage options. After creating your account on this app will allow you to preserve more than 5000 images without costing a penny.
You can use this Mylio app on your phone, whether an iPhone or Android phone, tablet, laptop, or desktop. In addition, when most of the storage apps don't work offline, you can access the uploaded images in Mylio even when you are offline.
After uploading your images on Mylio, you can also edit the photos because this app has built-in photo editing capability with the presence of a massive editing tool collection. It allows you to create image albums to back up your images in an organized way. The face recognition safety feature keeps your pictures secure.
You can upgrade your free Mylio account to get all the premium services at an affordable cost. Moreover, after upgrading, you can store an unlimited number of images in that app. But the free service of the Mylio app is enough for you as a moderate user. However, if you are a photographer, the free storage option is capable of serving you well.
Advantages:
You can store 5000 images in the Mylio app for free
No restriction about image size and resolution
The opportunity of accessing your photographs even if you are offline
An organized image backup along with creating photo albums
Final Thoughts on Best Free Photo Storage Apps
It is alarming when your device's storage runs out for backing up your images. When you are short of storage on your device, you may need to delete some of your favorite pictures. So, some extra storage options can save you from deleting your precious collection of images. 
In this scenario, the 11 best free photo storage apps will serve you by preserving your captures. Whether you are a photographer or a commoner, those free storage apps will allow you to preserve your images without any cost. Furthermore, you won't have to worry a bit about deleting your favorite photos to save device storage as well.
If you need any Photoshop services from Graphic Experts India and need storage to send us any amount of images, feel free to request an FTP account
You may read: