Do you wonder How To Make A Photography Watermark? In this article, I will show you every step to make a photography watermark in photoshop without distracting your shots.
Making Watermark in Photoshop is an easy task. However, making something professional and beautiful is tricky.
Watermarking is essential to protect your online photos. Photographers share their fantastic clicks on the web to advertise their skills.
But there are a lot of digital thieves who steal pictures from the web & use them illegally. So to protect your valuable shots, watermarking is one of the oldest and effective ways.
But it makes it harder for the theft to use your images. However, it is not possible to protect your images100%. But prevention is always a better way to save your photography.
Why Photography Watermark?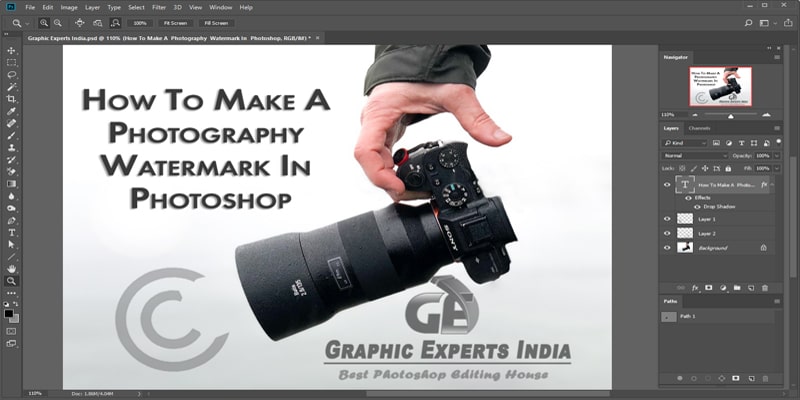 Photography watermarking is a technique where you attach some text, logo, or another relevant image to the photo. Thus, no one can use your photos without permission. There are lots of benefits to your pictures. They are discussing below-
Protect Valuable Shots
While uploading your shots on the web, it is too easy to save them. Some greedy people search in google & choose some outstanding photos & keep those work. They use it for their purpose illegally. It takes your fame & your creativity, and that is unexpected.
But you can't avoid digital platforms to cope with this competitive business field. It is essential to share your works on a digital platform to grow your photography business. So, it is wise to use a photography watermark to protect your shots.
It won't be as simple to use it as before. Watermarking makes it harder to re-use. Because they need to give time & effort to remove it before using it, otherwise, it will do your self-promotion.
Moreover, it discourages the theft of your images. According to statistics, it is proof that the ratio of stealing watermarking images is lower than without watermarking.
Advertising
The theft always has not enough time & dedication to remove your watermarking. Besides, some are also challenging to remove perfectly. So they use the photo with the watermark. That performs indirect advertising of your photography business. It is also suitable for spreading your name quickly.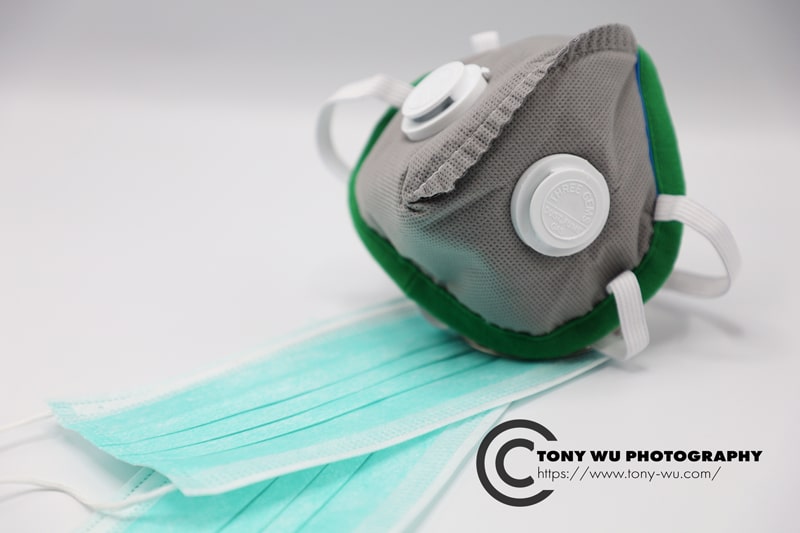 Effective Advice For Watermarking From Pros
Photography watermark gives your images protection. But there are also some cons. It may distract your valuable shots by attaching watermarks inaccurately. So if you decide to add a watermark to your photo, you must consider the below factors.
Font & Style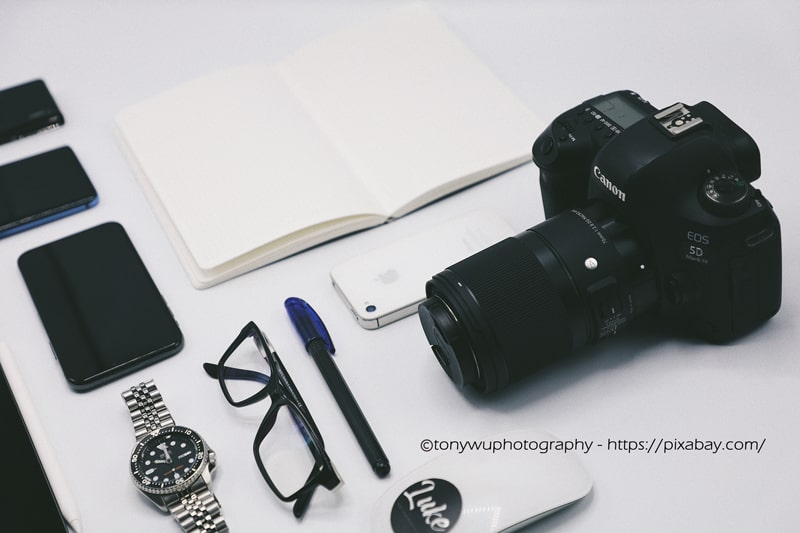 Take some time to create your watermark. Then, do some research about your work to find out the contrasting watermark. You should find a consistent font style that focuses on your art. But if you go for default photoshop fonts, it won't attract the audience.
It is good to use your business logo with a signature. However, there are countless options open for you, and you need to find out the best option. That is fit for your shots. Your motive is to enhance the beauty of your photography. So, mark it in a way that can highlight your work.
Watermark Size
You should choose the watermark size considering your photograph size. You need to make the watermark crystal clear. So that people can easily understand it. If you make it too small, it will be difficult to read.
So, it is ideal to find out the appropriate size. That is not too small or too large. Your target is to select a size that can meet your requirements. Don't choose it randomly. That can ruin your image beauty. People will feel bored with such images.
See below. The watermark looks odd. People won't look at this image twice. So it just spoils your valuable work. Be careful on this step to generate a lucrative watermark.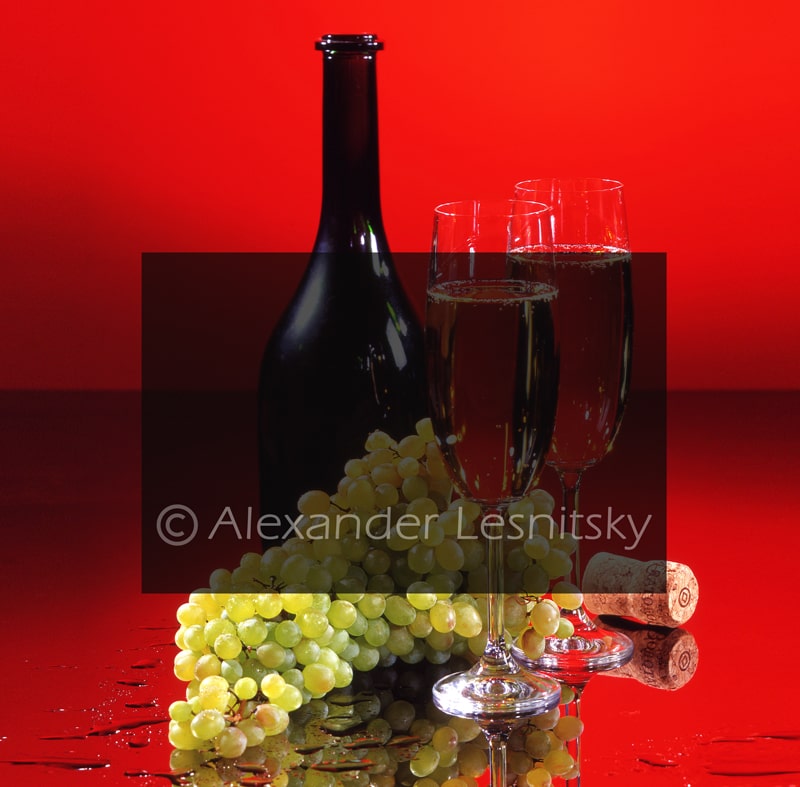 Focus Point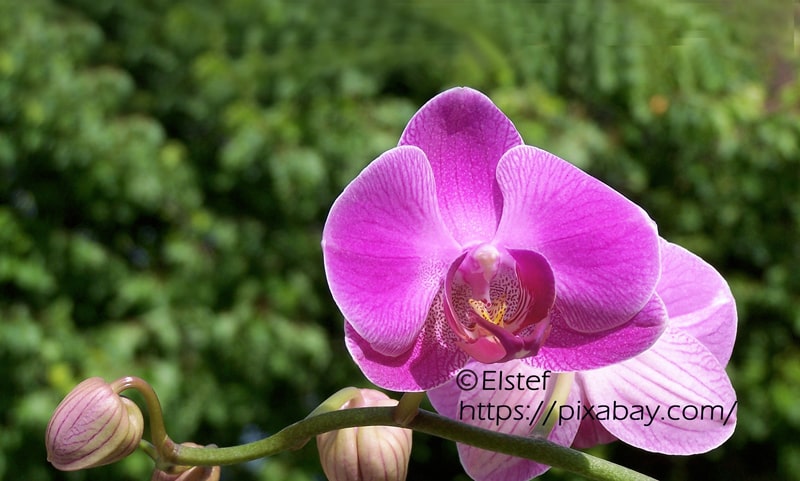 Your focusing point should be your photographic subject. If you add a watermark poorly, then it can grab the focus. So, your primary purpose will affect you.
The audience, at first glance, sees your watermarking instead of your work. But, unfortunately, that can ruin the most important first impression. So it is essential to check so that it won't be a focal point.
Take some time to think carefully. You need to grab the audience's eye on your art. So, attach it in the proper position. That can meet your purpose perfectly.
Step By Step Photography Text Watermarking in Photoshop:
Here is the process to add a watermark for beginners. Follow this tutorial step by step. Hence if you are a beginner at Photoshop, you may need to learn about A Beginner's Guide to Photoshop CC 
1: Uploading the Image and Take a New Layer
First, open photoshop. Then Select File> Open >choose your image. After opening the photograph, select Layer> New > Layer to create a New Layer for the watermark.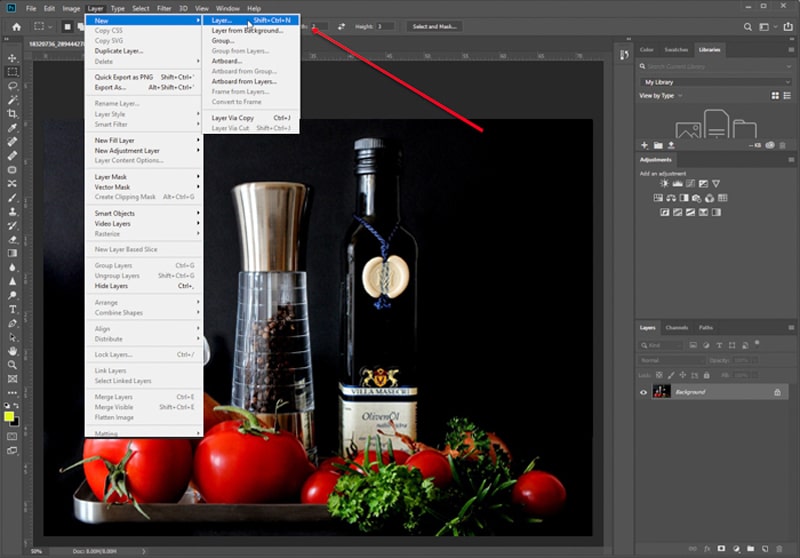 Name the new layer as watermarks or others according to your wish & click OK to save it.
Step2: Adding Text and Font Style
Now select the New layer. From the toolbar, choose the Text Tool. Next, you need to identify the accurate position to attach the watermark. After deciding the correct position, draw a box with the pen tool.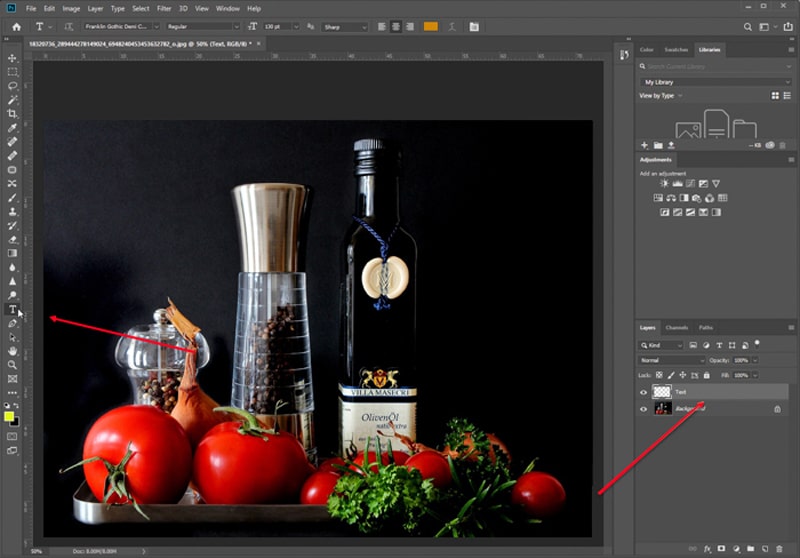 Now you can start writing. First, you should research your business objectives to find out compelling text. Then, you can add your business name or website address, etc.
Compare the font style with your photograph so that it will be contrasting. You can change the font style & font size from the above menu bar dropdown list. Then, play with the font to find the most beautiful one that can match your art.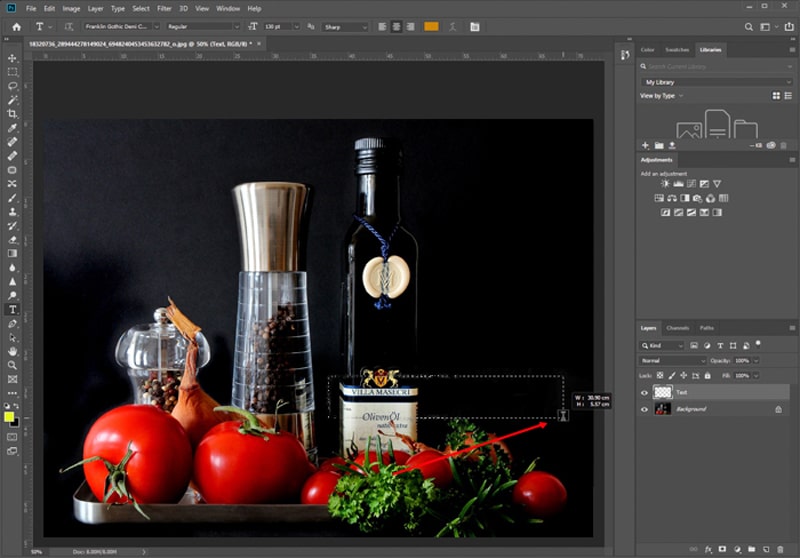 Font color is another essential point to make your watermarking perfect. If you use too much glossy color, it can grab the attraction. So you should avoid too much dark in color. Instead, use some soft color that helps you focus on the main image.
You can also modify the font size from the top menu bar easily. You should go for a legible size that is readable. Otherwise, It won't be effective. Select the font size crucially to bring the best watermark.
Step3: Styling Up Copyright Icon
You can add a copyright icon. It helps to discourage theft from using your photo. Besides, it makes people concerned about copyright laws.
You can attach the copyright icon easily. Just go to Google & type Copyright Icon and download it. Then paste it within the text area. It's an easy one-step process but not efficient. Because sometimes the background color won't match with your images. So you can use Photoshop's built-in icon.
From the toolbar, Select Custom Shape Tool & select the Copyright Icon. You can enter "U" for quick selection.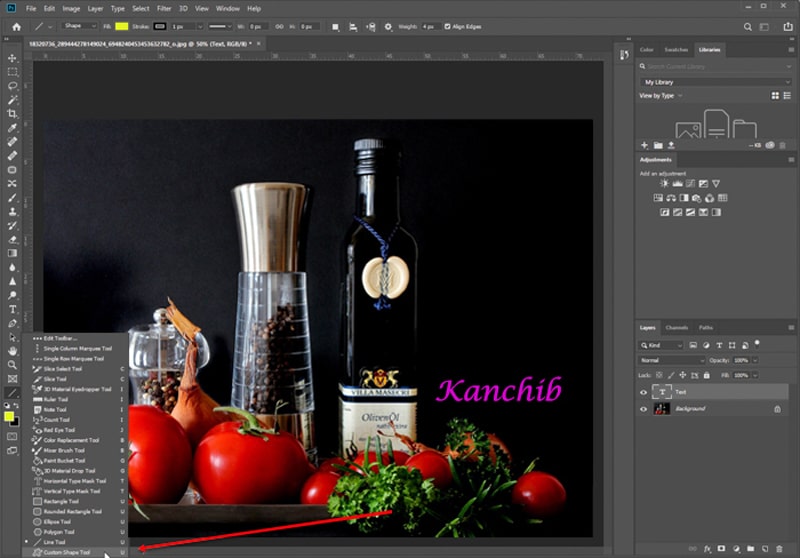 Just drag it anywhere you want to place it.
The benefits of using this icon won't affect your background color. Besides, you can change the icon color from the menu bar.
So, it will easily match with your text & blend with the background. You can also change the size of the icon according to your need. After releasing the mouse, if you think you need to reshape the icon, enter Ctrl +T. You can easily adjust the icon size.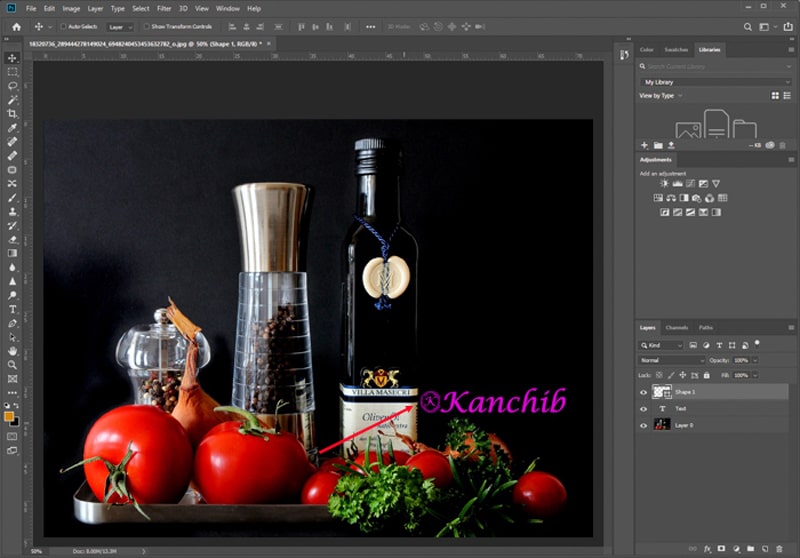 Step4: Polishing Up Text to Make it Eye Catchy
After completing the text, if you want to modify it, then select the layer. Then, select Text Tool & see the top menu bar. Again, you can change it according to your need.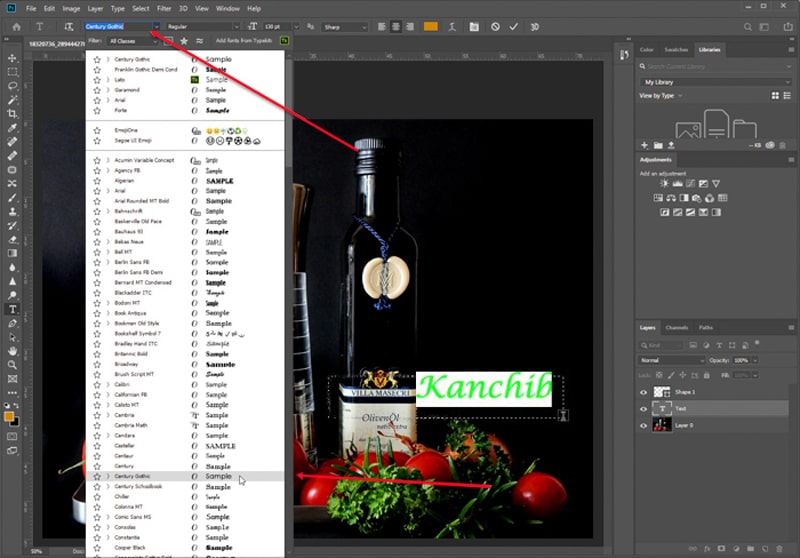 Suppose you want to replace the text, select it & Delete it. Now write your new text. If you're going to change any portions, select only particular text. Then, choose your text style from the top menu according to your wish.
Step5: Place the Text on the Desired Place
Now select both text & icon layers by pressing shift. Right-click on the mouse & select merge layers. It will combine the text & icon layer. So, you can easily reposition both layers at a time. It helps you to move the watermark to find out the best position.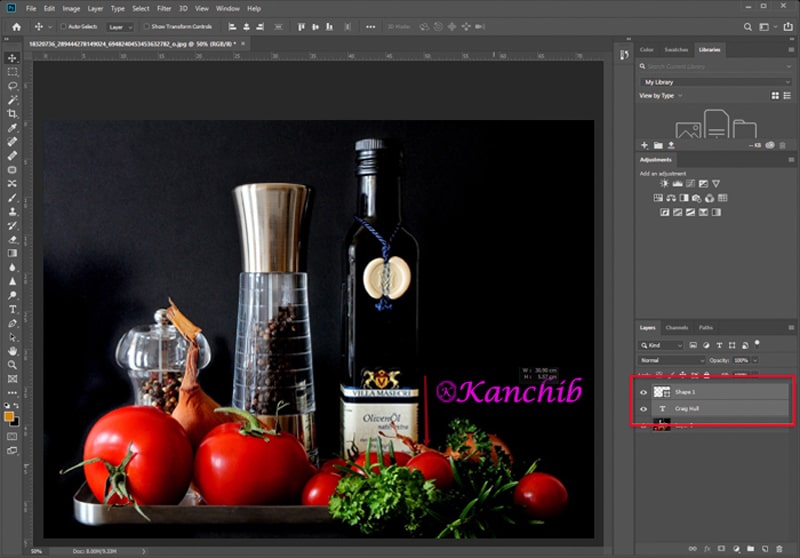 Step6: Advanced Actions to Protecting the Focus
Here the main target is to keep the focus on your image. If the watermark becomes too attractive, then it is risky. It may spoil your primary purposes. So, to lighten the watermark, you can adjust the opacity.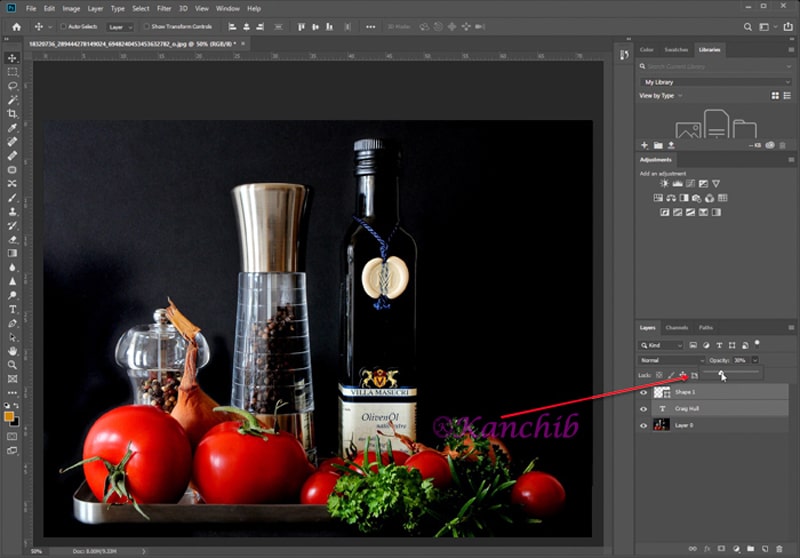 Select the watermark layer & find the Opacity option on the top. Reduce the opacity according to your needs. Don't make it too light. Keep it readable but mild. Just move the slider to decrease the opacity.
A flat watermark can enlighten the beauty of your photograph. You can try some effects to make your image focus.
Now,
Right-click on the watermark layer & Select Blending. You will find a new popup window. Select Bevel & Emboss. You can adjust the effect by moving the slider & then clicking Ok.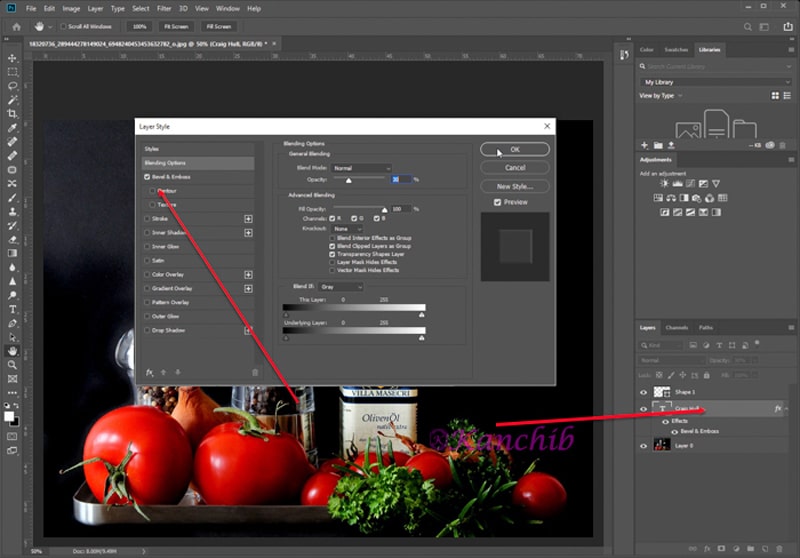 It helps you to make your image more attractive. Also, It makes watermarking more natural. So, it won't make your image distracting.
Watermark Your Image With Logo
You can also attach your business logo as a watermark. Attaching the logo is a little bit different. While you attach the logo, it won't need to add text because it does your branding. You need to have a transparent background logo file for attaching the logo. Name as png.
If you don't have a transparent background file, you can Outsource Background Removal Services to get a factual background.
01: Uploading Logo and Adjusting Size
Then open photoshop. Select File> Place Embedded> choose your logo file to embed. After selecting, click on place.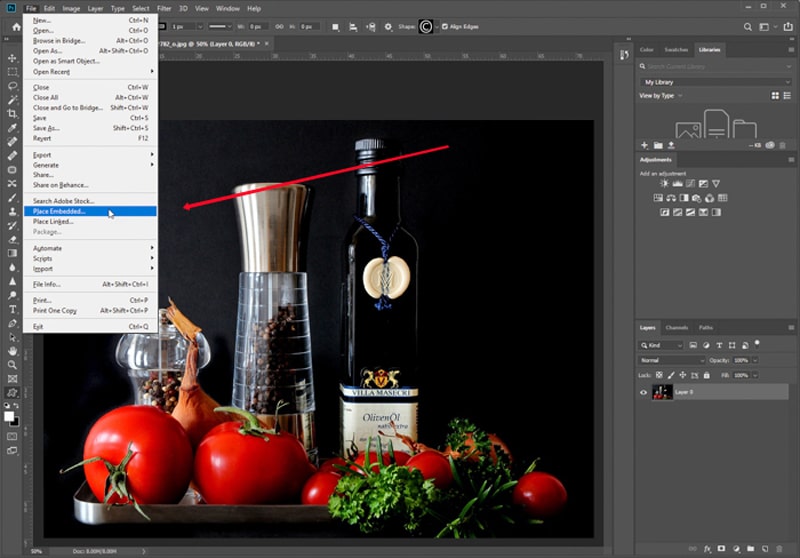 You will find the logo too large. Don't worry, just drag your mouse & click on the corner to reduce the size.
Suppose you want to reduce the size in the same ratio press shift while adjusting the height. Then, it will resize the logo in the same ratio.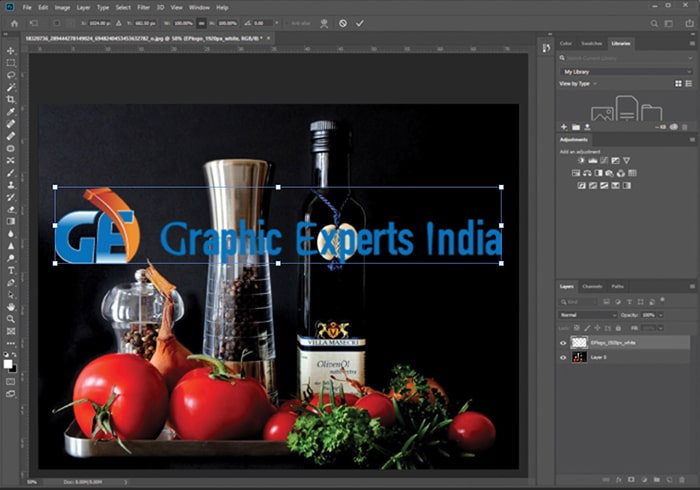 02: Placing it on Desired Location
After resizing the logo, you need to place it properly. Select the logo File & from the toolbar, select the move tool.
Now you can easily place your logo anywhere you want. But, first, find out the best position that makes the image attractive.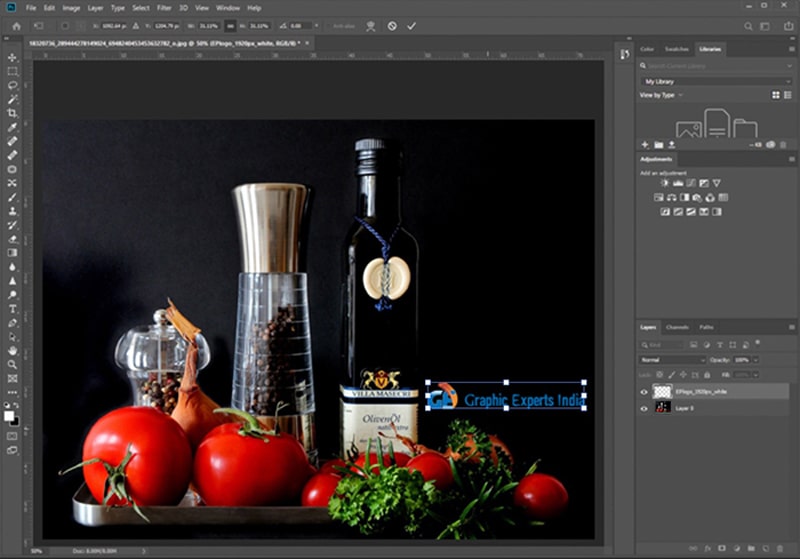 If you want to place it in the center position, you need to find out the center point. Select View> New Guide.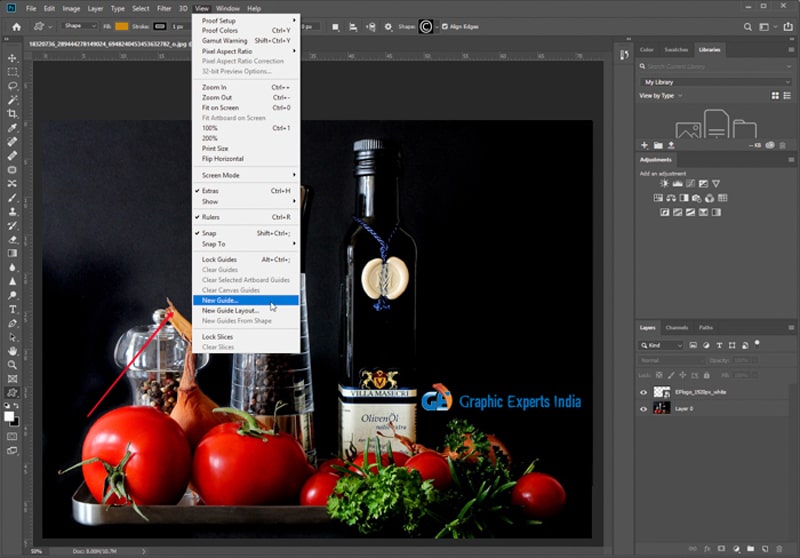 You will get a new popup window. From that, Choose Vertical & Enter the position as 50%. Then Press Ok.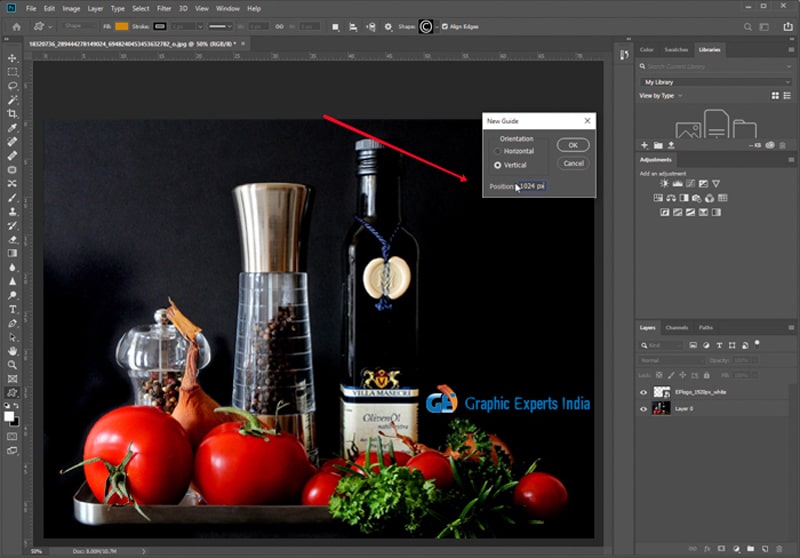 From the toolbar, select the move tool & select the logo File to reposition it on the center point.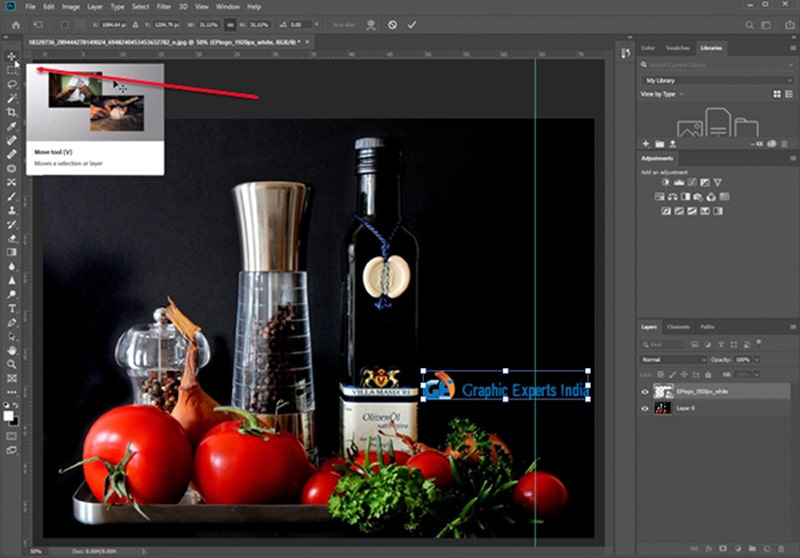 Now remove the guideline. Just select View > Clear Guides.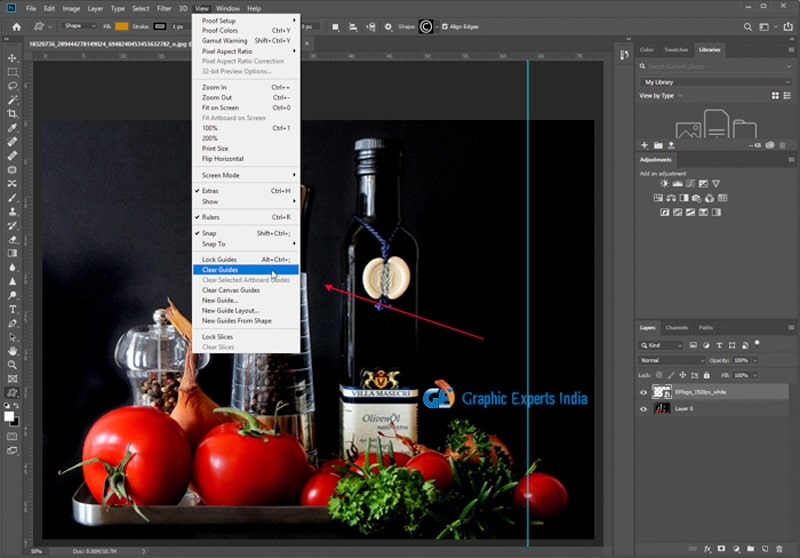 Your watermark is ready. You just finished your work! Now save the File. My watermark comes out like this.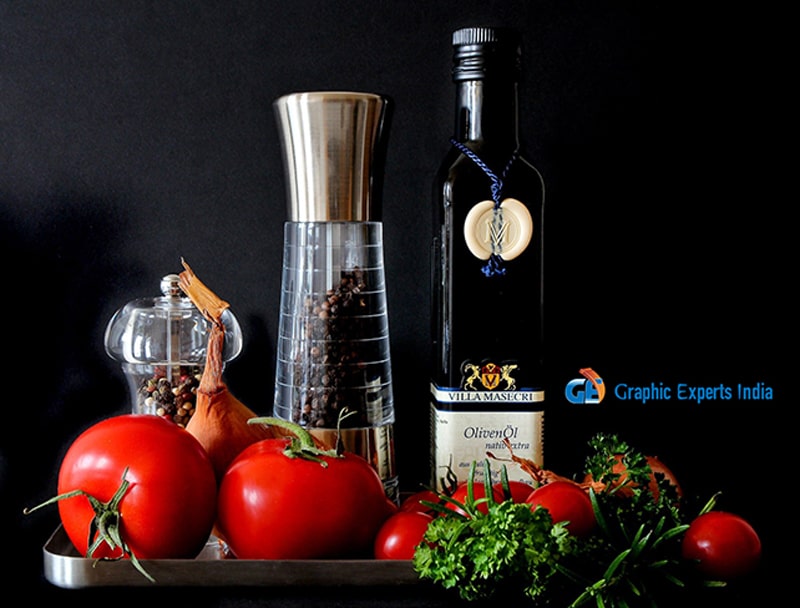 Custom Photoshop Brush To Make A Photography Watermark
If you are looking for the easiest & super fast watermarking process, this method is for you. In this technique, you can make your photographic watermark within a minute. You can also convert this with both text & logo watermark.
After creating your custom brush, it's one-step work to attach your watermark & reposition it crucially.
How you can make a custom brush to use as a watermark are discussed below-
01: Using Custom Brush to Make Professional Watermark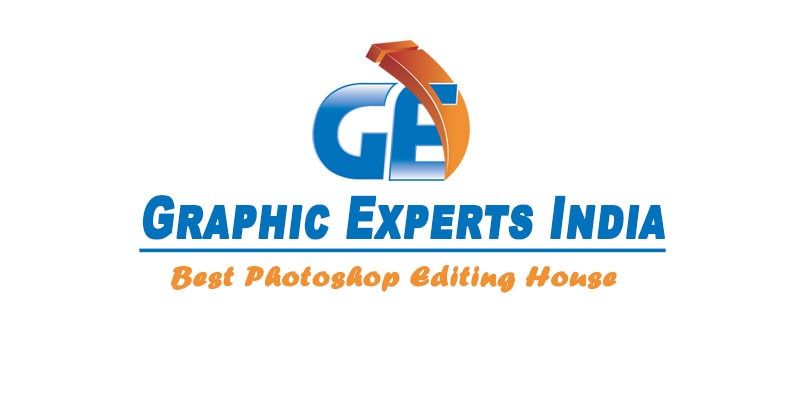 Suppose here I take a logo file to apply the custom brush. You need to check that your file resolution is more than 500px. Low-quality images can result in a poor watermark. You don't take the risk of attaching a poor watermark.
Another thing you need to consider is that your logo file has a solid white background. Suppose you don't have your logo with a solid white background. At first, outsource Remove Background Services to get a factual background. Now make some minor adjustments in resolution & grayscale before transforming it into a brush.
02: Open Your Logo Image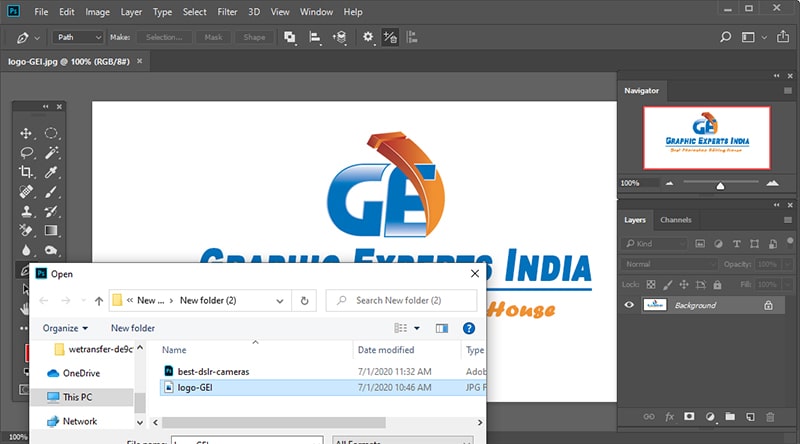 Now open your logo image on Photoshop. Next, select Edit->Define Brush Preset.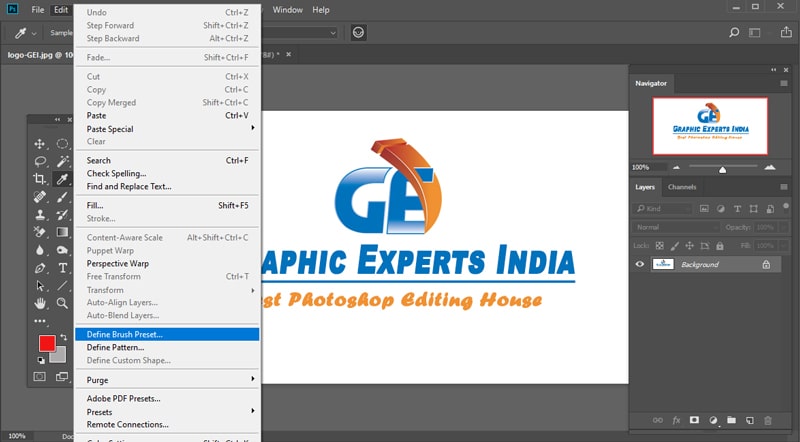 Give your file name according to your wish. For example, you can name it a watermark.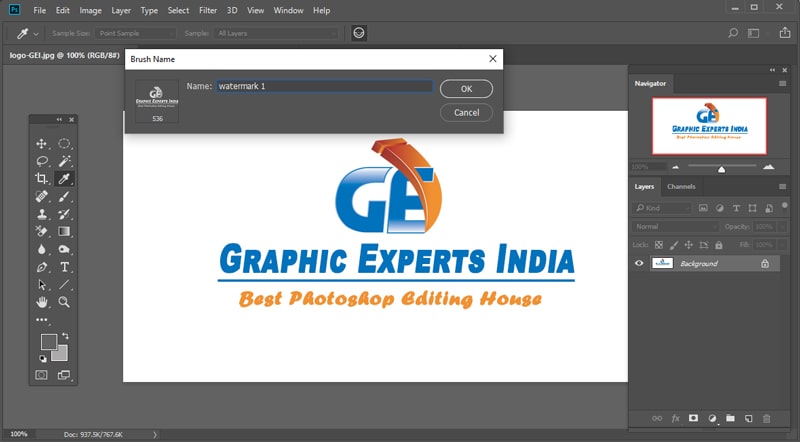 That is the most appropriate option. Also, you may need to add multiple watermarks. In that case, you can rename it as custom watermark 1. After entering the name, click on OK to save it. Now your custom brush is ready.
03: Applying Brush Tool to Make A Photography Watermark
Now it comes to applying a custom brush to your image. First, open Your Image in Photoshop. Then, from the toolbar, select the brush tool.
For quick selection, you can enter B to select the Brush tool. Next, you should choose the watermark brush from the brush list.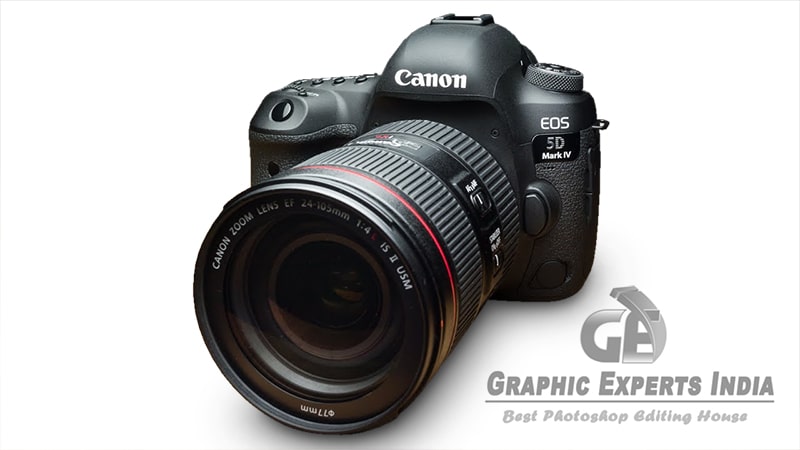 You can select the brush type, color, & size to paint efficiently. Now you can click anywhere on the image to place it.
You can also modify the opacity of your custom brush from the top menu bar. So now your logo is working as a custom brush. You can paint it according to your needs.
You can also repeat the process to convert text watermark to custom brush. However, you don't need to repeat custom brush-making steps to use your watermark brush in other images. Photoshop will automatically save your custom brush.
You can use it at any time for any image. The benefits of converting to a custom brush you can just grab the brush & attach a watermark. It's one-second work.
Common Mistakes To Make A Photography Watermark:
Watermarking creates a risk to make your image distracting.
There is a high chance to grab the focus from the subject. It decreases the importance of your creative art. So, you need to take the utmost care to avoid poor watermarks. You should add a consistent & mild watermark.
Some accessible text removal is not challenging. It won't work if you don't apply any tricks like effects. So, watermarking will be effective if & only if you are strategic.
A great lucrative watermark takes some time & dedication to match it with your shots. So compare your timing value with the benefits you gain. So, you can also take help from a Photoshop services provider to make it perfect. That can save valuable time & you can be more productive.
But it's not always the same watermark you can apply. Because the theme of your photoshoots may vary. With the theme, you need to adjust it. So, it is time-consuming work. That can take energy & reduce your productivity.
Conclusion on How To Make A Photography Watermark:
As a photographer, it's essential to share your photo on digital platforms. It can bring a huge opportunity for you.
But it's not acceptable to snatch your dream from a thief. So, it is necessary to know how to attach an effective one. 
Here I share three ways with tips & tricks to make your photographic watermarks perfect & standard. That helps you to learn how to make a photography watermark.
To save time, you can convert it as a custom brush. But though in different scenarios, you need to recreate.
To protect your valuable images, give some time to make watermarks lucrative. It is not wise to ruin the image of beauty by a poor one.
So follow these steps carefully to avoid mistakes & enhance the beauty of your pictures.
You may read: