If you are a professional photographer or graphics designer you must hear about photoshop & gimp. Photo editing is incomplete without these two fantastic photo editing software.
Some people are getting confused about which one is best? Photoshop & GIMP both have some exclusive features & Their own amazing advantages. Basically, It depends on your need & a budget that photoshop vs gimp which plays well within your requirement.
I will cover the details of the pros & cons of photoshop vs gimp that help you to pick the best software for you.
Adobe Photoshop the giant photo editing software is sometimes difficult to afford due to its pro price. Definitely, it is money worthing software.
How do decide the best one? Go through the article to find out your suitable software & which one is best. Often people think the free thing is not good but I think your idea will be totally changed after reading this article. There is no doubt that photoshop & gimp both are powerful photo editing tools.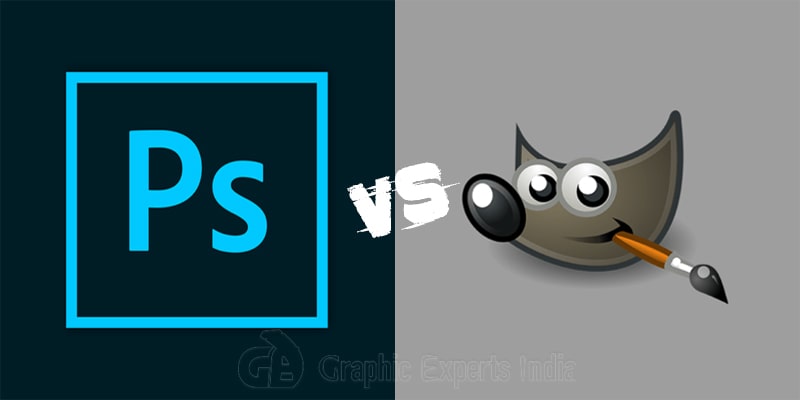 So, there is a certain battle between this two software. Let's know who wins the battle with its exclusive feature.
Gimp vs Photoshop: Feature Comparison
Photoshop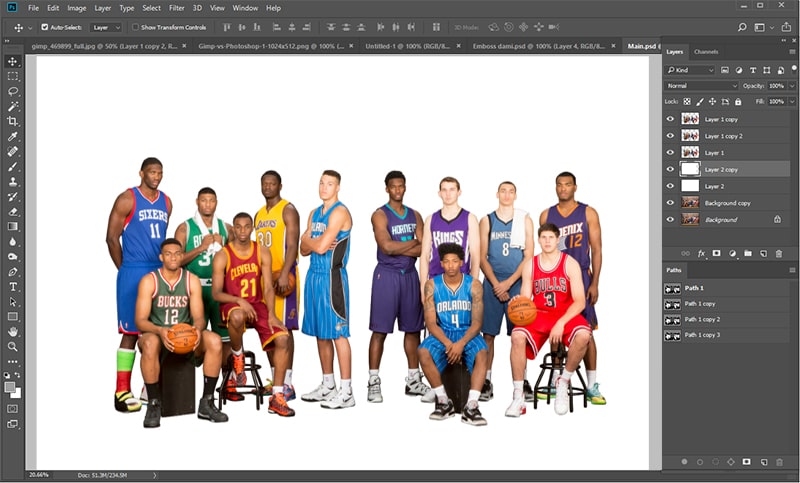 Photoshop is one of the popular & market-leading photo editing & manipulating software in the market. A graphics designer vastly depends on this software. Apart from graphics designers, it is robustly used by photographers, web developers & creative designers too. Any type of professional image editing is incomplete without photoshop.
Visit Photoshop: Click Here
GIMP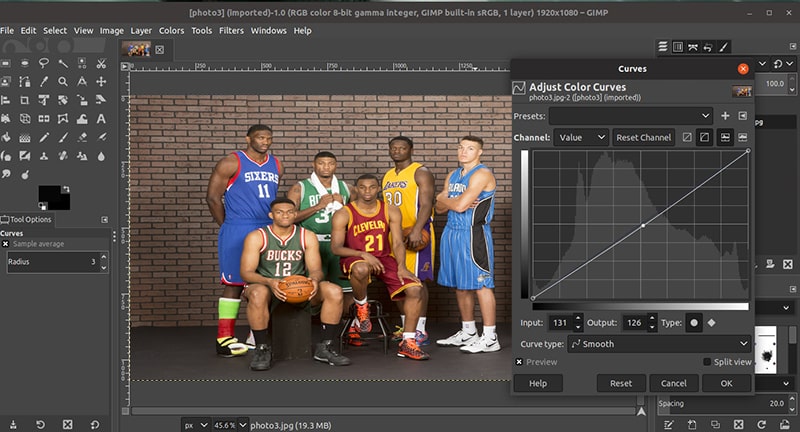 As photoshop is very expensive there is some newbie designer who can't afford photoshop. Or there are some people who don't need depth-quality editing. They are looking for a cheap alternative. GIMP is the best alternative to photoshop.
Gimp is a free image editing software. In some cases, It works better than photoshop. So, the people who have budget issues undoubtedly can pick the GIMP.
Download GIMP: Click Here
Here I will mention all the situations & which one is right for you at which situation. So, that you can realize Gimp vs Photoshop feature comparison.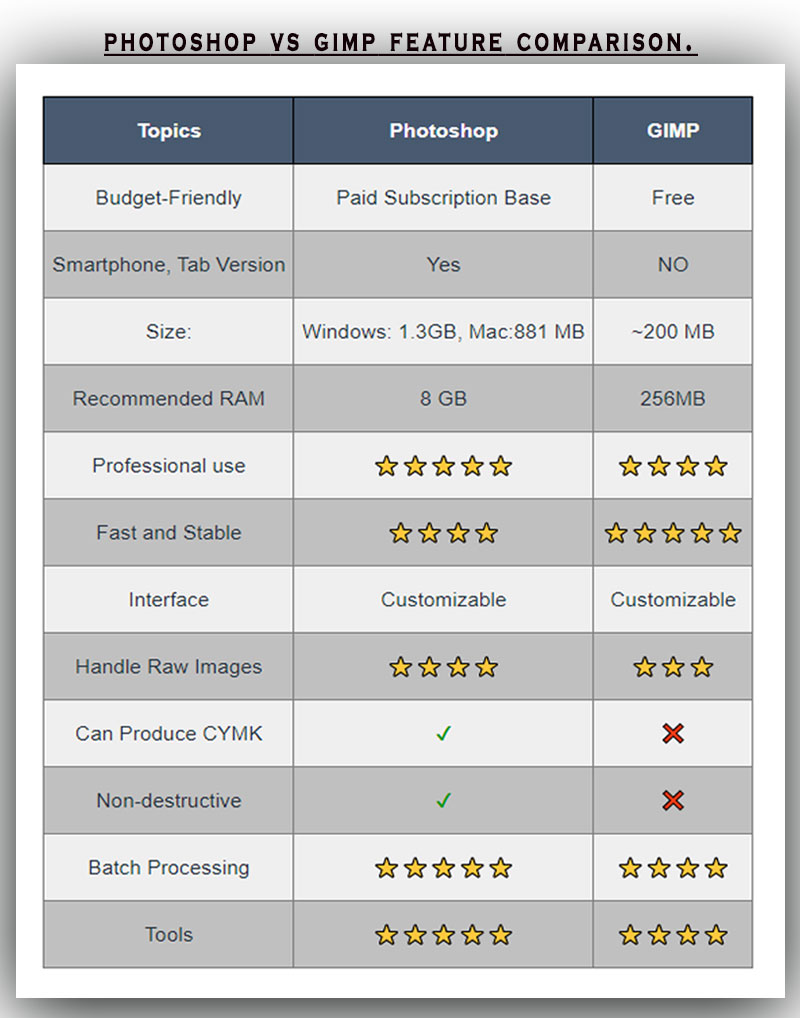 Smartphone Flexibility:
Nowadays most of us are comfortable working on the smartphone. It is handy & we are habituated to use a smartphone. If you are looking for photo editing software that has a mobile version then you should go for photoshop. Only photoshop express gives you the power to edit your image on mobile.
GIMP has not any mobile or smartphone version to use. So, there is only a choice of photoshop.
Insufficient Space:
When you have an old computer or laptop that doesn't have enough space is a big problem if you try to run photoshop in this poor configuration. Photoshop won't work in insufficient space. You can't edit your photo in low ram. Besides, if you have a medium space photoshop will go slower & you can't work smoothly.
So, in this type of situation, the best option is GIMP. It is a very lightweight software that is 20X smaller than Photoshop. It doesn't need much space & RAM. It can fluently run in low space. Besides, you will get a smooth workflow using GIMP.
Company Provides Expense:
When your organization is ready to pay the bills to get standard work you must go for photoshop. Even if you are a freelance editor or designer you can ask for the photoshop expense.
This is best when your company wants high-quality work & crucial manipulation.
Quick & Fixed:
Photoshop provides various types of photo editing features rather it does not only focus on the digital image. It allows all kinds of manipulating, illustrating, masking & designing. So, if you don't need all the detailing or all types of work some tools remain idle & waste your space.
On the other hand, GIMP is not versatile. It is only highlighting digital images to a quick fix. So, if you only deal with digital photographs for personal purposes or quick editing the best option is GIMP. As a photographer, I will suggest GIMP if you need some basic modification. Because you are a skilled photographer so you don't need much editing or manipulation. Some basic color correction, color adjustment is fine in GIMP. It is faster & easier to get your work done.
Advanced Editing:
Some amazing & hot features of GIMP are the Droste effect & converting your photo into a tiny universe. When you work on a creative project this feature is too precious.
But your photography comes to the point in professional use such as e-commerce photography requires layering, text, clipping path, masking & a mix of many features. In this type of highly professional advanced work, photoshop wins the race.
Video manipulation, animation work, advanced retouching, clipping path, masking, is incomplete without photoshop.
Though you will get some artwork done by GIMP it is inconvenient due to limited features. You won't find all the necessary tools & features like Photoshop.
So, in personal or basic image editing GIMP is the right choice. But in the case of professional editing if you want to grab the standard the only best way is photoshop.
Flexible Interface:
GIMP is the only software that is completely customizable & flexible. You can easily remove the tools that you don't need.
This is a fantastic way to boost up your device & derive a smoothing workflow. Besides, you can re-design the keyboard shortcuts according to your choice & preferences.
So, if you like flexibility & customization the right choice is GIMP.
Perform Well With Other:
Photoshop gives the power to send your images in Lightroom with a button click. So, if you need any features of lightroom you can simply send the images from photoshop. It is updated enough to track the modification & update the images on all platforms.
GIMP can open PSD files but that is not convenient. You need to export the file & save the photo & again open it. So, it's problematic to modify particularly when you remove objects.
Apply CMYK:
When you are a designer & you need a print-ready file It is a must to select CMYK color mode. Photoshop is the only option in this situation. Printing always works best in CMYK color mode that can give exactly the same output according to your display color.
GIMP can only work with RGB color mode. You need a different plugin to convert RGB into CMYK.
Non-Destructive:
Non-destructive editing means you can retrieve your previous steps or unedited images at any time. When you accidentally save any modification you can easily retrieve the previous step in a non-destructive way.
This non-destructive editing is an amazing feature of the lightroom. Photoshop plays well with Lightroom as a library & can handle this type of situation. Photoshop is quite low destructive compared to GIMP by using the above library.
Batch Processing:
Photoshop batch processing may take a long time to respond. You need to set everything & after an hour you may discover that the setting was inaccurate.
GIMP is the best in batch processing photos. It is helpful to repeat actions for a large bundle of images. It is an important cause to pick gimp vs photoshop.
Constant Upgrading:
The robust photoshop team is dedicated & working hard to provide continuous upgrading & make the software more convenient. When they just launch a new upgrade version you need to download & enjoy the new feature.
Besides, photoshop has the most helpful & friendly customer care. It will make your experience smoother. If you face any problem using the software they will constantly solve your problem. Their prompt services must impress you.
GIMP also offers a few upgrades but that is not enough like Photoshop.
Strongest Tool:
Gimp vs Photoshop has some wonderful tools that make your editing perfect & efficient. The tool in photoshop is more strong & accurate than the GIMP. Heavy software photoshop provides powerful processing capacity. Besides, Photoshop provides real pixel manipulation that is more powerful than GIMP.
For example, you need to retouch a model portrait. So, you use the healing tools to hide the sport, wrinkles, scratches, etc. Photoshop provides four types of healing tools each of them has different functionality whereas GIMP provides only one healing tool that can remove the spot.
So, for depth retouching in the case of celebrity or model portraits, GIMP is not enough. So, in this situation for perfect editing photoshop is the only answer.
Raw Images:
Another fantastic feature of photoshop is it can convert raw images. So, when you have raw photos it is better to use photoshop.
GIMP can deal with Raw photos through a plugin that is time-consuming & confusing.
Photo Editing Services:
After the above discussion now you are clear when to choose photoshop vs gimp. If you need highly professional photoshop services without a high budget I have an alternative way for you. Suppose you want depth editing but can't afford photoshop. At the same time, you are not an expert editor so it is not easy for you to edit in photoshop fulfilling the standard.
The best solution for this type of problem is outsourcing budget-friendly photoshop services. It is saving your photoshop expenses & most valuable time & guaranteed to get high-quality editing.
Clipping path is a crucial type of photo editing that needs an expert hand to do perfectly. So, as a newbie, it is really hard to do a perfect clipping path or play perfectly in photoshop. Experience & skill has the power to give you a transformation of excellence.
So, grab the best photoshop services that have an experienced & expert team to give you marvelous work.
Consultation on GIMP vs Photoshop:
I hope now you can clear which software is the best for GIMP vs Photoshop. Both software is good & provides a similar type of features. But it really depends on your needs & a situation that works best in your case.
Photoshop is the most powerful software than GIMP as it allows pixel perfect manipulation. But if you don't need manipulation you can go for GIMP.
The truth is if you don't have any budget issues photoshop is really unbeatable. The tools are very powerful & excellent to edit accurately & in-depth editing.
GIMP is a lighter & quicker tool that is for newbie, beginner & money-saving options. It can give close work compared to photoshop but never the best output in advance editing.
Now according to your needs, budget & demand goes for the best option that fits you. No matter if you are a photographer, businessman, or designer I hope now your confusion is clear. You can easily grab the right software & play with these amazing editing tools.
You May Also Read: